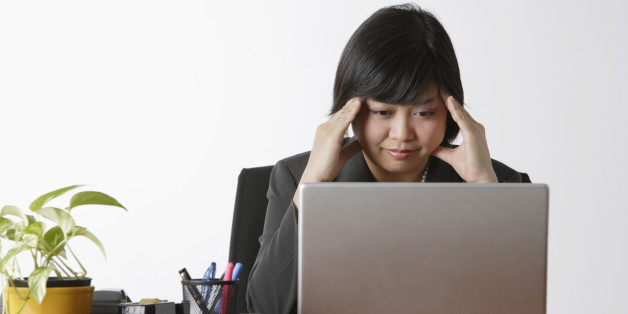 It's déjà vu time once again: A new poll of nearly 7,000 people by the job-search site Monster found high levels of unrelenting stress among workers, which mirror findings form other, periodic surveys. Of course, there are many reasons for work-related stress. But I'm especially struck by the continued lack of focus on the management and workplace culture. Too many organizations are marked by a debilitating, emotionally damaging, workplace environment.
One finding is especially striking, in this respect: When asked "What does your office do to help alleviate stress in the workplace?", 66 percent answered "nothing."
The new poll was summarized by Kathryn Dill in Forbes. She quotes Monster's Mary Ellen Slayter, who said, "People feel stressed out because there's that continuing pressure to do more with less. Workers feel pressure to get more accomplished. People know they're not happy, but they're not clear on whether or not it would be better somewhere else." However, nearly 50 percent report having changed jobs to escape the stress.
In her Forbes article, Dill cited a separate survey of more than 900 workers that found an employee's relationship with their boss as the most common cause of workplace stress, followed closely by workload, work-life balance, and relationships with coworkers. She adds:
Nearly half of employees surveyed report having missed time at work due to work-related stress, and an even greater number, 61 percent, say that workplace stress has caused them actual physical illness, with insomnia, depression and family issues cited as results. Seven percent of employees report having been hospitalized as the result of work-related stress.
In another summary of the poll, Constantine von Hoffman wrote in CBS Money Watch that:
It's not only workers who are affected. Nearly 85 percent said it had an impact on their personal lives, with 21 percent saying it had caused problems in their family or in other relationships. More than a third said they dealt with it by eating, according to the study, while a quarter resorted to drinking after work. By contrast, many workers also sought to defuse tension through exercise or by stepping away from work and taking a day off.
Nevertheless, there's the fact that when asked "What does your office do to help alleviate stress in the workplace? Thirteen percent noted additional time off and 11 percent cited the opportunity to work from home. But -- the majority, 66 percent -- answered "nothing."
In her Forbes article, Dill cited Slayter's observation that people who find themselves regularly overwhelmed to a level that's unbearable might want to contemplate a job-or career-switch, to something that makes better use of their talents or involves fewer tasks that cause distress. "Make sure that overall your career is a good fit," said Slater. "If you find yourself thinking that every day is stressful, if everyday is unpleasant, if it feels like that chronically, its time to sit down and ask yourself, 'Is this the right fit?'"
I think that's good advice, per se. But easier said than done. Moreover, the sources of work-related stress are pervasive, across many companies. Failure to build more positive management cultures in our organizations will lead to yet more surveys that will cite similar findings.
--
Douglas LaBier, Ph.D., is director of the Center for Progressive Development, and writes its blog, Progressive Impact. dlabier@CenterProgressive.org. For more about him on The Huffington Post, click here.