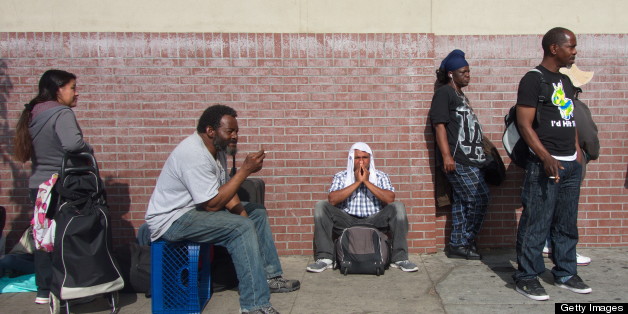 When a woman is homeless, she is not thinking about scheduling her next physical exam or mammogram screening when her daily priorities are finding a hot meal and a safe place to lay her head for the night.
During National Women's Health Week, I think it is important to remember that health care disparities continue to exist specifically for the most vulnerable population of our poor -- homeless women. Studies continue to show that "homeless women have higher rates of mortality, poor health status, mental illness, substance abuse, victimization, and poor birth outcomes." We need to have an honest discussion of how much further we still need to go as the Affordable Care Act rolls out.
Located on Los Angeles' Skid Row, the Downtown Women's Center serves 4,300 homeless women each year in a holistic way -- providing basic needs such as food and clothing, as well as counseling and preventive medical services to deal with the array of health issues many homeless women face. This requires a shift away from the culture of revolving-door visits to the emergency room that don't address the chronic illnesses or compounding issues from which homeless women suffer.
Facing Health Care Hurdles
Nearly 15,000 homeless women in Los Angeles County face critical health conditions that the general population does not. Homeless women are more likely to experience tri-morbidity, a combination of mental health issues, serious medical condition, and substance abuse. In a 2010 needs assessment survey of homeless women in Skid Row, we found that nearly 63 percent of women indicated they had a disability and half were affected by mental illness. The facts speak for themselves, and the reality is that nationally, people who are homeless are three to four times more likely to die prematurely than the general population.
We operate the only women's health clinic in Skid Row offering medical services, preventive care, and mental health supports. However, just providing these free health programs is not enough. Personalized outreach and follow-up by our staff of health advocates is the most effective way to ensure that each woman has access to the care she needs and learns how to manage her health.
Why Health Advocacy Works
A few weeks ago, I was inspired by the dedication of one of our own health advocates and a woman she was helping. We will call her Betty, she is a survivor of domestic violence, and she had come in to the Center for a mammogram screening in August.
Uninsured but determined to reclaim her health in order to provide a stable home for her three small children; Betty received one-on-one support at our Center to see her through the seven long months of navigating the health care system that followed the abnormal reading of her mammogram screening.
Between August and April, we helped Betty apply for Medi-Cal and waited through the county backlog before she could get an appointment for follow-up care, and schedule her biopsy. Lacking proper transportation and child care, Betty would have missed her biopsy had it not been for her health advocate who not only provided transportation but also looked after her son while she waited for hours to be seen at the county hospital.
In addition to working to address her breast health during this time, Betty visited the emergency room for an unrelated condition that became critical, while looking for permanent housing for her and her children. She made it through all of this with the support of her health advocate at every step, and not the least, because of her own perseverance to regain her personal stability.
How to Break Down the Barriers to Health Care Enrollment
For every Betty who walks through our doors, there are countless more women who face similar or greater barriers when trying to access health care. Unless we address these challenges now, they will continue to prevent women from fully accessing needed health care services, even once the Affordable Care Act fully rolls out in Los Angeles.
We are talking about women who suffer from mental illnesses that can cause paranoia or a lack of understanding of why health care is important. A homeless woman's ability to enroll is also compromised by missing documents like state-issued identification or a birth certificate. The majority of homeless women don't have a physical address, phone number, or email where they can receive important paperwork. When you don't have a home, you don't have a place to keep your documents or receive mail.
These are some of the reasons why an estimated 37,000 homeless General Relief recipients who were auto-enrolled in Healthy Way LA, the no-cost health care plan for low-income individuals, have not activated their plan.
That's why the Downtown Women's Center provides health advocacy and allows the use of our address and phone number to women who require that extra support. Our health advocates are constantly reaching out, making appointments and providing referrals to existing services at our Center and elsewhere to begin the long process of enrollment and to provide continued navigation support through the complexities of the health care system.
We believe providing health advocates is essential to helping homeless women enroll, navigate, and use the health care system. We want to ensure that as we move forward, all homeless women, both on Los Angeles' Skid Row and beyond, are accessing the health care they need so that they can rebuild their lives and end the cycle of homelessness.
By Lisa Watson
Lisa Watson is the CEO of the Downtown Women's Center, a nonprofit organization dedicated to serving the needs of homeless women in Los Angeles' Skid Row. Watson has been at the helm of DWC for more than a decade initiating new programs and increasing the organization's capacity to meet the dramatic rise in women's homelessness. Watson has been recognized with the KCET Local Hero Award, and recently by "LA Magazine" as a Top 50 Women Changemakers. For more information on DWC, visit www.DWCweb.org.