I was at the Supreme Court last week for an historic moment. No, not because a new justice was nominated by President Obama, but because in those hallowed, history-suffused halls someone who looks like me, a black woman, sang a Civil Rights Movement anthem. "I Wish I Knew How it Would Feel to Be Free," written by Billy Taylor and Richard Carroll Lamb, made famous by Nina Simone, reverberated through the colonnade via the voice of virtuoso soprano Julia Bullock.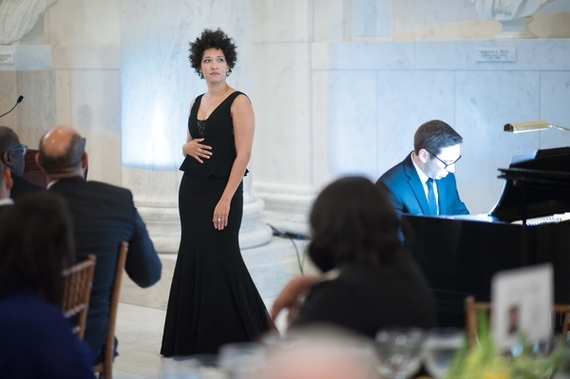 Julia Bullock performing in the Supreme Court for the Sphinx Organization gala. Photo: Kevin Kennedy/Sphinx Organization
When I saw that song was next on the program for the Sphinx Organization gala, I pulled a tissue out of my purse, placed it in my lap, leaned over to my friend and whispered, "I'll be crying in 30 seconds." Barely ten seconds into the performance my eyes welled up.
Justice Sonia Sotomayor hosted and MC'd the gala for the "Detroit-based national organization dedicated to transforming lives through the power of diversity in the arts." It was not trivial that at this event honoring excellent, young, black and Latino musicians, a Supreme Court justice pronounced all the Hispanic names of awardees elegantly. I was honored to have been introduced to her and have her say, "You're the first marine biologist I've ever met!" and to sassily reply "We all look like this... just kidding!"
I grew up in Fort Greene, Brooklyn in the 1980s and 1990s, when the sounds of practicing jazz musicians cascaded out of open brownstone windows. Billy Taylor performed annually at the Presbyterian church around the corner from my house, and his was the only autograph I ever sought. I grew up singing jazz, in a house with over a thousand jazz records, and with Nina Simone as part of the soundtrack of my youth. To see myself reflected, to have my experience and culture recognized and brought into the Supreme Court building was jarring, affirming, and encouraging.
In Ms. Bullock's own words, "By choosing to perform that song in that place, I was making a statement for Sphinx and for myself about what is happening in America right now. Honestly, I don't know if there has been any time during my existence when these songs about civil rights haven't been timely."
To see such talent in such a space at this moment in history -- this time of a reinvigorated social justice movement, of phenomenal organizing and activism, and of epidemic racist violence and bigotry -- was deeply moving. Ms. Bullock was the only musician of the night to receive a standing ovation -- not because the other musicians weren't as phenomenally talented, but because the poignant words (transcribed below) and historical context of this song rang so very true.
Injustice and brutality make me angry, but people coming together to fight for justice and equality make my heart sing and tears flow. They are good tears, and I cry a lot of them these days. Art can be powerful and unifying and must not be forsaken even in the most challenging times. As one of the evening's speakers quoted of President Johnson, "In the long history of man, countless empires and nations have come and gone. Those which created no lasting works of art are reduced today to short footnotes in history's catalogue. Art is a nation's most precious heritage, for it is in our works of art that we reveal to ourselves and to others the inner vision which guides us as a nation. And where there is no vision, the people perish."
I Wish I Knew How it Would Feel to Be Free
I wish I knew how
It would feel to be free
I wish I could break
All the chains holdin' me
I wish I could say
All the things that I should say
Say 'em loud say 'em clear
For the whole 'round world to hear
I wish I could share
All the love that's in my heart
Remove all the bars
That keep us apart
I wish you could know
What it means to be me
Then you'd see and agree
That every man should be free
I wish I could give
All I'm longin' to give
I wish I could live like I'm longing to live
I wish I could do all the things that I can do
And though I'm way over due
I'd be startin' a new
Well I wish I could be
Like a bird in the sky
How sweet it would be
If I found I could fly
Oh I'd soar to the sun
And look down at the sea
Then I'd sing 'cause I'd know
How it feels to be free