College and universities in the United States have a long history of offering veterans an opportunity to use their education benefits to help pay for their higher education.
But is helping pay for their tuition enough to get a veteran into the workforce? Can colleges do more for student veterans to help them through this new challenge?
There are 21.5 million veterans in the U.S., with 945,000 utilizing educational benefit programs, according to the U.S. Census Bureau. While 92 percent of veterans 25 years and older have a high school diploma, only 26 percent of veterans in that same age group have a bachelor's degree.
On several occasions, I have met with officials at the Department of Defense and Department of Veterans Affairs, and in candid conversations, they tell me that many veterans have had poor experiences on many college campuses.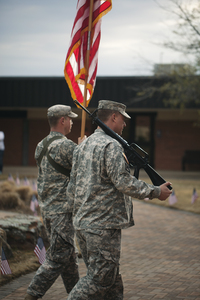 Because of this, officials are now apprehensive when colleges and universities start recruiting veterans. Those concerns rise from cases of unfulfilled promises of college credit for military experience; institutions that offer little or no services specifically for veterans; and the lure of guaranteed job placement after graduation.
Many returning veterans are susceptible to the promise of instant college credit because they fear they have fallen behind their civilian peers in the classroom while away serving their country. They understand the need for continuing their education, and while not looking for a shortcut, they also feel some special consideration should be offered for the skills and experience they earned while serving. And they're right.
Members of the military receive in-depth training in a variety of technical areas as well as develop invaluable leadership and critical thinking skills during their service.
And while the Veterans Administration offers education benefits, like a lot of federal assistance, it takes an expert to fully navigate and maximize the aid that's out there.
This is why veterans' services, VA coordinators, and even a chapter of the Student Veterans Association are so vital to college campuses. They provide a support system that so many new veterans need as they balance school, family and possibly a disability or counseling.
So a student veteran studies hard, passes all their classes and graduates, but now that guaranteed job is nowhere in sight. Veterans face an unemployment rate that is 3 percent higher than the national average. In the face of these odds, veteran students need help in creating career pathways that are realistic and obtainable. As a matter of survival, military personnel are taught not to question orders. They often carry this training with them into civilian life. Upon initially being discharged, young veterans tend to be overly trusting of people in authority. For instance, when they are told by a college advisor that they can get a job once they have a degree, they tend to believe what they are told without question. It is important for college representatives to be absolutely truthful with veterans and not insinuate outcomes unless they are certain.
While some of these situations may be unintentional or simple misunderstandings, the few "bad actors"-- the unscrupulous colleges engaging in deceptive practices-- give all of higher education a bad name. They make it harder for conscientious colleges to recruit and harder for veterans to trust in higher education.
Thankfully, there are still many colleges that serve veterans who have sacrificed so much, and I'm proud that Oklahoma State University Institute of Technology continues to be recognized nationally as a Military Friendly School™. We strive to be not only military friendly, but military committed, offering an on-campus veterans services presence as well as a new online tool, Military Crosswalk, that looks at a veteran's military experience and suggests possible programs of study offered at OSUIT that best align with those skills that a veteran has already developed.
Our service men and women make countless sacrifices to defend our nation, but they shouldn't have to sacrifice when it comes to their education. Let's look for ways to make the transition to civilian life easier. A natural byproduct of this renewed commitment is a much stronger workforce. For America, that's a win-win.