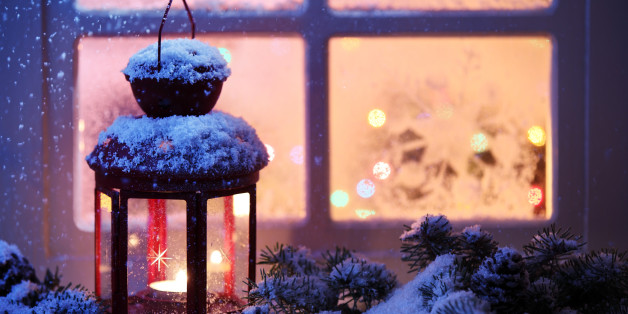 There is no season that pulls our heartstrings home more poignantly than the one upon us. Memories of other holidays return when least expected, some good, some not so good. Maybe we celebrate the holiday, maybe we don't, but it is impossible not to feel that special something pregnant with meaning, a potential, a rebirth, and a new awareness of fresh beginning. Deepest hopes arise, especially in the silent, wintry night sky, that dark canopy alive with glittering stars and moonlight. For those willing to take the time for attunement, surprises come -- not, however, without de-cluttering what blocks the way for meaningful connection, warmth, beauty, simplicity, and yes, the pure enjoyment of being really home for the holidays.
This year, let's consider together what can improve our odds of celebrating more and being disappointed less. Let's get intentional in this year's holiday season to create what restores, regenerates, and uplifts. Doing so begins with finding the means of being at home with ourselves, especially when we wish our situation were different. (More on this next week.)
For now, let's call it "good enough" to remember that when we feel the stimulus for something sweeter, some sort of warming for the heart, satisfaction may be closer than we think! How easy it is to fall into the trap to postpone celebration for later, for after the list is complete.
Why wait? Mark Twain put it this way:
"Dance like no one is watching.
Sing like no one is listening.
Love like you've never been hurt and live like it's heaven on earth."
How do we do this? The following three rituals may help:
1. Step out of self-created traps. If you believe that your worth equates with your circumstances and conditions, you are "done for," as the saying goes. Stop it! You do not need to do anything spectacular to atone for any lack of worth. You already are "enough."
Ritual: Find a ball of string and scissors. When you notice yourself "amping up" to do more, cut a piece of string or yarn, tie it on your wrist to remember that it is possible to unravel from man-made traps, even yours. One of the worst is the belief that we are not enough "as is."
2. Slow down. I cannot over-empathize this key, especially these days. As this week marks the Feast of Guadalupe, for more than 500 years for our neighbors to the south, perhaps her story provides a clue. Basically, the story concerns itself with a simple peasant, a man who has his routine interrupted by the mysterious, known as Our Lady of Guadalupe. Juan Diego is walking along a road, when suddenly, a being considerably larger than himself stops him. From out of nowhere, she asks him to deliver a message to the village priest, which would most likely cost the former his head. The poor man squirms, tries to escape his situation. Who can't sympathize? He trembles and quakes. Eventually, she convinces him through a miracle involving roses. Today, a physical demonstration of that miracle that even NASA has not been able to debunk, hangs in the Basilica in Mexico, where thousands gather this time of year. (Please see archives for the complete rendition last year.)
The point that is routinely overlooked, however, is that none of what transpired could have taken place had he not been forced to slow down and listen. So, too, it is for us. We cannot arrive at the goodies, the roses, so to speak, without the pause to attune to what lives in the great stillness, arising as wisdom from our depths. The following ritual involves a bit of engaged meditation.
Ritual: Celebrate as you go. Purchase a single rose and place it in a modest container alongside wherever you get pulled into the ruckus: perhaps your phone, your computer, your to-do list. When you get tempted to overdo, stop, smell the rose, savor. The inner "Guadalupe," i.e., the Sacred Feminine, does not show up in blazing lights or Las Vegas glitz to help us out. She waits for us in unexpected moments, usually when we are rushing to handle something on our list. She resides in the rural spaces of our heart. When we stop long enough to notice, we find her in the simple.
Special Bonus Ritual: This year, when you are "out and about," pause to celebrate the tiny, overlooked joys. Pay attention to the shoppers. Notice their expression. Notice how in earnest they are to "get it done," and how harried this makes us all. Notice how doing so pulls them away from the heart. Do not judge, just notice. Silently breathe in and out slowly, sending them good wishes and appreciation for simply being them, a part of your experience. Notice the tiny tots, their excitement. Witness their expression, their hopes. Give them a smile. It costs nothing. Enjoy the return to your heart.
3. Enjoy surprises brought your way. Remember, all it takes to "come home" for the holidays, and every day, is one person with a vision of making a difference through sharing their gifts. That one person has the power to enroll another person into the realm of joy, which is in the neighborhood of your heart. Note how contagious this is for givers and recipients.
Ritual: Applaud the willing! Let those who are willing to step out of their comfort zone, making your day better hear from you. Thank people for their song or their performance, for their smile or courtesy of not cutting in front of you. Notice the small and praise someone in the act of spreading holiday cheer. Some real givers in Chicago bring the following to us. Share it with someone you know who could use a bit of beauty in his or her day: http://www.youtube.com/embed/vcmfCXwAFs4
Love Letter
Much less is required of you than you imagine. The great happiness lives in hidden places, the silent places, crowded out in the rat race for more. Think less. Do less. Peel away the excess that runs too many lives on this earth. The stress and strain of your striving harms your spirit, weakens your body, distracts your fine mind from what is yours by divine right order.
Your birthright is clear. You are here as a reflection of great beauty, which can never be purchased. No manmade legislative body can dismiss your worth. No ruler or authority can diminish the joy from your dance, your song, your love, and your place of belonging in this universe without your permission. No hurt from the past can persist without cleaving to it. Love heals all as we come home to the heart.
It is time to receive, without fear, the gifts awaiting you upon your homecoming this holiday. Coming back home to your essential self, the heart and soul of whom you really are is the greatest gift you can give. Let your self-dismissive stories go. They do not serve you.

Be the Love,
Cara
Your Turn: What does "home for the holidays" mean to you? I'm listening! Thank you for forwarding this.
Gratitude for your amazing way of embracing The Love Project: Coming Home. It can be a great gift for those you love. A number of readers have decided to use it as a focus in their book clubs, sharing its lessons, growing together.
For more by Dr. Cara Barker, click here.
For more on emotional wellness, click here.