The timing of Earth Day at the start of spring puts us in a fresh frame of mind for consideration of our planet's natural resources.

This year the global theme for this celebration is "Green Cities," an especially apt focus for those of us living in urban areas emerging from a long and chilly winter. Intoxicated by the spring thaw's first bulbs pushing up out of the earth and the calls of returning birds, we are drawn outdoors with a renewed appreciation for the natural world.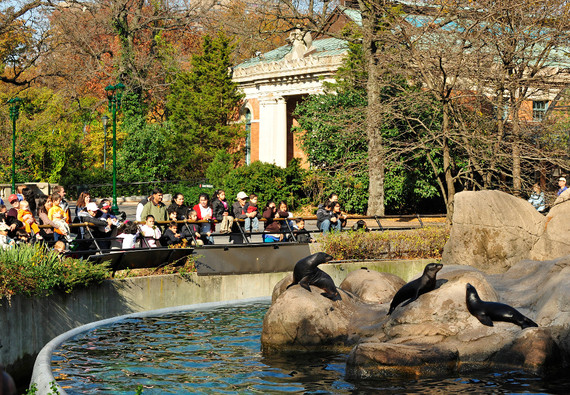 Bronx Zoo guests enjoy watching the park's California sea lions. Photo © Julie Larsen Maher/WCS.

It is an opportune time to note that conservation today is taking place to a large extent in two distinct places: the last of the wild and the least.
The "last of the wild" are those few remaining areas on our planet where the human footprint is the lightest. Though these large ecologically intact landscapes and seascapes cover five percent of the earth's surface, they contain more than 50 percent of the world's biodiversity and provide critical ecosystems services for the livelihoods and food security for millions of people.

The "least of the wild," by contrast, refers to those highly developed urban areas where the greatest proportion of people congregates. While cities cover less than three percent of the planet's land surface, roughly 50 percent of the world's population lives in them. By 2050 that number is expected to climb to 70 percent. Earth Day's focus on "green cities" encourages us to think broadly of the challenges and opportunities inherent in this idea.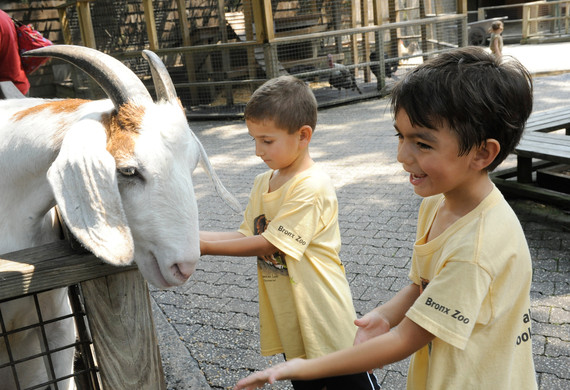 Children feeding goats at the Bronx Zoo's Children's Zoo. Photo © Julie Larsen Maher/WCS.

These "least wild" areas are concentrations of economics, power and communications: habitat constructed by people for people. Gleaming skyscrapers reach up to the sky topped with powerful antennas to connect us to our fellow humans across the planet. Mile upon mile of asphalt and rebar links suburban dwellers to city centers. Streets thrum with commercial activity and the cacophony of engines, horns, sirens and construction equipment.

Yet even in our highly unnatural cities, the very human desire to connect with nature has also given rise to countless parks and gardens. When we think of green space in New York City, where I live and work, our mind goes first to Central Park and the New York Botanical Gardens. In fact some 14 percent of New York City is managed by the Department of Parks and Recreation. This includes wetlands and woodlands in addition to ball fields and swimming pools.
Zoos and aquariums in the U.S. host more than 170 million visitors each year. Botanical gardens attract another 35 million guests. These parks provide an extraordinary window into nature.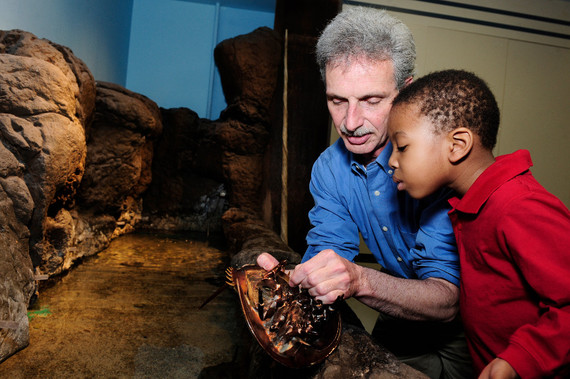 Thousands of school children take inspiration from up close encounters with nature at zoos and aquariums across the United States. Photo © Julie Larsen Maher/WCS.


The wildlife parks managed by the Wildlife Conservation Society, which I am privileged to serve as president and CEO, include the Bronx Zoo, the New York Aquarium, the Central Park Zoo, the Queens Zoo and the Prospect Park Zoo. There, we are bringing guests in proximity to wildlife -- many of it threatened in the wild -- that they might otherwise never have an opportunity to see. We present these animals in a context that promotes a deeper understanding of conservation challenges they face.
While the Bronx Zoo presents some 238 bird species from all corners of the world in its exhibits, it attracts an additional 250 species of wild birds to 265 acres of forest surrounding the Bronx River during their spring migrations. We will soon host our first "Birdathon" at the Bronx Zoo, in which visitors will compete to count the most species -- both in our trees and in our park collections. We expect to draw hundreds of guests from around the city, many of whom are avid birders at parks across the five boroughs.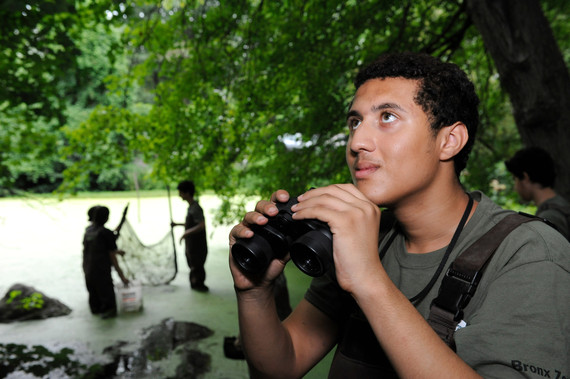 The Bronx Zoo attracts 250 species of wild birds to 265 acres of forest surrounding the Bronx River during their spring migrations. Photo © Julie Larsen Maher/WCS.

The fact is that with their high concentrations of educated residents who value their environment and the idea of sustainable use of natural resources, cities are both incubators for innovative technologies (for instance, in energy efficiency, recycling, and "green" building) and provide a constituency for conservation that is critical to the passage of laws and regulations at the local, state and federal level that protect natural resources both near and far.

This Earth Day, as we work to inspire city dwellers the world over to care for nature, it is a pleasant irony to recognize and acknowledge that our least wild places might just be the best hope for our last wild places.