National Geographic defines Geotourism "as tourism that sustains or enhances the geographical character of a place, its environment, culture, aesthetics, heritage, and the well being of its residents."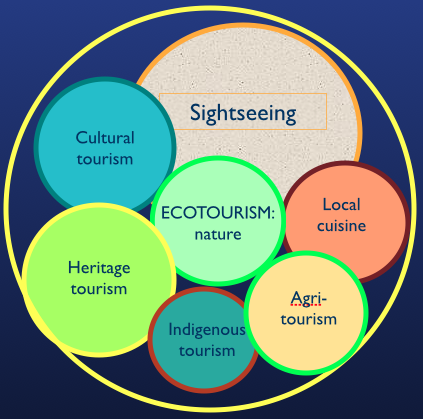 Geotourism both incorporates the concept of sustainable tourism that destinations should remain unspoiled for future generations, and the principle of ecotourism that tourism revenue should promote conservation.
Geotourism has even developed its own Charter Principles for governments and allied organizations to sign on to as a frame work to work with local communities to determine their geotourism goals.
In creating a sense of place in a tourist community, geotourism is concerned with its environment, culture, aesthetics, heritage, and the wellbeing of its residents. While all of these concerns are also part of the Global Sustainable Tourism Council criteria for destinations, geotourism provides added value by adding, and integrating the concerns of:
ecotourism - including efforts to protect and preserve the natural environment.
heritage tourism - preserving the local history and customs.
cultural tourism - programs that invite tourists to come visit a taste of a particularly culture.
indigenous tourism - including visits to indigenous lands, and selling of indigenous arts and crafts.
agritourism - including visits to vineyards, farms, and ranches.
local cusine - including featuring local food and culture and food festivals.
signtseeing - including opportunities to seeing unique cultural and natural sights.
Once a community decides to implement geotourism, it has a variety of areas it might focus on to develop its own unique sense of place. Some of these include: the flora and fauna, historical preservation, archeological site preservation, geology, historical or traditional architecture, local music, and local cuisine. Some sample strategies for each are found below.
Protecting flora and fauna includes:
preserving the current habitat
mitigating climate change impacts
maintaining biological diversity
restocking plant and/or animal species lost to disasters when possible
supporting legislation and programs for issues such as endangered species protection.
Preserving historical sites includes:
developing disaster plans for historical sites
obtaining designation as historical, cultural, or world heritage site
developing preservation and restoration plans
educating visitors to avoid unnecessary damage
Preserving archeological sites includes:
provide site assessment for planning and preservation
develop erosion and vegetation control programs for the site
consider protecting roofing and shelters for the site
educate visitors to avoid unnecessary damage
Preserving geological sites includes
:
develop code of ethics for collecting, and for educating visitors
minimize air pollution in the area
protect through legislation i.e. National Parks, Monuments, etc.
limit the number of visitors per day in situations where this type of protection is warranted
Protecting architectural sites includes:
assess the status of the site to determine if it qualifies for legal protection
develop a plan for preservation, restoration, and promoting architectural heritage
develop a plan for tours and education
Strategies to celebrate local music includes:
utilize local music and traditions in community events and festivals
support young people in education to carry on the musical traditions
develop places for local musicians to perform
Strategies to celebrate local cuisine includes:
sponsor local tourism and cuisine tours
sponsor food and wine / beer festivals
feature local food and cuisine in restaurants
create local sustainable appetizers for events or catering
These are just a few samples strategies to implement geotourism in resorts.
We were both able to visit the Tradewinds Resorts Guy Harvey Outpost in St. Pete Beach, Forida to see some geotourism strategies in operation.
Dave was able later to sit down with Captain Ned Stone, Program Development Director for Guy Harvey Resorts and ask him how geotourism concepts were applied to the Guy Harvey Resorts operations.
As you can see from the video below Ned Stone identified a number of examples From Guy Harvey's two resorts and five lodges including:
Flora and fauna are protected by labeling and educating the guests, have a program to remove invasive species.
In the area of food and beverage they feature local foods and focus on sustainable seafoods. At the Tradewinds Guy Harvey Resort, in St. Pete Beach they participate in the Gulf Wild program that allows guests to see where their fish was caught, when it was caught, and how it was caught.
In their resorts in the Bahamas they support the historical preservation of the settlement of New Plymouth in Green Turtle Cay.
They participate in as many local events near their resorts as possible such as the recent celebration Ansel Saunders life. Ansel Saunders worked with Dr. Martin Luther King in the Civil Rights movement and a famous fisherman as well.
Working to preserve the historic landmark at their Is Islander Resort in Islamorada
Utilizing local art and entertainment
Featuring the wildlife art of Guy Harvey in their resorts to educate people about the fish and wildlife of the area, and featuring local artists in the respective areas of their resorts.
Rotating art exhibits in their resorts.
Having as a part of the Guy Harvey mission to add something enriching to the visiting tourist experience. This is done thorough educating their own staff as well as educational programs offered to guests.
Offering outdoor guided activities such as snorkeling, and fishing that helps to promote both a cognitive and emotional connection with nature.
Protecting the environment with programs such as the Tradewinds program to protect sea turtle nests.
Reaching out to the supply chains to be more environmental friendly and sustainable.
Both of us have had an opportunity to visit the Guy Harvey Outpost at the Tradewinds Resort in St. Pete Beach, Florida. We were able to witness first hand the programs to protect coastal habitat through sea grass planting, the employees working with Tampa Bay Watch to plant oyster beds, and the program for protection of sea turtle nests to name a few of their sustainability efforts.

We also were able to experience how the Tradewinds Guy Harvey resort used art, and local culture, to create a special sense of place that can further enrich each guests visit.
Guy Harvey Resorts are just one example of geotourism. Different resorts and destinations around the world are implementing geotourism in many unique ways around the world.
Bringing geotourism to resorts and destinations not only enhances sustainable tourism strategies, it can also create a special sense of place for both tourists and local residents.
Creating a sense of place helps foster the needed ethic of preservation and sustainability for future generations.
As the planet faces many challenges such as climate change, ocean acidification, pollution, overfishing, and threatened extinction of species, more than ever we need all hands on deck and all tools like geotourism to respond.
Dr David W. Randle - Director USF Patel College of Global Sustainability Sustainable Tourism, Managing Director International Ocean Institute Waves of Change Blue Community Initiative, and President & CEO WHALE Center.
Earth Dr Reese Halter is a broadcaster, biologist and author of The Insatiable Bark Beetle.
Follow Dr. Reese Halter on Twitter