When USF College of Global Sustainability graduate students Darcy Everett, Amanda Whatley, and Tony Pooley, left Tampa, FL for their internship in Malawi, Africa, their mission was to help develop a draft sustainable tourism plan for the Liwonde National Park.
The three are fast gaining knowledge and wisdom from their experience and discovering many challenges that they had not likely considered before their departure.
Some of the challenges they have identified include:
human animal conflicts, especially with the elephants
need for tour operators to organize to improve quality service and safety of guests
need for improved fishery management
near extinction of the lion
need to improve community relations with the Liwonde National Park programs
Common to all of these challenges for any meaningful, long term solution is the need to alleviate poverty.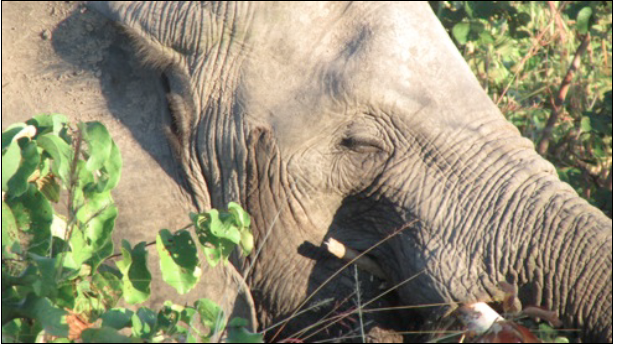 The students reported that one night they were awakened by the sounds of gunshots. Later they found that the gunfire was an attempt to scare away elephants that had crossed the park boundary and were damaging crops. A few weeks into the internship the students report three people had been killed by elephants as they attempted to defend their crops and/or scare the elephants away.
Local residents complain the National Park Department has been negligent in putting up cheap fencing that allowed the elephants to break through. The Park Department responds that the human population is growing and causing more conflicts with the animals and that the fences were not inadequate but were cut down by poachers.
With poverty, animals damaging cropland can be devastating. Poachers tearing down fences are not always the poachers for elephants but sometimes local residents who are so poor that they rely on the game in the park to feed their family.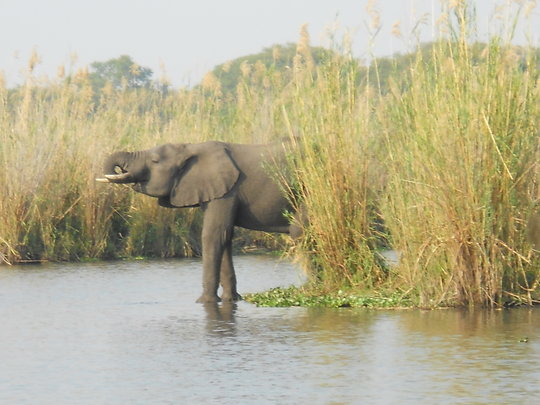 The students also identified that poverty has led some to attempt to set up tourist businesses that are neither safe, or have sustainable practices. When bringing tourists to an area like Liwonde with about 1000 hippos, tour operators need to know what they are doing and how to operate safely.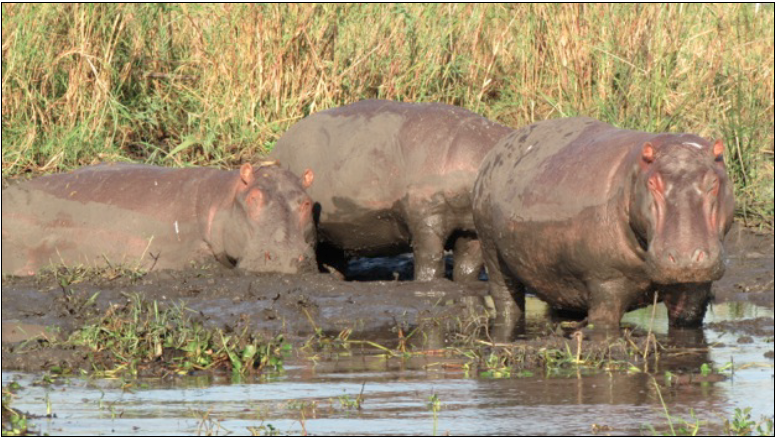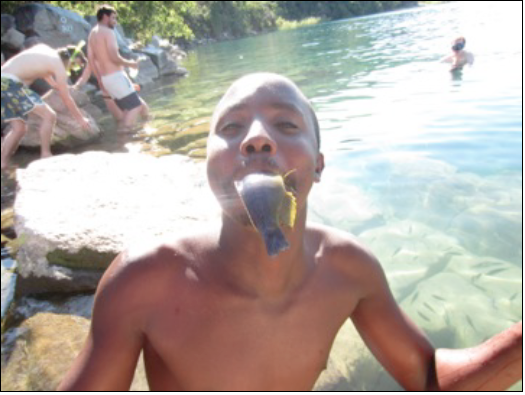 Some of the lakes and rivers in Malawi have been overfished, not by tourists, but by locals who are simply attempting to provide food for their families. Lake Malawi is a World Heritage site. It is said to have some of the greatest fish diversity in the world. It is also currently experiencing a declining fish population due to environmental degradation, population increase, and overfishing with the increase of both commercial operations and local population increase.
There is reported to be only one lion, from a a pride of about twelve, left in Liwonde National Park due to poachers and lions who left the Park boundaries and were subsequently killed. The poachers for these lions however are not trophy hunters but locals who have set snares to catch game to feed their families. The members of the lion pride one by one have gotten caught up in the local poachers snares.
Compounding these problems, local community relations are often contentious as people striving to survive see the national parks more of a problem for their survival than an asset to build their future. Some locals have complained that the government cares more about the animals than the people, not realizing that preservation of the national park may be one of the best opportunities for economic development and improving the quality of life of the local people if the park is operated sustainably.
The good news is that there is new leadership in the Malawi government that is working with groups such as the International Fund for Animal Welfare (IFAW), and the USF Patel College of Global Sustainability, to address the poverty issues as part of any long term solution to environmental problems.
The USF College of Global Sustainability students report in their blog that many efforts are already underway to become more sustainable and further alleviate poverty.
These include:
The Mvuu Lodge utilizing solar water heaters for all their rooms and installing a grease trap to prevent cooking grease from entering the Shire river.
The Mvuu Lodge providing support for the Nanthomba School and support for the Children in Wilderness camp to both provide general education for the local community and also promote reforestation.
The Mchire School, sponsored by local tour operator Bushman's Baobab & IFAW. The school serves children 6 and under.
The Liwonde Safari Camp which uses solar power and local and traditional construction techniques for their lodging
Tour operators in Cape Maclear, at the suggestion of the Malawi government forming their own association to promote quality and safety for tourism.
In addition, IFAW is currently building a new fish farm that will both take pressure off the overfishing problem, as well as provide economic development for the local community.
IFAW is also working with the National Park Dept. to repair some of the destroyed fence.
The USF College of Global Sustainability is exploring with scientists possible strategies to help keep elephants in the park boundary, such as the use of bees, growing chili peppers, as well as best fencing options. The Walt Disney Company Animal, Science, & Environment team have found that even the sound of bees may turn back elephants.
There is also planning for issues such as poaching, economic development, and improving community relations.
Through focused efforts to work collaboratively with the local communities, with an emphasis on promoting sustainable development and alleviating poverty, Malawi can have a bright future of sustainable tourism.
Dr David W. Randle -- Director USF Patel College of Global Sustainability Sustainable Tourism, Managing Director International Ocean Institute Waves of Change Blue Community Initiative, and President & CEO WHALE Center.