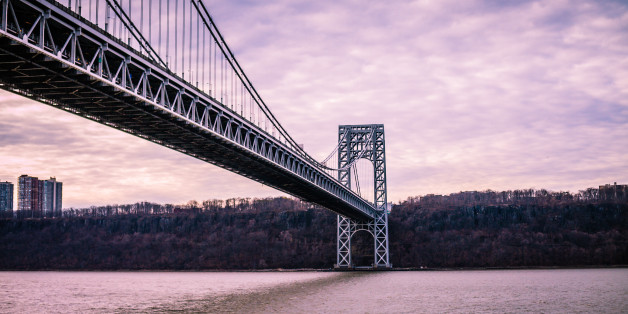 Over 200 swimmers completed the 7.5-mile swim Sunday, Sept. 20 in the Hudson, starting at 56th Street and ending a mile after passing under the George Washington Bridge (GWB). For many that meant spending over three hours in the powerful river. Unlike runners, we had no crowds cheering us on. There were no refreshment stations. There was no possibility of taking a break, or any certainty of how far one had swum or how much longer it would take. The few buoys helped guide us. The bridge remained a distant misty goal for what seemed like an eternity.
Why do it? What do we swimmers think about?
I get asked that all the time. We swim in rivers and open seas because that is what we do. But this swim is special. It is named for the Little Red Lighthouse that proudly stands at the base of the giant grey bridge and was immortalized by Hildegarde Swift and Lynd Ward in a classic children's book. As we approach the bridge we hear and feel the flow of traffic way above. And as we pass the lighthouse we know we are nearly done.
As I swim, I reflect on how the waters hold their tragic stories of death. Before we passed under the GWB, 14 people had jumped to their death this year. The reasons are complex and diverse but too tragically common. This year's deaths have led authorities to build a $50 million protective fence to stop further suicides. That may stop where and how some desperate people die, but will not do much to prevent their pain. The recent announcement by the Clementi family to address the underlying reasons for their son's jump from the GWB in 2010 is a needed step forward. We swim in waters where people needlessly ended their lives.
As I swim, I recall how many people have drowned in the waters of the Hudson and waters around Manhattan. A few weeks before our swim, Boyce Coleman drowned while saving the life of a 6-year-old boy with autism who fell into the river. Drowning is one of the most common causes of death in children, yet it is preventable. Swimming skills save lives, which is why the YMCA movement -- with its new president and CEO announced just recently on Sept. 30 -- makes such important efforts to reach children across the country. We should do more; schools should partner with Ys and ensure that every child has been through a basic swimming course and has the support needed to be as healthy and mentally resilient as they can be.
We swim in a river where people die needlessly. They die because we undervalue prevention of drowning in kids and undervest in effective destigmatizing mental health programs. Yet we also swim in a river that receives the discharged treated sewage of millions of people. Classic public health and environmental protection allows us to swim past the massive sewage outlet before we pass under the GWB, confident we will not be infected by a dreaded disease.
This is the 21st century. We need to apply our preventive focus to more than assuring we can swim in waters like the Hudson without it being a threat to our lives. We need this river to become a symbol of how we ended drowning and suicides, not a tragic reminder of the failure of prevention.
---
Have a story about depression that you'd like to share? Email strongertogether@huffingtonpost.com, or give us a call at (860) 348-3376, and you can record your story in your own words. Please be sure to include your name and phone number.
Need help? In the U.S., call 1-800-273-8255 for the National Suicide Prevention Lifeline.