Parents do not want their kids to be injured in a car crash.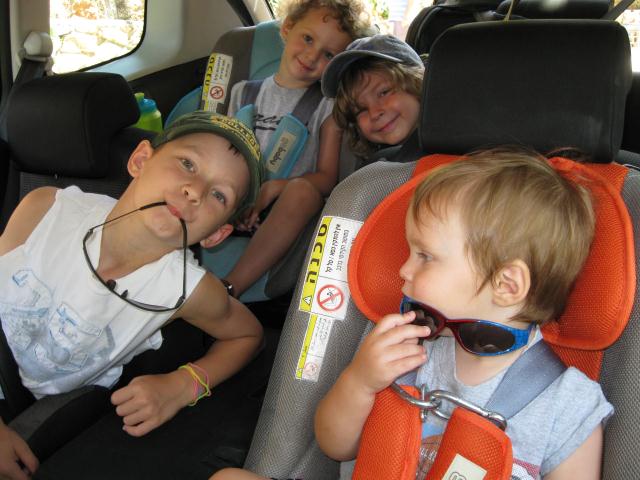 Even though we are all excellent drivers, we know that everyone else on the road is a moron, and we want to protect our kids from danger. So why does study after study show that children are not sitting where they should or how they should in order to be safe?
Because the car seat/booster/seat belt/front seat guidelines are so freaking confusing, that's why!
Here's some help:
All the recommendations I am about to mention are fully endorsed by the American Academy of Family Physicians and the American Academy of Pediatrics. Laws vary state to state but if you follow these you can't go wrong, and will be obeying the law as well.
Infant and toddler seats are based mostly on weight (although height plays a role).
1. Rear facing baby seat until age two and a weight of at least 20 pounds. That is both of those, not one.
2. Forward facing toddler seat (five-point restraint belt) until age four and a weight of at least 40 pounds.
3. Make sure your child isn't above the height limit for that brand; you may need a different brand.
4. Drive your installed infant or toddler center (minus the child) to your local fire or police dept for a safety check.
Booster seats protect kids in two ways. First of all, they provide back and neck support in a crash. Even more importantly, they make the seat belt fit correctly so that the bones and organs inside the body are restrained. Here the issue is height and age.
1.
Backless booster
depends on the car, as well as the child:
Car: has seat and/or head rest that is taller than your child
Child: tall enough that (even when slouching) the shoulder strap of the seat belt hits her shoulder and never her neck or throat.
2.
Out of a booster
and into just a lap/shoulder seat belt:
Lower age limit: eight years old and
Height: when your child is 4 feet 9 inches tall.
3.
Sitting in the front seat:
Lower age limit: 13 years old and
Height: At least 4 feet 9 inches tall.
I hear you cursing my name. I know you are eager to turn your kid around, and to get them in a booster so that they can open their own darn seat belt at the end of the ride. I know they are whining to get out of boosters, to sit up, "Like all my friends do!"
Driving around with our kids is probably the single most dangerous thing we all do as parents. The biggest killer of children between the ages of four and 16 is motor vehicle accidents. And for every child that is killed each year in a car accident, there are another 18 that are hospitalized after a crash.
I know kids hate this. They want more proof that they are growing up. Don't cave in to the whining, pleading or demanding. Be firm and save their lives. Even if it isn't your child, imagine how you'd feel if anything happened to a kid in your car.
Step up and follow the guidelines. And please, spread the word.
*Photo is author's own.