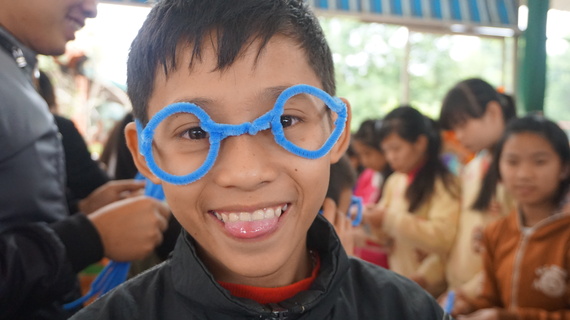 February 29, 2016
My cousins David Ogrin and Vicki Cherkas have fascinating careers and love to travel. David is a lyricist/composer and musician and Vicki is an attorney and film production executive in New York. They live in the Flatiron district and I visited with them along with my two sons, Ben, 15, and Des, 17, for a couple of hours on Saturday, February 27 because I wanted to hear about their trip to Ba Vi, Vietnam, where WWO has a program for orphans living with HIV.
They are devoted to WWO and have attended all 11 WWO galas Ba Vi is a rural part of Ha Noi where 80 children who live with HIV are supported with love and grace by staff and administration who are devoted to them. WWO has been in Ba Vi since the early 2000s taking care of the medical and psychosocial needs of the kids and I just returned from a visit there in January with a group of visitors. David's sister, Mara Cohen, who has been to all of our countries was there with me and David and Vicki decided to add Ba Vi to their itinerary in Asia, after hearing about Mara's trip. You might want to read my Vietnam blog post to reference the details of that trip.
Vicki and David fell in love with the kids and the kids fell in love with them. They made those funny blue glasses with pipe cleaners, and danced, sang and played together and had a fun time. David taught the kids a dance from his musical, "Wild Women from the Planet Wongo" and we have photos and video to prove it!
My cousins got back from their long trip last Sunday night and I made a plan to see them immediately because they wrote to me and told me that they had the best time of their lives and wanted to help the kids at Ba Vi. Thuy and the WWO team in Vietnam did their usual magnificent job taking care of the arrangements for the visit. I tried my best on Saturday to answer a lot of the historical questions about the children at Ba Vi and then David and Vicki wanted to make it clear that they were eager to support the practical needs of the kids i.e. learning English and making sure that the children were able to continue their life-saving anti-retroviral medications.
The kids are medically stable right now, but there are challenges in countries outside the US for the higher level HIV medications which are not available in most cases. If a patient with HIV develops resistance or side effects over the years, they need level 3 and 4 medications and these expensive medications are not licensed in Vietnam nor are they produced there. While we at WWO live with this reality for our children in Vietnam, Haiti, and Ethiopia, most Americans have no clue about this reality abroad. Everything for patients with HIV is available to the citizens of the US.
Below find the loving note from Thuy which just arrived in my inbox.
Dear Jane,
It didn't take much to take care of them, they are such a lovely couple with very kind hearts and a great sense of humor. Please let them know that their visit strengthened the children's faith and hope. I just spoke on the phone to our beautiful staff person at Ba Vi. She's happy to learn that Dave and Vicki wanted to help out. However she wanted to make sure that any request for support be down to earth and result in practical development for the kids. We came to an agreement that besides the medical support, we will assess the kids' needs on a case-by-case basis. At the moment, we were successful to connect with a vocational training project in Ha Noi, so that, the singer that we mentioned in our email, can get free training of graphics design. From another source, she will get boarding and daily stipends. This is the beauty of case management and the referrals network!
I can talk all day about the kindness of our supporters! Their visits always give me more strength for my work!
Thuy and team
Nothing more to say, except thanks to Vicki Cherkas and David Ogrin for their devotion to the children in the orphanage at Ba Vi, Vietnam.
Best,
Jane