I recently adopted a puppy from a breeder in Tampa, Fla. She is a female Havanese pup born October 31, 2014, and on December 28, she arrived in Delta cargo at LaGuardia airport in New York. My sons, who are teenage boys adopted from abroad, took this puppy into their lives completely. They named her Lemlem, which means "blossom" in Amharic, the majority language of Ethiopia. One of my sons was born and lived in Ethiopia the first six years of his life.

They hold her, feed her and walk her; they give her treats and like to watch her dance on two hind legs. We attended a puppy class this past Saturday and they took charge of her education to walk her and help with her training. They were proud and enjoyed that she was the smartest puppy in the class. She sleeps with them and bites their feet as they walk because she is teething. They talk to her with silly jargon like she is a baby and when I pick them up from school she goes to sit with one of them and curls up on a lap.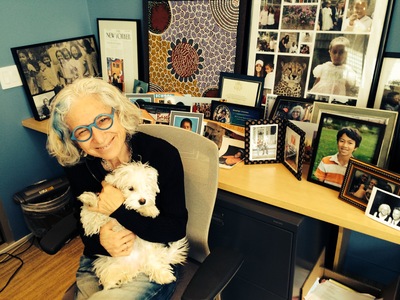 What I share with you today is about her attachment to me, my boys, my 91-year-old mother, my friends and the staff at WWO. She cries when left alone and she longs for human connection. She is, finally, a sweet and clever creature who thrives on love and attention and makes us all feel good when we are with her. When I leave her and walk to the living room, she moans. When I don't let her up on my bed, she jumps and then sits and stares at me with yearning and needy eyes. Do we need to talk about all the abandoned animals featured in TV commercials?

By all psychological analyses, Lemlem is securely attached just like a baby who has a loving and committed caregiver. What I am reminded of each day of these past eight weeks that she has lived with our family is that attachment is essential to happiness and good health. Lemlem is growing and is happy. The value of our love and dedication cannot be questioned.
One of our program directors worked on a sheep farm in Montana and was on call round the clock, charged with delivering baby lambs because the lambs must be paired with their mothers in order for attachment to be secure; if the lamb drops, the mother rejects the lamb and the lamb dies. If this doesn't convince you of the power of attachment, I wonder what will? We can search the psychology and psychiatry literature for human behavior and find awesome attachment studies asserting that without attachment, human beings are socially delayed and challenged in intimate relationships.
How is it that there are hundreds of millions of children in the world who don't have the simple requirements for growth and happiness? A little puppy has it and needs it... and we should all be committed to every child born in the world in just the same way. All babies, whether human or animal, are in need of secure attachment to fulfill their destiny to be healthy and happy on the planet earth.