I always love the first day of a trip to Haiti. It never matters that I have seen Neg Maron -- a bronze sculpture depicting a slave in the Plaza -- dozens of times in the three and a half years since I first came to Haiti just two weeks after the earthquake. And I don't tire of the view of the cathedral which stands frozen in that moment indelibly fixed with the disaster of that day in January 2010. It is now blocked off on three sides as the city is reconstructed and it took us 25 minutes to figure out how to drive closer to it.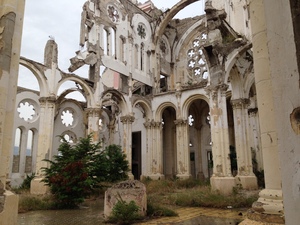 There is a culture of homelessness at the church grounds... homeless babies, teens, elderly women... hungry, depressed and not even energetic enough to beg. A group of them were sheltered under a huge truck. I see them still now with the rear wheel looming over them. They sat safely under the chassis, but I couldn't help but think that the driver might not see them. A boy in a t-shirt, no pants and with ashen skin, obviously hungry and sad, stood near us but hardly uttered a word and we all felt helpless.
A little butterfly lit on some weeds as we gazed at the edifice with remaining stained glass and weeds growing out of the cement. The regal beauty of this building remains, for me, mesmerizing, and striking for others who view it and think about what happened that day.
The vitality of street commerce enticed me to overcome my sadness about the degradation of urban life in Haiti; there is a flourish in the market place and the beauty of those Sunday faces is intoxicating. Everyone who is not homeless is dressed well and smiling as they meander the streets on their way to visit, buy, sell and enjoy their lives.
WWO guests:
My guests on our service trip are a family of seven from Australia. They support the programs of WWO and dare to learn about the realities of how children live in Haiti. The family includes three children ranging in age from nine to 25. The kids are awesome: brave and inquisitive and sensitive and eager. They are falling in love with Haiti and the children. The youngest is writing a journal off and on throughout the day. Can't wait to read it!
WWO Y2C Program:
I fall deeper in love each time that I am here. I am astonished by the skill, collegiality and warmth of the youth staff. Alex, Correlus, Achena, Micherlange, Jacqueline, Mark, Freddie, Djimy, Yolaine and more: We've trained over 100. They plan all the activities for our visit, and they execute the work with brilliance and energy that is sometimes exhausting to observe. They are a corps of systemic change. They are ambitious for themselves and the children and families that they adore.
At WWO Toy Library:
I wept as I listened to the reading of Babar in the toy library (lidotec in Kreyol). The babies were watching every turn of the page. Toddlers and pre-school boys and girls stood up at some exciting moments and answered the queries of the reader. Some reached out to touch Babar on the pages. They were learning and they lost themselves to the magic of a sweet and simple story.
Our work here is just the beginning. I see the ease of scale. With just a little bit of money we could change the landscape of Haiti. Fifty percent of the population is less than 20 years of age. Let us aspire to train them all and reach out like a Miasma into every community. I imagine tap taps rigged with cabinets of educational toys and toy librarians bringing play and creativity to Corfu and Hinche... all the way to Capacian and Mirabelais.
Play will change the world.
Jane Aronson is the Founder and CEO of Worldwide Orphans