I was at Ba Vi all day and at times cried from joy, observing the playful children and the magnificence of the work that we have accomplished as a team. I was with Thuy, WWO Vietnam Country Director, Dr. Oanh, WWO Pediatrician, Duc, WWO psychologist, Huong, WWO coordinator, and Cuong, who was filming and archiving the results of a complex international partnership.
When we arrived the children were lined up on the path to the recreation center cheering and laughing; all were wearing 'blue glasses' (see photo below). We then enjoyed skits and education about life skills. Nhung, the Education Director at Ba Vi, was our leader and she used her recent training by SeriousFun camp staff to lead the session. She was fast and loud and relentlessly hilarious....she made me complicit in her clever banter. In fact, she was just like Alex in Haiti, and identical to Lemlem and Selam in Addis who have been all trained through SeriousFun. Hats off to this awesome international camp curriculum! The energy of the camp spirit is infectious and it doesn't allow anyone to be sad or blue for even a moment. That is its purpose....keep the life force going and never let the children feel a moment of loneliness. The children were loved and attached; they were surrounded by safety and security.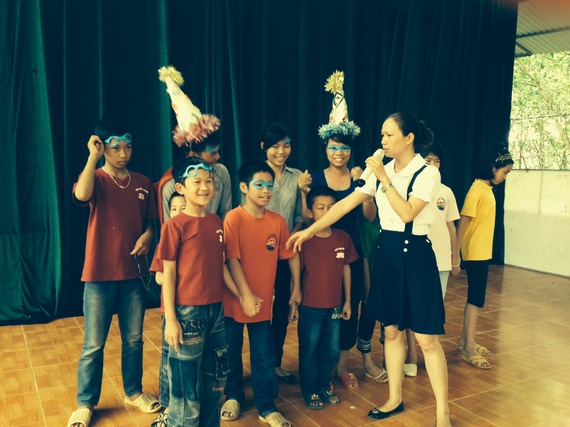 Nhung, Education Director, and kids in blue glasses.
During the session the children were separated into 6 groups and their staff leaders worked with them to create skits about tooth brushing, bad breath, skin care, hand washing, and all the intimacies of health and hygiene that are necessary for independent living. The skits were creative and silly. We laughed like hyenas and the kids never stopped chatting, connecting and laughing. The hours slipped by until the children left for lunch in their group homes. We witnessed the care of each group home...aromatic food including vegetables, rice, fish, chicken and beef were provided and the children ate with gusto and pleasure. They were in their own homes behaving as if this was their family...it is their family!
I was asked to speak to the children at the end of the program. There was not much for me to say. I was so happy for them and so exhilarated by the depth and success of the psychological support that WWO has delivered all these years. I was simply proud of the team. That said, I couldn't help but feel inclined to tell them what the blue glasses meant to me. I told them that for me they are about my dreams for the future of all children in the world. I told them that they can have the same visions about their own lives. I asked them to dream with me, "Let's look through the blue glasses and dream about your future together."
Without any prior knowledge of the program for the day, in the next moment a picture of a tree on a board was placed in front of the stage and all the groups were given little pieces of colored paper to write their dreams out to be placed on the 'Dream Tree'. What an amazing moment! The children were eager to fill in their dreams and paste them on the tree. The dreams will be translated for me and I will share them with you. One of the older girls wrote that she wanted to be a doctor.
Hieu Roi Thuong ('Understanding Brings Compassion' - WWO Program) and Ngoc, a 4 yo with depression
We completed a marathon day with observing the Hieu Roi Thuong (HRT) program at Ba Vi. HRT is our one-to-one program where community volunteers work daily with children. The "Aunties" sat with the babies on their laps and they played and loved one another....as if the babies were their own.
One child stood out for me. Ngoc is 4 years old with low platelets and advanced HIV disease. She will likely need third line drugs to treat her HIV and the low platelets that are sometimes seen with HIV. There are no third line drugs in Vietnam. She was sad and frightened and aware of her fragile health. I tried to kiss her bare toes, but she was not having that at all. I showed her how to take a "selfie" on my iPhone. This she enjoyed, but frankly, it was a momentary response. She was depressed for sure and even playing 'this Little Piggy went to Market' didn't change her baseline sadness. I hope that we can help Ngoc medically and emotionally. She is a sweet one.
I am grateful for the incredibly fulfilling adventures we have had in Ba Vi. There is so much more to do there to make sure that the youth grow up with the life skills, education and vocational training to be independent in the community. This is the challenge in all our countries as our kids grow up and remain healthy, in spite of their HIV status. It is after all a chronic and manageable disease.
Dr. Jane Aronson
Founder and CEO, Worldwide Orphans