Why would anyone row 90 nautical miles from Point Lookout to Montauk? What motivates someone to run an ultramarathon for 60 hours? To climb Mt. Kilimanjaro? Worldwide Orphans supporters did all of these things to raise money for orphans and vulnerable children. And in the process, they've built awareness among their friends and family. This concept of peer-to-peer fundraising has not only raised nearly $100,000 for our organization to date, it has inspired me to think about the personal connections that sprout from generosity.
Matt Hannon who grew up in Rockville Centre, Long Island, lives in Point Lookout with his wife and three children, is a broker at SCS Tradition on Wall Street. He loves the sea and is an avid surfer, fisherman, kayaker and rower. He attended the WWO Gala November 14, 2011 through an invitation by his friend Chris Yanney, a WWO board member, and was never the same.
Last weekend Matt rowed 90 nautical miles from Point Lookout, NY to Montauk to raise money for WWO. At first we assumed Matt was rowing because he'd was inspired by our work. But when I spoke with Matt on the phone this week, I found out there was more to it.

Matt knows a former patient of mine, Nate, who is a toddler now and was adopted as an infant from Guinea Bissau (Africa) by a family in Point Lookout. He had seen the family go through the adoption process and had been gripped by this wonderful orphaned child who now had a family. It was his personal connection to this family that had brought him to us. I emailed Nate's family right away and discovered that the mom had contributed to Matt's rowing. The loop was closed once again. Matt was changed by Nate.
Matt responded to our "Count Me In" challenge to take any personal feat and turn it into a fundraising opportunity (Chris Yanney has also taken up the challenge, completing two ultramarathons for WWO and raising a total of $70,000).

Matt left Ted's fishing station in Point Lookout on Wednesday, October 3rd, at 8 am and rowed an 18-foot open water rowing shell, "the Jackie Boy," named after his son, Jack, and headed out a mile offshore. On his first two days he went thru the Great South Bay because of heavy fog. On the last day, Saturday, October 6th, he rowed in the ocean from the Shinnecock Inlet to Montauk Harbor, arriving in heavy seas at 2 pm.
On the first night, he camped at Sailor's Haven, a national park, on Fire Island. On Thursday night, October 4, he camped at West Hampton Marina and on Friday night, October 5, he anchored to his brother's powerboat in the ocean where they spent the night together. That first day he rowed alone and then his brother, Chris joined him in his boat to provide food and water and security in case of bad weather.
Matt's pledges for the event are over $14,700 currently, but we still don't have the final total; rumor has it that there may be more donations.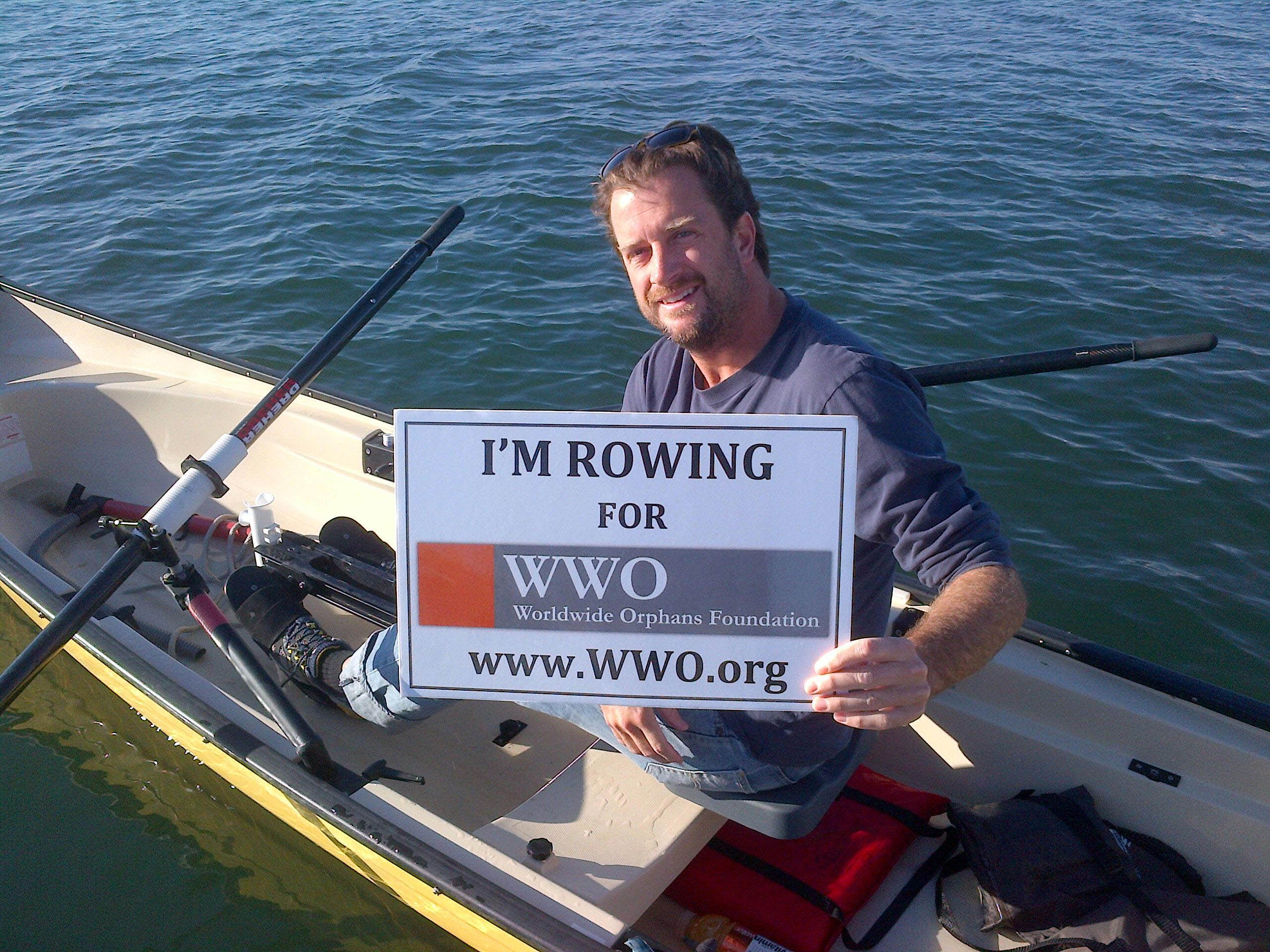 Why am I so in love with Matt Hannon? I have not met him as of yet, but I have seen his words on the WWO website campaign page which we provide for all those who participate in "Count Me In." I love what Matt means to all causes. He is an individual who has stopped for a moment in his life and asked some very hard questions about what is meaningful. We know that he loves his family, his kids, and his friends at work and in his hometown, Point Lookout. But he loves more than his own isolated world. He stepped away from his comfort zone and into the next world... the world of generosity. And he focused that generosity on orphans and vulnerable children. He dared to think about suffering and pain in a world he knows little about. He couldn't deny the truth about children living without parents so very far away from his world -- he knew a little boy who had done so. He let that seep under his skin.
He took that awareness and heard a "call to action" and sacrificed three-and-a-half days of his life to be in harm's way to make a point. He is a hero and an example of what we each can do to make a real difference in a seemingly anonymous world of 7 billion people.
We at WWO celebrate each and every one of our supporters at this moment. We are forever grateful for all of you who dare to step up and do something for orphans or any cause for that matter... you have made the world a better place.