On a June day when children and parents seemed lifted by the warm loving sun and school took on a spirit of the waning long study days with the coming summer just weeks away, I surfaced from the speedy New York subway on West Broadway and walked to Chambers and Greenwich. It was 8:20am.
At the corner of Greenwich and Chambers, where PS 234 sits behind wrought iron gates, children's high-pitched voices prevailed excitedly. They are delivered to school by adults -- one or two or even more mommies, daddies, nannies -- so that they are safe and ready for their classroom routines. Child protection is at work here, along with a lot of opportunities for love, connection, sharing and pride on both sides. Parents confidently hold hands with their "kinder" crossing streets in droves in a ritual delivery, a confident display of ownership and diligence. It is never questioned that these elementary school age kids should be held close from place to place during their day's activities. Giggling and holding starts the very long educational adventure.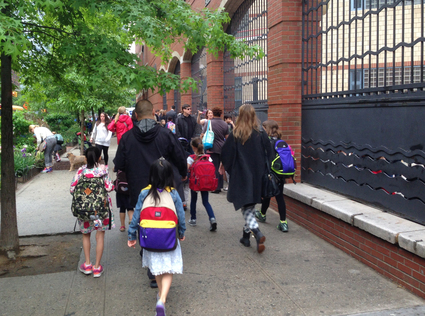 I stopped to enjoy and observe at the corner away from the crowd that funneled into the opened gate spewing children and parents, where play ensued and adult socialization flourished. The mix of tiny and larger voices was orchestral. I was enthralled and frankly mesmerized by a mundane happening that for me, was unique and profoundly and astonishingly emotional. I remembered walking to school with my mother and then I recall walking alone or with friends... safe and sound and happy. I never had a fear as I tramped off to school all my years growing up on Long Island.
Then I thought about the orphans and at-risk children around the world who have no one to escort them to school. Most walk very long distances in harm's way... human predators abound on those roads and in the fields, eager to steal and spirit innocent children away. Nigerian girls were kidnapped as you know. Kids are stolen all over the world on their way to school or on their way to doing errands for their families.
The kids served by Worldwide Orphans Academy are parented/supervised by grandparents, aunts, uncles and parents as they leave each morning to school. Some are picked up by our buses, but most walk a long distance to the school through city streets at risk of foul play and finally, their hands are not held. Millions of children in very poor countries don't go to school or go just part time. Their safe passage is not spoken about much in any articles and books. They are alone with their thoughts on the way to school and now in the era of the Taliban/Al Qaeda, and Sunni extremists, there is fear of reprisals for girls who dare to attend school.
The holding of a hand is a loud metaphor for protection and good keeping. It speaks to the natural and developmental need for children to be protected in the years before they are adolescents. The soft and warm grasp of one hand on another is a reminder of the safety and unconditional love of a person older/wiser than the child who cares and commits to this job of safe conveyance.
No hand to hold is just another way in which we fail children on their journey to becoming who they dream of becoming. No hand to hold interferes with attachment, learning and confidence. It is surely a child's right. It is not odd that I, as a global health specialist, would be stunned and shaken at seeing a sea of children with hands held on a typical weekday morning in New York City. With that said, I am sure if I were traveling all over the United States, I would find no hands held for thousands of American boys and girls. We might have forgotten that a held hand is a powerful way to say, "I love you, cherish you and pledge to make you safe all the days of your young life".