On our last day in Haiti, the team wanted to go back and say goodbye to the children. I wasn't sure about this, actually. I think that I was afraid to say goodbye. Yeah, you heard me. I was so vulnerable on Saturday, that I wasn't sure that I could do it again. I was in a lot of pain about Wadley's family and how traumatized he was when I found him in the bed.
I decided to say goodbye. When we arrived at the orphanage, the WWO staff was already on site for Saturday morning programming. This kind of commitment is unheard of for most aid organizations. WWO works weekdays and weekends. Children need love and attention every day of the week. They were playing that game with the passing of a ball in a circle and if you don't catch the ball you enter the circle and do a dance that everyone then imitates. It is sassy and spunky and lively. I inevitably end up dancing as I observe, and I sometimes wish that I could freely join the circle and play along.
Wadley's name was mentioned and I followed Melissa, our Program Manager, to the back of the orphanage where he was being gently bathed by his mother. I had not seen them interacting before this. She was so different from when I first met her. I think my first reaction to her was more about me than her. With such visible signs of physical abuse, I was afraid of how traumatized she had been, and I could hardly look at her fractured face with the deviated eye in the orbit and the dropped lid and scar. Melissa and a caretaker in the orphanage went back and forth with my questions and a translation into French and Kreyol. His mother didn't speak French which is consistent with her not having any education (French is the language in the Haitian school system).
Wadley's mother has never been to school because her father died when she was very young. She explained that she had vision in the left eye, but I am sure that with the eye deviated medially and superiorly, she had to have some vision impairment that she simply tolerated. She clearly loved Wadley and her baby. I watched her tenderly wash him down in the caressing warm morning sun.
After Wadley was clean, she picked up the baby and removed his clothes. His sweet little naked brown body in her protective arms was a perfect picture. It all looked so right... out-of-doors in the comfortable mountain air, a mother and her two young children were free to be safe. She was kind and loving and they were both comfortable, except that I knew enough of the story and they were not safe and the family needed support and protection.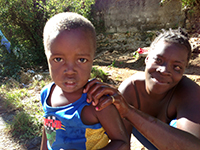 All I wanted was to fix everything. There it is -- when I travel and see all the layers and complications of family dysfunction from poverty, I want to wipe it out. I arose from my crouching position and stood out of earshot from Wadley and his family.
I told Melissa what I wanted to do. "Let's train her and make her a volunteer at the toy library. Then let's help her to go to school part-time. Our toy library team can evaluate the two boys and create a care plan for them to help them get well." Poor Melissa -- she is working from a strategic plan and a budget and then I come along and want to do more.
On the top of the mountain the morning before, while watching the kids play soccer, I learned that not all the children we serve in Kenscoff are in school. That inspired me to suggest micro-finance for families lacking the tuition fees and an education fund to ensure that all the children we serve are eligible for school admission.
It is all organic, and when you map out the destiny of families in communities, they all need the same things to grow and be self-sufficient. They deserve the opportunities to have successful kids and to be hopeful every day.
I will be satisfied for the moment to help Wadley's family be safe.
Dr. Jane Aronson
Founder and CEO
Worldwide Orphans Foundation