 We went to Haiti as a family so that our boys would learn about the country and its children, whom I love deeply. We also wanted the boys to do service with the children and youth in the Worldwide Orphans Foundation (WWO) programs. Anyone who has been following my blogs knows how I feel about Haiti. Once I went there after the earthquake in 2010, there was no chance that I would not return again and again. If you have not been following our travels, you can check out our stories from the field.
The day of the big WWO soccer tournament was filled with excitement and ceremony. But there were quieter moments, too. At some point during the games, Ben walked over to the shelter that was created to protect the visitors from the heat. There he found a lizard in the grass and began to play with it gently. He is so tender with little animals that you can watch them assuredly enjoy his hands. Within minutes he was kissing that little lizard and the lizard was enchanted.

I wandered over because I could see a crowd of about 20 children gathering at the shelter and I was curious to see what had drawn them. When I arrived, I saw that Ben was handling the lizard and that the children were watching him from a safe distance. When Ben would offer them the chance to touch or take the lizard from him, they would back away in fear and make fretful and anxious noises. Haitian children are very afraid of animals in general and have no context for them in their daily life. Dogs are especially feared.
By and by, Ben began to gather their trust; one boy moved forward and then another. Suddenly the children were tightly clustered around him. Each child was beginning to take a chance and hold the lizard. Ben had single-handedly enticed the children into enjoying this creature. Without a word of Creole or English, the children and Ben made a connection. There was no fear or anxiety. Indeed, the exchanges were filled with sweet voices and wanting tones. They were all longing to love the lizard and make him theirs.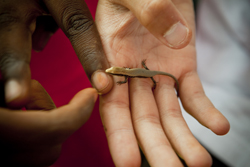 I watched the scene for about 30 minutes and then suddenly realized that the lizard was slowing up in the heat. His very life was threatened. Tiny lizards like this need food and water every minute due to a speedy metabolism. I shared my concerns with Ben and he readily absorbed my meaning. He stood up and relocated this tender creature back into some far off blades of grass. The little fellow slipped away swiftly and Ben was happy and sad. He has experienced this kind of moment on many occasions and truly understands how necessary it is to share a moment with a living creature, but he has such love for animals that he is eager to put them back where they belong.
The children of Haiti were changed that day and so was Ben. Though it was a small contingency of nature lovers, it is a beginning for them. They will hopefully seek out a lizard on their own and be nature teachers as well. And Ben will remember a hot afternoon in Haiti, when he enjoyed a tiny lizard and shared his love with a group of Haitian children.
I am very proud of how Ben in his own way, figured out how to change Haiti with no instruction from me.