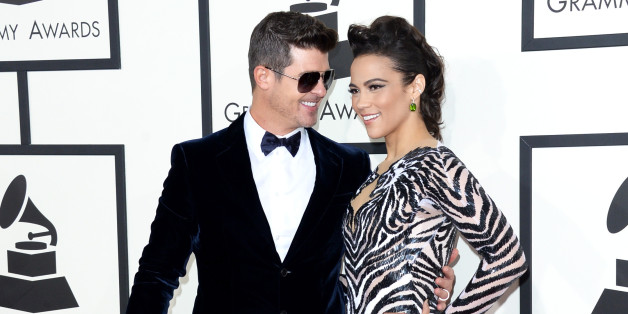 Robin Thicke wasn't lying when he said he would do anything to get his wife back. He proved it at this year's Billboard Music Awards. Thicke performed his new song "Get Her Back" in an attempt to woo his estranged wife Paula Patton just months after she announced their separation. The couple has not said why they decided to split, but sources say that the relationship has been on the rocks since Thicke's twerkalicious "Blurred Lines" performance with Miley Cyrus at the 2013 MTV VMAs. With just minutes left in the Billboard Music Awards, Robin took to the stage with an acoustic band for what seemed like a very honest stripped down performance. While he never mentioned his wife by name, he did implore the audience, "Y'all have to help me get her back," asking them to clap along.
Many people might find themselves in Thicke's situation. They've may have made a mistake, done some sort of wrong, split from their loved one, and now see the error of their ways and want to win that person back. While Thicke was able to do it publicly, most people don't have an audience to sing for or a stage from which to plead their case. What can you do, then, to make your own grand cry for forgiveness and reconsideration, and begin to mend your relationship?
You might not have a song, but you can certainly speak to wanting a second chance. Figure out how to make an important statement that is a declaration of your commitment and love, and explain that you want to regain your ex's trust. Do this by first looking at what led to your breaking point -- what caused your break-up, separation or divorce? Try to get to the root of it. Was it anger issues, problem behavior such as drinking and partying, poor financial practices? Once you establish what it was, it is important to take responsibility for the difficulty you've caused and let your former partner know you are committed and willing to take steps toward fixing whatever it was that brought the wedge between you. You also want to let them know that you understand the impact it has had on them. Most important you want to show them that you mean what you say and you are ready to take action. This might include seeking help from a therapist either together or by yourself. If trust was broken it might include becoming more open and sharing your thoughts, feelings and whereabouts. If that is the case, you might also want to think about making yourself more available and accountable in ways you were not before. Speak to what you are going to do and the changes you are willing to make.
The first step is showing that you mean what you say. For Thicke, that may have been the reason he cut his hair and appeared to tone down his look. While it is impossible to know what is really going on in a relationship, there had been rumors circulating that his partying was getting out of hand. If there was some question about his sincerity in wanting to clean up his act in order to get Patton back, his new, more conservative look might be the first clue that he means what he says. The same might be true for anyone who wants to literally show that they are willing to do what is necessary to gain back their ex's respect and renew their relationship. Sometimes one's appearance can be a barometer for the modifications they are willing to make.
For Thicke it might have been his flirting, for you it might be some other upsetting behavior that crossed the line for your loved one. The most important message you can give to your ex is that you are now willing to do what it takes to make things better. More than anything else you want him or her to know that you mean it. Thicke did it with a song. You don't need the music behind you, you just need the words.

Please tune in to "Let's Talk Sex" which streams live on HealthyLife.net every last Tuesday of the month at 2 PM EST, 11 AM Pacific. We look forward to listener call-in questions, dealing with relationships, intimacy, family, and friendships, at 1.800.555.5453.
Connect with Dr. Jane Greer on Facebook, at www.facebook.com/DrJaneGreer, and be sure to follow @DrJaneGreer on Twitter for her latest insights on love, relationships, sex, and intimacy.
For more on Dr. Greer, visit http://www.drjanegreer.com.