Israel Prime Minister Netanyahu and Palestine's President Abbas gave back-to-back speeches last Friday at the United Nations General Assembly, a highly controversial event with Palestine's bid for formal recognition. As a scientist, such matters are far too complex for me, as they are embedded with layers of subtlety and inscrutable politics. I am much more comfortable in a world driven by logic and data.
My young children have been learning about the Israel-Palestinian conflict in various contexts and have shared these discussions with me. How can our next generation understand or process these cross dialogues, with leaders talking at each other and often avoiding genuine communication?
As powerful as words can be, art can sometimes bring new perspectives. My fourth grade daughter explored this topic with the painting below, evolving naturally and spontaneously. I asked what it was, and she said "Hidden Country."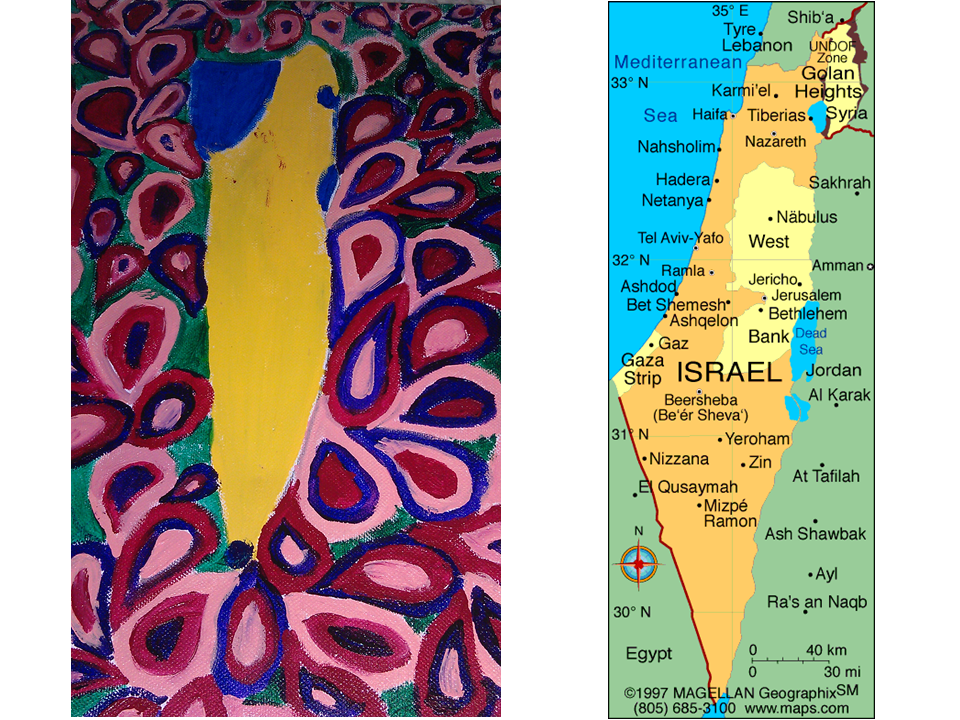 "Hidden Country" by Gabrielle Epstein-Toney, acrylic.
If anything, this Hidden Country can be viewed as a beautiful, peaceful place. Can it ever be realized?
But most especially, I extend my hand to the Palestinian people, with whom we seek a just and lasting peace.
Prime Minister Benjamin Netanyahu speech at the 66th session of the General Assembly at United Nations headquarters, following Palestinian President Mahmoud Abbas' speech.
We aspire for and seek a greater and more effective role for the United Nations in working to achieve a just and comprehensive peace in our region that ensures the inalienable, legitimate national rights of the Palestinian people as defined by the resolutions of international legitimacy of the United Nations.
Abbas Speech At U.N. General Assembly, Sept. 23, 2011