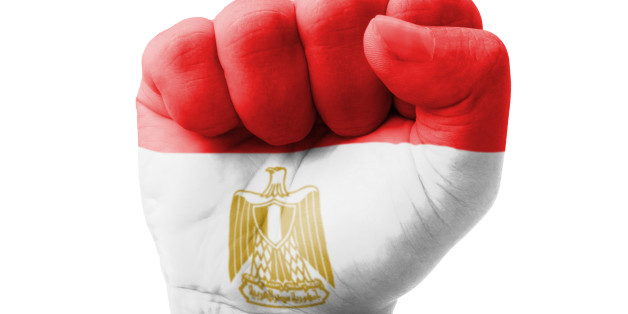 This post was co-authored with Dr. Morad Abou-Sabe, President of the Arab American League of Voters of New Jersey.
Media can play a myriad of roles in an attempt to reveal truth amidst chaos. Witnesses, including journalists, at the nexus of a torrent of public outcries, images and video from Egypt in 2013, highlighted a tug of war between media and governments. To what extent do governments influence media or do media influence governments? Western media, in large part, has portrayed Egypt as a nation in a state of chaos after a military coup. But Egyptians have a say in this: they know better.
We believe that the brief rule under ousted President Mohamed Morsi as covered by the Western media revealed their role in steering the Obama administration towards characterization of Egypt's tumult as a military coup, even as live international satellite television broadcast something very different. A Congressional subcommittee hearing on human rights abuses in Egypt was held this week, chaired by Rep. Chris Smith (R-NJ), offering one of us an opportunity to testify on behalf of Egyptians in hopes of strengthening American-Egyptian bonds independent of a Western media echo chamber. Fox News was notably absent from this hearing. Did their reporters feel that coverage was unnecessary because they had already made up their minds that Egypt's democratic will had been broken by their own military?
While Egypt was lauded for its first democratic election of a president, few could understand how he could be ousted within one year. President Morsi was remanded to prison on charges of incitement to murder and, more importantly, alleged collusion with international organizations such as Hamas against the interest and security of Egypt. The international community, including the United States, was outraged and quickly condemned Morsi's ouster as a decidedly undemocratic military coup.
There was a clear disconnect between the events on the ground in Egypt and Western media reports of the Egyptian security forces killing "peaceful protestors" during demonstrations and sit-ins that continued for weeks. Live satellite television and on the ground field reports, predominantly non-English, revealed violence that was continually perpetrated by the protestors at the sit-ins at Al-Rabaa and Al-Nahda squares. Many of these protestors were members of the Muslim Brotherhood, well-prepared and well-armed for an extended sit-in with camps, platforms, stages with large projection screens and audio, in efforts to protect their power base within the Morsi administration. They issued threats of violence to anyone attempting to evict them from the sit-ins.
On June 30, 30 million people came out peacefully calling Morsi to hold early elections because of the Muslim Brotherhood's failure to move the country forward. Many Egyptains had voted for Morsi as a protest vote against the military option of his opponent Shafik. Many had supported Islamic religious ideals aligned with the Muslim Brotherhood, not political Islamic ideology. Once members of the Muslim Brotherhood took key offices, it became apparent they lacked governing experience and were focused on their own agenda of establishing an Islamic State in Egypt as a first step towards a Global Islamic State, a far cry from the moderate Islamic states that the Obama administration seeks to support towards peace in the Middle East. How could the Muslim Brotherhood establish such a stronghold in Egypt with apparent impunity and protection by the Western media during a period of transition toward authentic democracy? Was it the Western media supported by the Obama administration or vice versa? Thanks to the collective voice of the Egyptian people, such a fundamentalist geopolitical arc was stopped in its tracks.
Egypt continues to suffer from such turmoil, but can move forward as a democratic nation recognizing the dignity of each citizen. This momentum depends upon open, accurate coverage by the media and frank discussions between policy makers unfettered by extremist agendas.