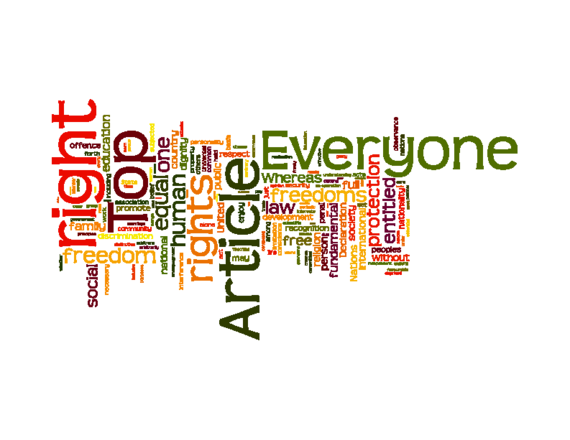 Wordle* created using The Universal Declaration of Human Rights
There are a number of under-appreciated holidays, some more serious than others, ranging from National Doughnut Day (June 7th this year) to Universal Children's Day (November 20). My wish is that every day could be Human Rights Day. The UN General Assembly proclaimed December 10 as the date for this holiday, honoring adoption of The Universal Declaration of Human Rights in 1948, led by First Lady Eleanor Roosevelt. Readers of this article need not focus on human rights in your daily lives, just as the wealthy need not focus on budgets.
Freedom, the right to vote, equal representation before the law, the right to education, access to information and health care are only a few examples of human rights. But we are lucky to take most of these rights for granted. More than one billion people don't have access to electricity and over 700 million have no safe, clean drinking water. Some 30 million people live in slavery due to human trafficking, according to a recent Global Slavery Index. I could go on, but I risk losing readers before you get to the fun part.
Human Rights Day is an opportunity to reflect on how fortunate we are and to ask yourself, "How can I help?" Social media brings many, sometimes surprising answers. Consider regular postings about current human rights violations to help raise public awareness. Join efforts such as the Urgency Network that bring together many organizations, such as Greenpeace and the David Lynch Foundation. You can contribute simply by watching videos, sharing links via social media or donating. You earn points with more engagement -- towards prizes such as joining a benefit event with Jerry Seinfeld and Hugh Jackman.
You can even bridge physical with virtual worlds to support human rights through social media gaming, potentially engaging millions of users. Programs such as Music For Relief and Power the World use rap and rock music to reach global communities. Performers such as Linkin Park have led such efforts, allowing social media gamers to bring support to real communities without electricity. For example, LP Recharge, uses avatars to "join cooperatively to battle their captors and RECHARGE the world with clean, sustainable energy." Inspired gamers can help supply Socckets, soccer balls that generate electricity with play, bringing light into homes without power. What a brilliant idea - kick a soccer ball, create stored energy! Play in the virtual world, and on the soccer field, can lead to a higher quality of life, dignity and increased productivity of struggling communities.
How you can help is only limited by your imagination. There are many great organizations seeking volunteers and new ideas, ranging from the Clinton Global Initiative, to Doctors Without Borders, to the Bill and Melinda Gates Foundation. Those inspired words adopted 65 years ago by the UN General Assembly mean nothing without action. If a single reader is inspired to add to these global efforts to benefit humanity, it would really mean that every day can be Human Rights Day. That, I think, would make Eleanor Roosevelt smile.