Earlier today, at an event on the expanding role of caregivers in our society, I had the opportunity to tell the story of two remarkable young men I met at a reception my husband Joe and I hosted for Wounded Warriors on Sept. 11, 2013.
Kyle and Brett Pletzke are brothers from Rockford, Mich. Kyle is an Army Specialist who was injured on his first deployment to Afghanistan in late 2012. Kyle sustained multiple pelvis fractures, an ankle injury, and nerve damage to most of his right leg.
When Kyle first came to the White House in 2013, he was in a wheelchair. A few months later when he came to our home for the reception, he was walking.
Kyle credits much of his progress to the fact that his older brother Brett was able to serve as his primary caregiver during his recovery. And Brett notes that the reason he was able to help Kyle was because of the U.S. Department of Veterans Affairs' Caregiver Rule, which provides training, counseling, supportive services, and a living stipend to post-9/11 veterans' caregivers.
Because of the Rule, Brett's employer kept his job open so Brett had the time to care for his brother. Now Brett's back at his job in Chicago, and Kyle is doing great. Like the brothers' situation illustrates, these support systems can have a significant impact on the day-to-day hardships caregivers face.
Often, when we think of caregivers, we think of mothers caring for their children, who of course fill an essential and vital role. But as Kyle and Brett show, caregivers take many different forms -- from children caring for aging parents to spouses caring for a loved one with a chronic illness to siblings caring for wounded warriors.
These can be difficult and exhausting roles. So as the number of caregivers among us continues to increase, we need to find more and effective ways to support caregivers and their efforts. Caregivers face a delicate balance of protecting their loved one's dignity and independence while making hard choices -- such as when to take the car keys or checkbook away or how to help with personal care someone can no longer do for themselves.
This is an important conversation that will continue later this spring at the White House Summit on Working Families, co-hosted by the Center for American Progress and the Department of Labor. In the interim, we should all find ways to connect with the experience of caregivers, and think about the steps -- big and small -- we can take, so that all of our loved ones and their caregivers get the support they deserve.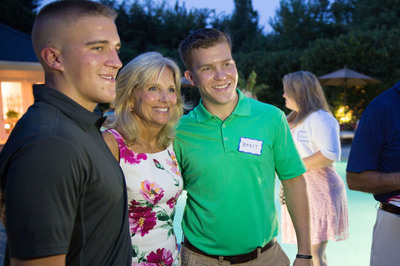 Vice President Joe Biden and Dr. Jill Biden host a Wounded Warrior barbecue at the Naval Observatory Residence, Sept. 11, 2013. (Official White House Photo by David Lienemann)