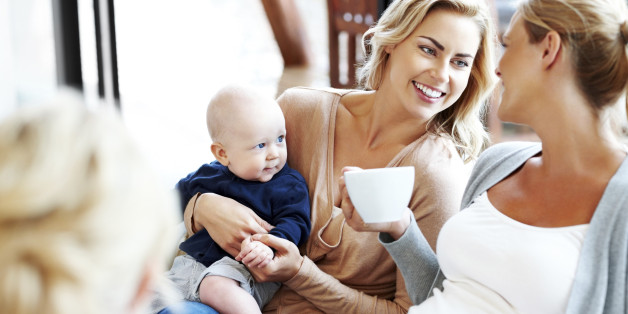 Shortly after my daughter's birth, I was taking a walk around my neighborhood when a woman stopped to comment about my baby.
"She's adorable!" she exclaimed with delight.
"Isn't it the best time ever?" "Enjoy every minute!" the woman instructed me.
I smiled politely, but wanted to confess that my five-day old daughter had not slept for more than an hour the night before. In between soothing and trying to problem solve the source of her near-constant cries, I had stepped out for some fresh air that morning.
I was not enjoying "every minute."
Her questions left me tongue-tied, because my entry into motherhood had not been so black and white. I was not embodying the list of adjectives that she, and other well-meaning people had assumed that I was. I was not "glowing." Nor would I describe my experience as "joyful."
For me, caring for a new baby varied from one hour to the next. I was learning to take it day by day. I loved my daughter, but found sleep deprivation, feeding and learning how to intuit and read my baby's cries overwhelming at times.
My experience made me ponder. As a psychologist who works with mothers who are suffering from the baby blues and postpartum depression/anxiety, I think these well-meaning questions and statements can be dangerous for some women.
It might be surprising, but postpartum depression and anxiety affect approximately 15% of mothers. For the majority of women who are not "glowing" after the birth of their babies, being told to "enjoy every minute," and that "motherhood is the "most joyful time," may cause them to foreclose on sharing their struggles. Furthermore, these statements may erupt their own inner-critics if they are not embracing the new days of mothering with ease and grace.
Unknown to many, even new moms, becoming a mother is a journey and a process, and despite what we may read in books and on magazine covers, this shift of identity does not happen instantaneously.
While I did not suffer from a postpartum mood concern, hearing that woman's comments didn't cause me to linger in conversation with her. I felt as if I had to agree with her excitement, and didn't disclose the sleeping challenges we were having. After all, I didn't want to burst her bubble.
I know I am not alone in my experience. During the postpartum support group that I co-facilitate, my colleague and I often discuss the "optimistic blanket statements and questions" that are asked during pregnancy and motherhood. Family expansion is viewed as a seemingly happy time, and much is projected onto what others assume is a purely joyous occasion.
I imagine people make these innocuous statements about motherhood and the "happiness" it brings, because a sense of our own nostalgia awakens when we see a new mother and her baby. If we are parents, it may take us back to a time when we wished that we had enjoyed more of the early days with our little ones.
Yet it is important that we think about our questions with sensitivity.
Instead of saying "Isn't it so exciting?" you might ask "How are you doing?"
Instead of saying "Enjoy every minute!" you might say "Take it moment to moment."
Instead of saying "Don't you love being a mom?" you might ask "What is it like being a new mom?"
Many women who suffer from postpartum mood concerns are never diagnosed and never receive treatment. When we see a new mom strolling down the sidewalk, we never know about her pregnancy and birth journey and all that it entailed.
I propose that we begin asking more open-ended questions. These questions can invite women to share their authentic experiences about one of life's most difficult and meaningful roles. These questions may lead to a more intimate dialogue about a woman's postpartum experience. If she is struggling with the baby blues or postpartum depression, your questions may come as a welcome invitation for her to begin sharing that everything is not "joyful."
And, if she does disclose that she's feeling down or blue, let her know that she is not alone and that support is available. After all, not only does it take a village to raise a child, it takes a village to support new mothers, too.