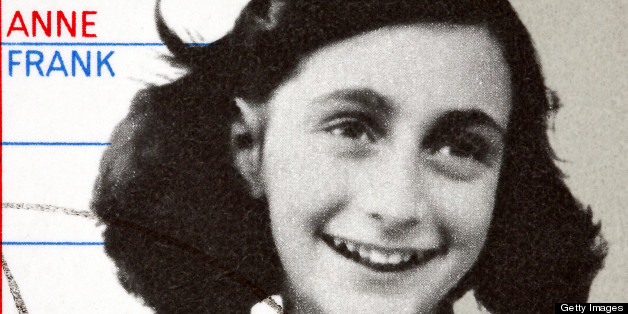 There are days when I become so enraged by the ignorance of others that I cannot focus on anything else. This was one of those days. I almost didn't believe it when it zipped across my Twitter feed. I saw the words: Anne Frank pornography. (Did you catch that? The classic 1947 diary written by a girl trying to escape the Nazis is "pornography.") What is going on here? First, Justin Bieber (on a visit to the Anne Frank house in Amsterdam) writes in the visitor log that he hoped, (Anne) "would have been a Belieber," and now this? (This isn't the first issue I have with Bieber. His comment was thoughtless, but he has also talked about Chris Brown being his role model, so, you get the picture.)
I clicked on the link. The story: Gail Horalek, a mother of a seventh grade girl (read that carefully: she is about to turn 13 years old), wants to ban the unabridged version of The Diary of Anne Frank from her daughter's school library in Michigan because it is (in her opinion), "pornographic." She lodged a formal complaint against the Northville, MI school district.
The Diary of Anne Frank is the narrative of a Jewish girl who was hidden with her family during the Holocaust and eventually died at Bergen Belsen. This was a period of mass genocide. Concentration camps. A true event in history that is so horrifying it seems like it should be the plot of an Eli Roth movie, not our awful reality. But no, this mother is not concerned about that; she is concerned about a passage where 13-year-old Anne writes (in her diary -- not on Facebook) about what her genitalia look like. (Did we happen to catch that Anne is the same age as Horalek's daughter?) She described pubescent hair growth, the existence of labia and dare I say it? She identified her clitoris. It is a young girl's diary; it is not meant to titillate or arouse. It is a description of a pubescent girl hidden away in 500 square feet with seven other people while her body is blossoming.
Horalek says that her daughter was uncomfortable reading the aforementioned passage. I can tell you why she was uncomfortable: She didn't understand what Frank was talking about. She couldn't identity with the parts because she didn't learn about them. (You've heard this from me before.) She was probably also confused that a young woman would have been exploring her genitals; it isn't a huge stretch to think that a person who thinks The Diary of Anne Frank is pornographic probably hasn't talked to her daughter about masturbation.
I was 10 when I read The Diary of Anne Frank. As a Jewish girl, I grew up with the story of Anne, her family, and Miep Gies, the extraordinary Dutch woman who hid the Frank family and four other Jews in a secret annex over Otto Frank's place of business during the Holocaust. Anne was a young girl at the beginning of womanhood. She could have been me; she could have been any of us. The idea that this work could be deemed pornographic due to sexual content goes beyond insulting. There really is not a term appropriate enough to describe this charge.
I venture to say that this is probably not the end of this type of insanity. There will be other books. There will be other stories. The question is what are we going to do about it?