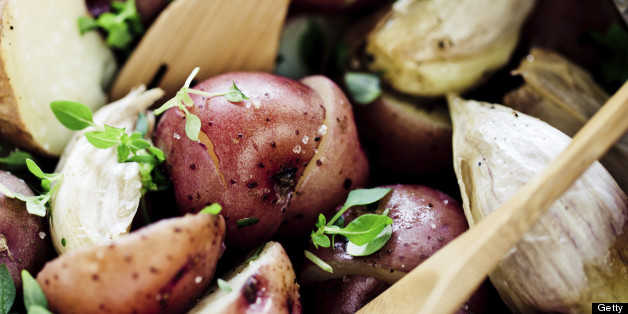 We all have our favorite summertime foods: a juicy cheeseburger grilled to perfection, a hearty potato salad, or cool, refreshing ice cream. Here are some recipes I recommend as healthy alternatives to those warm-weather favorites.
Hanger Steak
Instead of a cheeseburger, how about some hanger steak sliced thin and served on bed of arugula or greens with salt and pepper and balsamic vinegar? It's an amazing Italian meal, it's easy to do, and everyone loves it.
Ingredients
1 pound of hanger steak, salt and pepper each side
2 cups of arugula
Balsamic vinegar, ideally the reduced kind, which is more expensive and sweeter, but you use less
1-2 tbsp. extra virgin olive oil
Salt and pepper
Instructions
Cook steak on grill for 1-2 minutes on each side until medium rare
Slice thin
Arrange arugula on a large plate or platter and drizzle with olive oil and ground pepper
Place sliced steak neatly on top of greens
Drizzle with balsamic vinegar and a little more salt and pepper
Serve
Dr. Mark's Potato Salad
For the potato salad, try using small fingerling or red potatoes (which are lower on the glycemic index) and serve in a sauce of lemon juice, extra virgin olive oil, crushed garlic, chopped parsley, salt, and pepper... amazing!
Ingredients
1 pound of small red russet potatoes or mixed-colored fingerling potatoes
2-4 tbsp. of extra virgin olive oil
Juice of 1 lemon
1 clove of garlic
1 cup of chopped parsley
Salt and pepper
Instructions
Boil potatoes with skins on over medium heat for 10-15 minutes, until soft but not mushy
Drain and cut in half
In a large bowel, whisk together olive oil, lemon juice, salt, pepper, crushed garlic, parsley
Put hot potatoes in to the dressing, mix well, and serve
Ice Cream
For dessert, put frozen blueberries and strawberries in a blender; add a little unsweetened soy, almond, or hemp milk, and serve. You could even add a tablespoon of coconut butter to make it creamy.
Ingredients
2 cups of frozen blueberries
2 cups of frozen strawberries
1 tbsp. extra virgin coconut butter
Unsweetened hemp, almond, or soy milk (non GMO); use a half cup more or less as needed to create proper consistency
Instructions
Blend in a blender or a Vitamix
Serve in nice wine or parfait glasses
For more healthy and flavorful recipes, check out The Blood Sugar Solution Cookbook.
Mark Hyman, M.D. is a practicing physician, founder of The UltraWellness Center, a five-time New York Times bestselling author, and an international leader in the field of Functional Medicine. You can follow him on Twitter, connect with him on LinkedIn, watch his videos on YouTube, become a fan on Facebook, and subscribe to his newsletter.
For more by Mark Hyman, M.D., click here.
For more on personal health, click here.