It's been 80 years and over 15 million copies sold since Dale Carnegie wrote How to Win Friends and Influence People but not so much has changed. We can't survive in my business without winning new friends and influencing new people.
Junior and community colleges were created as partnerships between local governments and state governments to help provide affordable access to higher education and it worked well. College has been the doorway to a brighter future for millions of Americans, but that door has been closing. Soon it may be shut to a new generation of students unless we find new partners.
I'm looking at data that shows my college's historical allocation of revenue sources. I'll share a snippet that tells a powerful story.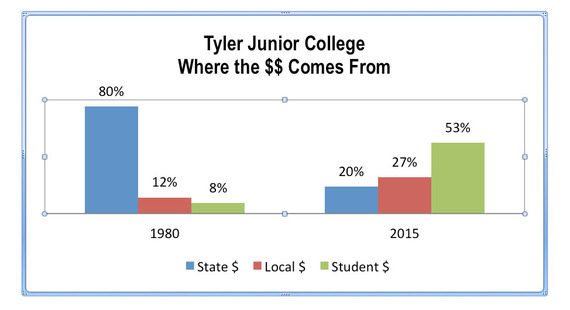 In 1980, student tuition and fees made up 8 percent of our budget. This year it is 53 percent. We didn't suddenly get greedy and decide to price out students. In fact, we may be their last, best hope of getting an affordable education and graduating without massive debt. The state of Texas, which used to provide 80 percent of our funding now provides about 20 percent.
Every day we're trying to see how we can make this college more affordable, but the cost share for students grows every year. Our students now account for the largest part of our operating budget and no one believes that revenues from local taxpayers or the State will dramatically increase.
That leaves our students as the best option for new revenues but it's a terrible option. So how do we stay in business? New sources of revenue need to be found.
The CFO and I meet often to develop new sources of "OPM". I first called it "other people's money" but that sounds cold and not what I intended. It's really "other partners' money." Partnerships are the only way to increase our collective impact in this community.
I first learned the value of working together as a young Peace Corps Volunteer. "Entre todos, no pesa" (a load that's shared isn't heavy) helped us build a school and do other projects in my village. For the past six years, we've taken student volunteers from my college to work in and around that village where they have life changing experiences. We've done reforestation, built a school addition, built indoor toilets, and put a new roof on the health clinic. We did all this and more with "OPM" and partnerships. Local workers and the provincial government supplied materials and labor. The Peace Corps helped, Tyler businesses donated money and labor and our sister institution, UT Tyler, all contributed so together we could do what none of us could have done alone.
Over the last 5 years, Tyler Junior College has formed dozens of partnerships. For example:
• The CEO of Brookshire's, a local grocery chain, asked us to help train retail workers. That turned into a $12 M nationwide workforce grant.
• A power company asked us to help train skilled workers to help address the wave of retirees. They have provided millions in equipment as well as scholarships and instructors. This partnership garnered a national workforce award last year.
• Three communities in our service area provided money, facilities, and startup costs to open TJC centers. Tyler is a medical hub for the region and plans to become a medical training destination as well. More than $12M in donations and a $25M bond election helped us build a new nursing and health sciences center.
• The City of Tyler, Tyler Economic Development Council and Smith County partnered together to help us build a new Energy Center for energy related career training.
• A local manufacturer gave us $130,000 worth of new equipment as trainers for one of the energy center classrooms, hoping the corporate headquarter will donate another million.
• The University of Texas Health Northeast is partnering to provide a full time dentist, dental hygienist, and receptionist to help us provide public dental care in our new building as part of our dental hygiene training program.
• Other local hospitals have also formed partnerships with us worth hundreds of thousands of dollars.
• The University of Texas at Tyler allowed 200 of our students to live in their new student housing while we are building more on our campus. They have been terrific partners in numerous endeavors and are also the largest recipient of our transfer students.
There are dozens more partnerships I could list, and all have enabled us to do much more than we could alone.
Just a few of the lessons learned:
1. Successfully partnering with anyone is like a good marriage. Each partner must feel like they "married up." Each side has to benefit and neither side should feel that they got less of a good deal than the other.
2. The best opportunities emerge when neither party could fulfill its mission without the help of the other. Neither one could be successful alone.
3. People are naturally drawn together for mutual benefit. Humans have always needed to collaborate so that our fragile species could survive.
4. When you are working together with a strong partner, no pesa! Really!