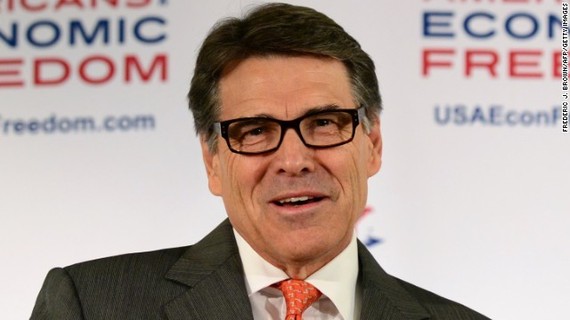 Energy production is an important driver of our economic and technological future.
That's why I am glad that President-elect Trump has selected my good friend Rick Perry to run the Department of Energy.
I've known Rick since he was Lieutenant Governor of Texas in 1998 and I've seldom met anybody who has shown a greater capacity for leadership.
By fighting tax increases and expanded regulations, he kept Texas a destination state for businesses and an engine of job growth. During the economic downturn, nearly 1/3 of all private sector jobs were created in Texas, many of which were in the energy sector.
Which is exactly what makes Rick such an outstanding choice for the Department of Energy.
Yes, I am aware of him infamously calling for the department to be shut down. However, that was because he felt that he and his fellow Texans had a handle on energy production in their state and he did not feel the federal government needed to infringe upon that.
But now, he will get a chance to share Texas's successful economic and energy strategies with the rest of the country.
And fear not, alternative energy advocates. For those of you who are so worried about what Rick's approach to energy will be, let Hudson Clean Energy CEO, Neil Auerbach put your mind at ease.
As Mr. Auerbach wrote at CNBC.com Wednesday regarding Rick's energy record while Governor of Texas, "During his tenure, natural gas production climbed 50 percent, while oil production soared by 260 percent. However, the growth of the wind industry under Perry's tenure was even more dramatic, growing from only 116 megawatts of production in 2000 to over 11,000 megawatts in 2013."
Auerbach added that, "If Texas was a country, it would rank as the fifth largest producer of wind power in the world," while praising the former Governor's "pragmatic approach to economic growth with energy at its core."
That's precisely what we need: a practical voice with the experience and knowledge to guide our energy policy in the right direction.
As you can see, under Rick's leadership, Texas did produce a lot of oil and natural gas, but wind power grew exponentially as well. That is because he understands that all energy options should be on the table and we should be willing to use anything that produces positive results.
That is the strategy of a forward thinking, market-oriented individual, who truly comprehends that results matter more than intent or ideology.
President-elect Trump promised a no-nonsense, businesslike approach to government and by putting Rick in charge of the Department of Energy, he continues to show that his words are more than just hollow rhetoric.
I'm excited for my friend and look forward to the terrific job he will do in making America's energy policies and production great again!