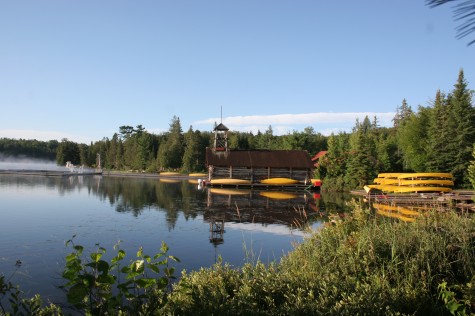 I wish that I were the leader of a G-8 country this week. There are two reasons. First, the G-8 is meeting in Huntsville, Ontario, one of my favorite parts of the entire world. I spent my summers as a kid going to Camp Arowhon in Algonquin Provincial Park, next door to Huntsville. The pristine woods and lakes were a glorious place to meet remarkable people while learning to swim, sail, and canoe. (Best-selling author and marketing guru Seth Godin was my canoe instructor). If the G-8 leaders are really stressed out, they need only take a paddle on one of the Muskoka region lakes at sunset. Hearing the call of loons, having a close encounter with a feeding moose and watching beavers at work are all likely and can't help but drop their stress levels.
The second, and more important, reason that I would want the job this week is because the G-8 leaders have the power to make commitments that could help save the lives of 11 million women and children. The host Canadian government has set an ambitious goal for others to meet by pledging $1 billion for maternal and child health. Others are also taking up the charge and making promises, but these governments have made pledges before. According to the poverty action organization ONE, this group has met only about 61 percent of their 2005 pledges over the past 5 years. These averages, though, cover up a lot of variations across the countries. Here's what ONE has to say:
"ONE's report found that the Canada, Japan and the United States set relatively modest targets in 2005 but have exceeded them. France and Germany set more ambitious goals but are likely to deliver approximately one quarter of them. The UK continues to show leadership in its progress towards reaching its ambitious aid targets. Italy's dismal delivery, however - cutting aid to Africa by 6 percent from 2004 levels - brought down overall performance and is a key example why a new framework must be put in place to help make promises more transparent and enforceable."
So, if I were a G-8 leader this weekend in Huntsville, here's what I would do. Start my morning with a dip in the lake (be aware it's going to be refreshingly brisk). Meet with other leaders to finalize a plan to save the lives of millions of children and women. I would emphasize making childbirth safe and improving our control of pneumonia, diarrhea, and newborn infections. And at the end of the day, I'd offer to take everyone for a paddle under the stars to hear the call of the loons and look for northern lights. And after all that, I'd return home knowing I'd done what I could to ensure that millions of women and children in countries less fortunate than mine had a better shot at a healthy life.