Global health has not figured prominently in the US presidential campaigns so far. Jobs and the economy are the major issues, and the weak growth in new jobs from the most recent report has done nothing to change that. And like all recent Presidential elections, this one is likely to be determined by voters in a small number of swing states.
Given this back drop it would seem naïve to think that the issue of improving the health of people in far away places could be important to the Obama and Romney campaigns aiming to win over a relatively narrow set of voters on the locally important issue of jobs.
American investments in global health priorities like immunizations, AIDS care and malaria control enjoy strong support from the public and are an expression of our inherent generosity as a people. But what if global health and jobs are actually linked, and what if this link is actually strong in swing states? Then talking global health is talking jobs, and that makes for good election year politics.
We examined some of the available facts on global health and jobs in swing states and came up with three reasons why the presidential campaigns should pay more attention to global health than they have so far:
Global health is a significant driver of money and good jobs in swing states. Consider the following statistics for some key swing states:
North Carolina (15 electoral college votes): According to the Duke Global Health Institute, in 2007, global health contributed an estimated 7,000 jobs, more than $500,000,000 in wages and salaries and had an economic impact of $1.7-2.0 billion on the North Carolina economy.
Virginia (13 electoral college votes): The global health sector in this state is among the biggest in the nation. Nearly one-half of all the funding for global health from the U.S. Agency for International Development went to Virginia-based institutions - over $560 million in FY2011 and 2012 alone. These dollars no doubt provide jobs to hundreds of Virginians.
Pennsylvania (20 electoral college votes): Pennsylvania is home to thousands of professional and skilled manufacturing jobs in the vaccines and pharmaceutical industries. Merck, Pfizer, GlaxoSmithKline and others have major manufacturing, commercial and research presences in the state and all are making major investments in global health. US contributions to global health and policies towards regulation, research and investments that build systems in emerging market countries will have a major impact on thousands of jobs in the state.
University students are increasingly pursuing careers in global health. As Obama's 2008 campaign and Ron Paul's primary campaign in 2012 showed, when you tap into an issue that college students care about, they become energized and help get out the vote for your candidacy. Young voters care about global health. In the field, we call this "the new altruism" and it is an impressive source of energy and enthusiasm.
Consider Florida (29 electoral college votes) and Ohio (18 electoral college votes) where major universities are seeing a growing interest in global health education. For example, the University of South Florida, College of Public Health has about 1,100 full and part-time students enrolled in global health studies. At Ohio State University's medical school, the number of students enrolled in global health electives has doubled since 2008. These students expect to find jobs in global health after graduation. A campaign that speaks to these goals and aspirations might find enthusiastic supporters to get out the vote in November.
Neither campaign can claim the upper hand on global health. The global health issue may appear smaller than some others but, on the other hand, it may not cost much to gain the upper hand. Despite nearly four years in office, President Obama has not won over the global health community and remains vulnerable on this issue. After high initial expectations, Obama's Global Health Initiative failed to launch and was shut down last week after just two years. Furthermore, despite some impressive victories, the Obama administration has been repeatedly criticized by the AIDS activist community for being less supportive of the fight against global AIDS than his predecessor, President George W. Bush. Criticism of President Obama has gone so far that DC bus stops had life-size posters with images that were one-half President Bush and one-half President Obama asking "Who's better on AIDS?". President Obama's difficulty in answering this question - and his administration's inability thus far to generate its own high-visibility global health successes - mean that his campaign cannot take for granted the global health voter's enthusiasm or ballot.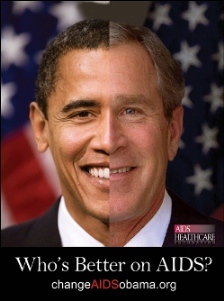 Image Credit: changeAIDSobama.org
The Romney campaign comes in as a complete unknown and could capitalize on this with global health voters. Candidate Romney has not (to our knowledge) generated any visible position on global health issues, has not identified a point person within his campaign for shaping policy on these issues and has not signaled any intention to change that. Given that the last Republican president is widely regarded as having been a great global health leader, the Romney campaign could leverage that history to gain a foothold if it comes forward with a smart, aggressive approach on global health and communicates it widely and effectively.
Supporting global health has strong moral basis and broad public support. Consequently, the case for a President to be ambitious about global health was typically driven by our tradition as a generous and caring country, our diplomatic interests, improving national security through alleviating poverty, preventing diseases from crossing our borders or for the USA's global reputation as a force for good in an interconnected world.
But this summer, as the campaigns start looking to win over every vote in the pivotal swing states, it may be worth examining more closely the local links between global health and jobs, and the opportunity to tap into an issue that could energize university students. For an election that might swing on a few thousand votes, the initiative required for capturing a few hundred voters who care about global health, and the jobs it could create for them, might be worth the effort.
Orin S. Levine is Professor, International Health at Johns Hopkins Bloomberg School of Public Health and Visiting Fellow, Center for Global Development.