"Global health? You must find your work so rewarding!" said a flight attendant who chatted me up on my recent trip from Seattle to Washington.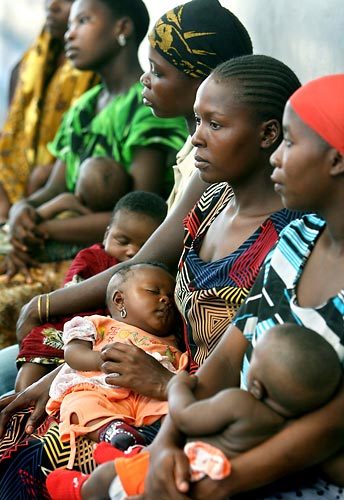 "Indeed I do," I replied, and especially right now.
The truth is, the rewards of a career in public health are infrequent and often hard to see. In clinical medicine, doctors and nurses have the benefit of experiencing the impact they have on people's lives on a daily basis. For them, delivering babies, bringing relief to sick patients and fixing boo-boos are all part of a day's work. In public health, on the other hand, victories sometimes take decades -- rather than minutes -- to reveal themselves.
For starters, in public health, we're focused on large-scale disease prevention. So it's actually the absence of disease -- that is, not encountering patients in the world's emergency rooms -- that we aim to achieve. Second, it can take years of effort to get prevention programs in place, and years more for them to take effect. This is particularly true in developing countries, where lack of infrastructure can dramatically impede progress. Finally, we have to be satisfied with progress shown in spreadsheets, graphs and peer-reviewed papers rather than on the faces of real people. Granted, we get pretty excited about shifts in a line graph -- but somehow it's just not the same as sending a child off with a lollipop and seeing her face light up a room.
So what's different about this year, and why am I excited about my work right now? This year marks the first time ever that children in the world's poorest countries will have access to the same pneumonia vaccines as children in the USA, and on the same timeline.
That's it, you ask? While it may seem like a no-brainer to protect at-risk children from the world's leading infectious cause of death, the fact is, what's happening this year is unprecedented.
Historically, it has taken 10-20 years for new life-saving vaccines to reach the children in the world's poorest countries. Ironically, most new vaccines go first to the children who need them the least, due to low risk of disease, but whose parents and governments can most easily afford to pay for them -- like children in the United States.
But this year, that inequity is about to change.
With support from the GAVI Alliance and a group of visionary donors who supported the world's first-ever Advance Market Commitment (AMC), the world's newest, most advanced and most protective vaccines against pneumococcal infections are rolling out in places like Sierra Leone, Kenya, Yemen, Nicaragua, Mali and Democratic Republic of the Congo. What's more, through the AMC, a dose of this vaccine is available for about the same price as a large latte at your local café.
In many countries, the situation is particularly grave. For example, a child in Yemen is over 350 times more likely to die of pneumonia than a child in the US. And while fewer than 900 children in the US succumb to pneumonia annually, the Democratic Republic of the Congo loses more than 100,000 children every year to this disease. In each of these countries, the pneumococcal vaccine will make a big dent in these numbers by preventing the most common cause of pneumonia deaths.
With the introduction of pneumococcal vaccines through the AMC, children in 19 of the world's poorest countries will now have the same protection available to them as children in Europe -- advanced vaccines are being rolled out in countries like Kenya and Sierra Leone at the same time they are being introduced in the United States.
In short, the plot points are beginning to tell a story of hope. We're making tremendous strides toward our ultimate goal of achieving global access for life-saving vaccines. Our team at the International Vaccine Access Center (IVAC) at Johns Hopkins is proud to have played a part in this historic effort. It represents the culmination of efforts we began in mid-2003 -- and estimates indicate that once fully rolled out, the vaccines provided under this AMC will save 5 million children's lives by 2030.
So on Monday at the official launch of the AMC in Africa, I'll join President Kibaki of Kenya, GAVI CEO Helen Evans, Kenya Paediatric Association Chairman Fred Were and others for a day of celebration in Nairobi. Given how infrequently this happens, I'll be glad to take a day to enjoy the uncommon rewards of a career in public health.