In 1986, as a sophomore at Gettysburg College, I accompanied my dad, a pediatrician and vaccine researcher, on a two-week trip to Rwanda. I was instantly smitten with Africa, and in the fall of 1987 I returned--this time to Kenya, as part of a study abroad program conducted by the School for International Training
The program taught me a lot, but the real highlight was the month I spent living with a Kenyan family in Kibera, a community on the outskirts of Nairobi. My 'Kenyan mom,' Priscilla, was a purser on Kenya Airways; my siblings included Bonita, 19; Emma, 5; and their brother, 12-year old Shuggah. They took me in and accepted me as a part of the family, and I can honestly say that I learned more from them than from any other part of my college education. I managed to see them again in the fall of 1988, but sadly, we lost contact as I went on to graduate school in pursuit of a career in global health.
Seven years later, while working as an Epidemic Intelligence Service officer at the U.S. Centers for Disease Control & Prevention, I became involved in what has become my current life's work - helping to accelerate the uptake of Hib & pneumococcal conjugate vaccines in developing countries. The World Health Organization and the Children's Vaccine Initiative needed assistance guiding countries in measuring local burden of Hib disease and developing a plan to accelerate Hib and pneumococcal vaccines for developing countries, respectively, and in each case I was given the opportunity to contribute, with more experienced leaders at CDC supporting me. At that time, few if any middle-income countries and no countries in the developing world routinely used Hib vaccines, and pneumococcal conjugate vaccines were in development but not yet licensed, even in richer countries. I was young and naïve, but thrilled to be working on something that I thought was important and interesting.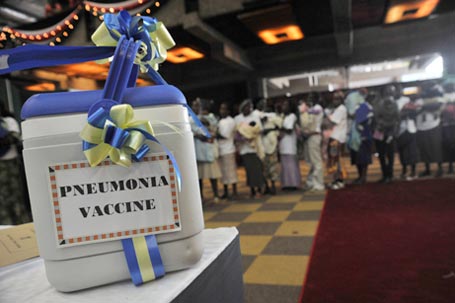 A lot has changed since 1995. I now have two beautiful daughters of my own--and just last week, advanced pneumococcal vaccines were introduced into Kenya's National Immunization Program, just months after they made their debut in the United States--something that once would have been thought impossible.
So, it was with great anticipation and joy last week that I returned to Kenya to take part in the pneumococcal vaccine rollout ceremony. I couldn't hide my smile or feeling of satisfaction as I sat in the Langata Health Center--which serves the Kibera community--and watched a health worker immunize a beautiful baby girl by giving a combination vaccine containing Hib, DTP, and hepatitis B into one thigh and the 10-valent pneumococcal conjugate vaccine into the other. Although I didn't know the mother or the baby, I know the community they live in and that these parents would never have been able to afford the vaccine on their own. Without the efforts of the GAVI Alliance, international agencies, the Kenyan government and many others, these children would have gone unprotected for years to come.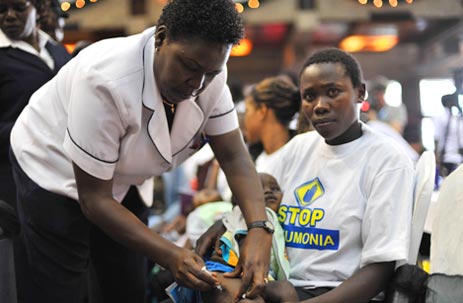 But the impact of the week also took a more personal turn as well: I had the chance to reconnect with my Kenyan family, who found me on Facebook just over a year ago. Last Saturday, I spent the afternoon with my Kenyan sisters and brother and their children in the same Ayany Estates neighborhood where I stayed with them in 1987. Shuggah is now a man over 6 feet tall with a son of his own. Emma, just 5 years old last I saw her, is now a mother and was very pregnant--due any day now, she said as she sat beside me.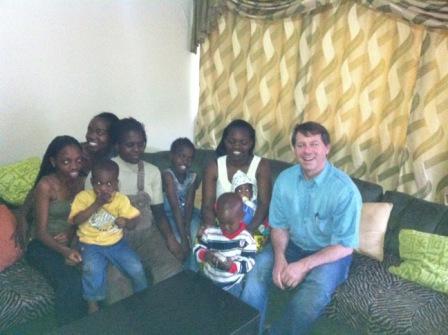 As it turns out, Emma gave birth at Mbagathi Hospital less than 10 hours after we shared a meal together. Unexpectedly, and by total coincidence, I was visiting the very same hospital the following morning. And so it was, nearly 25 years after my first visit as a college student, I had the dual satisfaction of meeting the newest member of my Kenyan family--a beautiful baby boy--and knowing that he'd be protected by vaccination from pneumonia and meningitis, just like my kids are in the USA.