The cat, er, the dog is out of the bag. The "top secret" arrival of the First Dog is finally here! His name is Bo and he is a 6-month old Portuguese water dog.
I have been on Obama Garden Watch for the past few weeks, as those who have followed my recent blogs may know. Well, I have simultaneously been on Obama First Dog Watch, anxiously awaiting the day I could get details on the Presidential Pooch.
Michelle Obama tapped into my passion for nutrition and wellness when she decided to promote healthy and delicious eating with her organic garden. Now as a dog lover and animal shelter volunteer, I can share the enthusiasm of the Obama Family's first dog -- the First Dog.
Many of us know that animals add to our emotional and spiritual well-being. Since we live in a day where just about anything can and is often researched, many studies have demonstrated that having a pet is good for our physical health as well! Apparently, while we are taking care of our pets, our pets are taking care of us.
Studies abound showing that sharing our lives with animals benefits our stress levels, our blood pressure, cholesterol, triglycerides, moods, immunity, fitness levels, the length and quality of our lives, and can even reduce health care costs.
Here are a few highlights of the hundreds of studies showing the amazing benefits of animal companionship:
Cardiovascular Health
Karen Allen, PhD, a medical researcher at State University of New York at Buffalo, reported that dog guardians with hypertension had lower blood pressure readings in response to stressful situations than those who did not have a dog.
Pet guardians were found to have lower levels of cardiovascular disease risk factors, such as blood pressure, triglycerides, and cholesterol levels in a study reported in the Medical Journal of Australia.
Having a feline companion could reduce your heart attack risk by nearly one third, according to researchers at the University of Minnesota's Stroke Institute. Queen's University researcher Dr. Deborah Wells reported that dog guardians were 8.6% more likely to be alive one year following a heart attack than those without a pooch pal.
Health Care Costs
Having a pet seems to help with health care costs.
A study conducted by the United States National Institutes of Health indicated that people who have pets make fewer doctor visits, especially for non-serious medical conditions.
An Australian Study showed dog and cat owners make fewer annual doctor visits and are less likely to be medicated for heart issues and sleeping problems than non-pet owners. The study indicated that a presence of pets in a majority of households could result in an annual savings in health care costs between $790 million and $1.5 billion!
Improved Immunity
A Wilkes University study found that petting a dog for 18 minutes resulted in a significant increase in secretory immunoglobulin A (sIgA), which helps the body protect itself from foreign invaders. One possibility for this increased immune response is a decrease in the stress hormone cortisol.
Benefits to Children
Dr. Sue Doescher, a psychologist involved in a study at Oregon State University, reported that teaching children to care for a puppy increased the children's cooperation and sharing attributes.
A study reported in Allergy showed reduced risk of allergic responses such as eczema and asthma for children exposed to pets within the first 4 years of life. The Journal of the American Medical Association (JAMA) reported a study that found that exposure to two or more dogs or cats in the first year of life may reduce risk of allergies throughout childhood.
Benefits to Seniors
A study reported in the Journal of the American Geriatrics Society reported that the physical health of seniors benefited from sharing their lives with companion animals.
A Saint Louis University study reported that nursing home residents had a significant decrease in loneliness after one-on-one visits with a dog.
The health benefits of the human-animal connection have been extensively studied for many years. A lot of the research has resulted in wonderful practical applications. There is a growing number of "therapy dogs," who "volunteer" to visit patients in hospitals, mental health centers, shelters, and nursing homes. One such program is the POOCH (Pets Offer Ongoing Care and Healing) program at Cedars-Sinai Medical Center in Los Angeles. Visits from these caring canines often lift their spirits, calm their nerves, and relieve their loneliness.
The ways that animal companions affect our well being are seemingly endless:
Self esteem
As much as I love my family, and they are happy to see me when I come home, it's our dogs that show the most excitement, wagging their tails ecstatically, celebrating my arrival -- day after day!
Fitness
Dogs can inspire you to get or stay in shape. When you feel like skipping your morning walk, and your dog looks at you with those pleading eyes, you just can't say no.
Pure Happiness and Joy
Animals are just embodied cuteness; they make us smile and laugh with their precious antics. I constantly marvel at how adorable my two dogs, Charlie and Simba (pictured) are. And I tell them that every day! Most animal guardians talk to their pets, yet few admit it.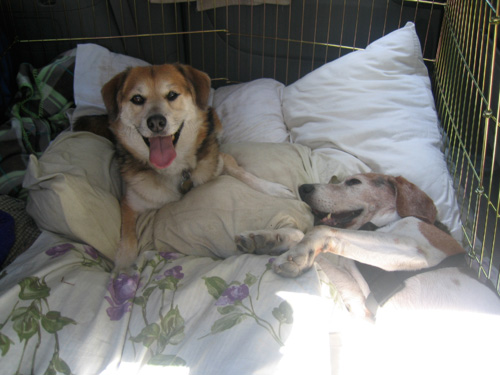 Our Social Lives
You can meet the most interesting people walking a dog, volunteering at an animal shelter, or visiting an animal sanctuary.
Good Karma
"The greatness of a nation and its moral progress can be judged by the way its animals are treated."
-- Gandhi
I know that sharing our lives with animals benefits our spiritual health, for they truly touch our soul. Once you have loved an animal, your heart will never be the same. Rescuing an animal from a shelter and giving it a second chance at life is the best feeling in the world. We often wonder who actually got rescued.
Huff Post readers: How have animals touched your lives? Let's hear your stories.
Note: If you are inspired to add an animal companion to your life, please make your decision carefully. Being a pet guardian is a long-term commitment. Please visit your local shelter or rescue group for assistance in choosing the right pet for your lifestyle. If you are interested in having an animal companion, but aren't sure you are ready for the commitment, please consider fostering or volunteering at your local animal shelter.
*Follow HuffPostLiving on Twitter and become a fan of Huffington Post Living on Facebook*