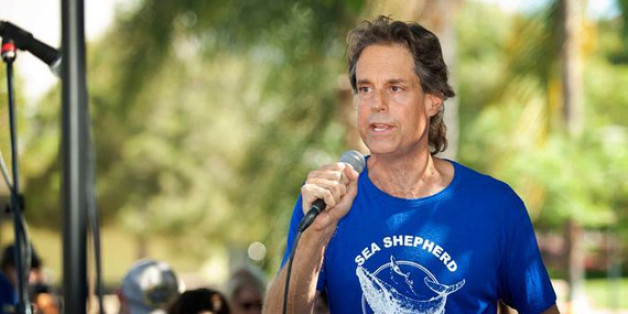 The world is outraged by Japan's latest shameful act of stealing an albino dolphin from the sea and its proposed sale, which sentences this exquisite apex predator to a heinous life of slavery.
Join me for another segment of SOS from Los Angeles, California as I show the brutal ecocide that Japan continues to inflict upon whales and dolphins.
Since 1970, 50 percent of all wildlife globally has been destroyed by humans.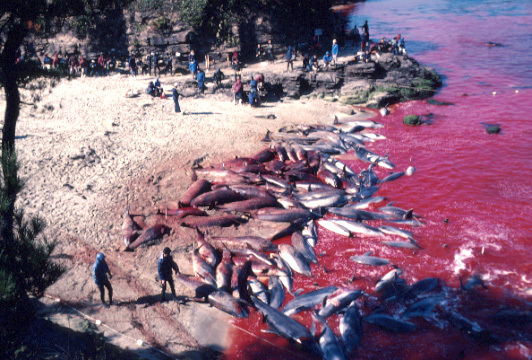 What kind of an impoverished legacy are we leaving for the children of Earth? Photo credit: forcechange.com
The web of life on land and under the sea depends upon all animals, each species plays a crucial role in the health and well-being of all ecosystems.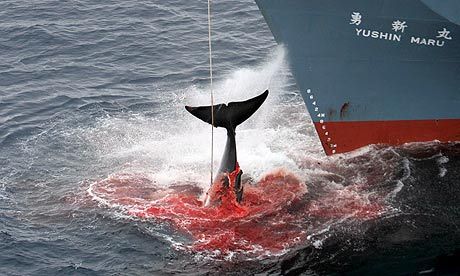 Japan can no longer hide behind a thin masquerade of science justifying slaying whales because the International Court of Justice in The Hague recently dismissed their research as bogus and rebuked them for commercial whaling within the Southern Ocean Whale Sanctuary. Photo credit: theguardian.com
It is infuriating that Japan refuses to abide by the rulings of the Australian federal court and the International Court of Justice at The Hague forbidding them from killing whales within the South Ocean International Whale Sanctuary.
Instead, Japan recently announced that it intends to slaughter 4,000 piked whales beginning December 2015.
Three lifeless piked whales on deck of the Japanese floating slaughterhouse -- Nisshin Maru. Photo credit: Tim Watters / Sea Shepherd Australia
It's bloody wrong and it's illegal!
In the Northern Hemisphere, despicable Japanese ocean-killers continue to murder sentient dolphins and capture the finest looking specimens for sale to dolphinariums in oil-rich Arabia and the cash-rich Orient.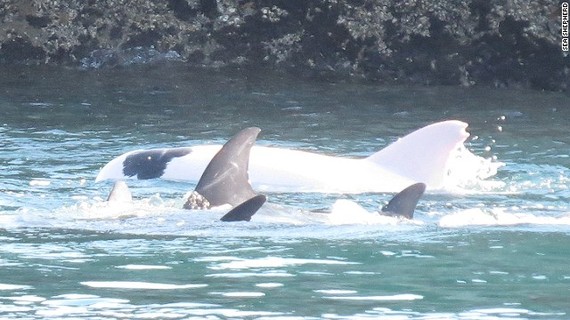 It is heartbreaking to bear witness to this inhumane treatment of another highly intelligent mammal. Japan continues to display an egregious sense of entitlement to all sealife, and a lack of compassion and understanding of the importance of apex predators like dolphins and their integral role in maintaining the health of our oceans. This is terribly concerning because the oceans are very ill and suffocating from plastics. Photo credit: cnn.com
As humans empty the seas we are discovering the last of the albino dolphins, like the one captured last week, now penned and fed dead fish awaiting the repugnant sale to the highest bidding dolphinarium. It's believed that it will fetch in excess of $500,000USD.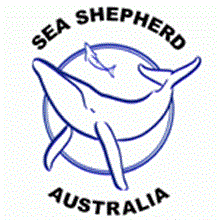 Please do not purchase any tickets to dolphinariums. Support Sea Shepherd Cove Guardians and Sea Shepherd Australia because they are upholding The United Nations Charter for Nature protecting sealife.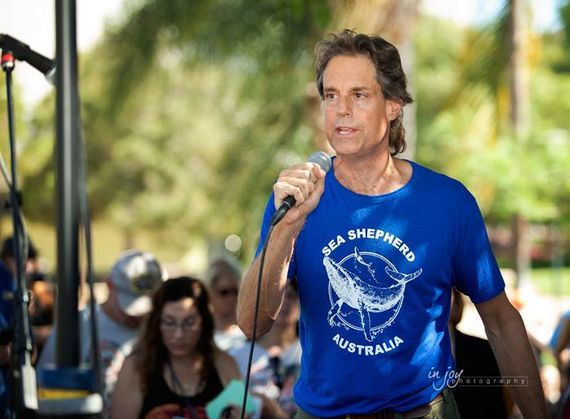 Join Earth Dr Reese Halter in his crusade to protect nature by watching Earth Calling SOS. This Christmas join him in Williamstown, Sydney and Ballina on his Earth Calling SOS Australian Tour 2014 as he launches his ninth book "Shepherding the Sea: The Race to Save our Oceans."