It's December 17, 2013 and 80 degrees (F) in Los Angeles - we are in the midst of a mini-heat wave whilst the rest of the continent is shivering. People are busy doing last minute Christmas shopping and life in Southern California is Zen. Or is it?
Most of my colleagues and friends are wondering do I shut down for the holidays or keep grinding out the copy?
The news across the wire over the past couple weeks is very disturbing and this much I can report with certainty: 'The War Against Nature' has reached an epic global scale. How long can nature hang on from this latest onslaught?
Allow me to dial you back to mid November (2013) when my colleague in San Francisco sent me news of what Google Earth had discovered about our forests. The forests, you see, are near and dear to my heart because that's where I cut my teeth doing my doctoral work in the early 1990s on eco-stress tree physiology at the top of Mount Stirling in the Victorian Alps, Australia.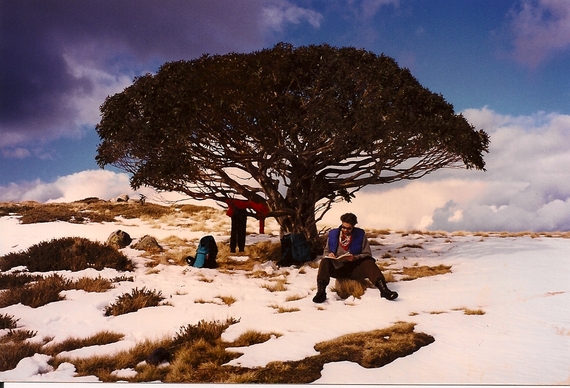 Earth Dr Reese Halter near the summit on Mount Stirling, Victorian Alps, Australia circa 1994
Google Earth's data from 2000-2012 showed that our planet has lost an area of wild forests more than three and a half times the size of California. Logging, mining, and increased wildfires and insect attacks from global warming are ravaging nature. The worst offender on that list was Indonesia where the rate of deforestation due to mining and palm oil plantations doubled from 2011-2012.
Wild forests are crucial for our planet and its existence, as we know it. For every one metric ton of old growth wood, trees have removed 1.5 metric tons of CO2 from the atmosphere and given off one metric ton of oxygen. Quite simply: Trees are the most effective CO2 warehouses to ever evolve on our planet.
On December 4, 2013 meteorologists announced that Australia's spring was officially the warmest on record with astounding daily maximums of 3.7 degrees (F) temperatures above average across virtually the entire continent, eclipsing the previous record set in 2006 by about 0.9 degrees (F).
Droughts beget firestorms, which plagued central and eastern New South Wales in September and October. A stifling heat wave across the northern tropics in Fitzroy Crossing, northern Western Australia, reached 104 degrees (F) each day for 29 consecutive days in October, an unprecedented sequence of events at any Australian station this early in springtime -- since the inception of continuous record keeping.
On December 5, 2013 storms, floods and fierce tidal surges lashed the U.K. The pictures of the wrath of an over-heated mother nature are indeed worth a thousand words.
On the other side of the world, the next day, the air quality in China was so toxic from burning coal, automobile exhausts and factories smoke stacks that the government cancelled all public sporting events in both Beijing and Shanghai and advised all citizens not to go outside.
A putrid yellow haze hung over China's financial center reducing visibility to a few feet in Shanghai - the colossal skyline of the city was barely visible to the naked eye.
Shanghai's concentration of tiny toxic PM 2.5 particles was 602.5 micrograms per cubic meter, an extremely hazardous level that shattered all previous records for poisonous air pollution. By the way, that compares to the World Heath Organization's acceptable safety standard of air quality of 25 micrograms per cubic meter. In addition, methyl-mercury from burning gigatons of coal in China is now showing up in samples from our California blue whales at off-the-chart levels never witnessed before.
As Earth's oceans attempt to contend with an escalated rate of burning coal from China, the United Sates, India and elsewhere they are absorbing at least 33 million metric tons of CO2 daily and in this process - acidifying faster than the previous 300 million years of geologic time.
All shellfish and coral reefs are made of calcium carbonate, which melt under acidic conditions. It was previously believed that only sea urchins, sea stars and mussels were the most vulnerable to rapid increases in ocean acidity, from human-induced burning of fossil fuels. But on December 5, 2013 my colleagues from the Australian Institute of Marine Science added shrimp and crabs to the list of ocean creatures now doomed.
The rush to supply China and India with more coal is the business of killing Earth. Australia's environment minister Greg Hunt and the newly elected Liberal government is more interested in exporting and building coal ports than protecting the dying UNESCO World Heritage Site - The Great Barrier Reef (which has lost 73 percent of its corals to an acidifying ocean).
Australia's coal-promoting decision pales compared to what's occurring on Borneo within Indonesia's jurisdiction. Mountains of coal are being barged down the polluted Mahakam River every few moments. Indonesia is racing to supply the insatiable demand for coal from China and India.
International miners have excavated East Kalimantan's capital city of Samarinda where open pit mines now occupy over 70 percent of the former city; the water is toxic and mudslides are rampant - people and children are gone, destitute. Bribery is blatant and new coal permits are issued weekly.
Coal mining has stripped the lands of rich rainforests (home to orangutans, elephants, rhinos, tigers and another 1,400 animal species and 15,000 kinds of plants). Those rainforests on steep slopes keep the soil in situ -- they are nature's buffer to 6-months of heavy monsoonal rainfall, and now water flows at waist-high levels frequently throughout the dugout former city during the rainy season. People are trying to exist on the fringe of the former city by growing rice in ponds filled with contaminated coal-mining water.
Each year 200 million tons of coal - stripped from the East Kalimantan rainforests - has irreparably destroyed this province impoverishing the biodiversity and the abundance of all life forms.
If our species intends to survive - 'The War Against Nature' and the latest, greatest coal rush must be curtailed - now!
Earth Dr Reese Halter is a broadcaster, biologist, educator and co-author of Life, The Wonder of It All.