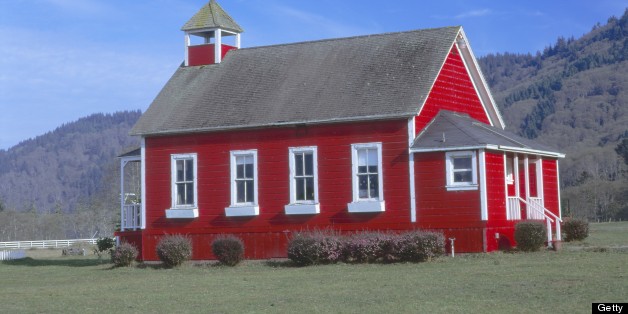 I built a one-room schoolhouse on 80 acres in the beautiful Blue Ridge Mountains and completed a year of teaching students of various grades and ages in this setting. I have been an educator for over forty years and have experienced almost every teaching situation imaginable; this is yet another path in life's journey to bring joy to learning. The students were functioning in blended educational settings of homeschooling and private teaching.
The students and I sat around the fireplace on cold, winter mornings and shared teaching/learning experiences together. We spent many hours outdoors exploring the eighty acres of forests, creeks, ponds, and open meadows. In the spring, we closely followed the hundreds of tadpoles on the edges of one of the ponds. We often used our binoculars to view a wild turkey, geese, hawks, and deer. We looked out at our gardens surrounding the school and enjoyed the work in the gardens and other locations on the property. We wrote on a real blackboard with chalk. We read from books written in the 1800s, as well as from books in times beyond.
As much as possible, our hours of study revolved around the "real" world... learning to fall in love with its majesty. When it seemed a perfect day to observe and study clouds... we did so. When it seemed a perfect day to study a thunderstorm... we did so. The Periodic Table of Natural Elements was always a delight to study. It opens up the worlds of chemistry, physical science, biology, and botany as students explore its wealth of information. We had studies from books and the internet (sparingly) as well. Finding a cozy place to read a book was always a favorite for students. We cooked together in the kitchen and had many good health lessons there.
I rejoiced in nurturing the talents and abilities of the students. One student loved spending time working on his inventions, one loved to study the future of the world over the next thirty years, one wants to be a veterinarian and when given options for study, chose animals. One student put her beautiful artistic touches on everything, one wrote beautiful songs, and one, a kindergartener, loved joining in on the lessons of the older students... taking these topics to new heights for a five-year-old.
This setting allows us to learn in very natural ways... ways that carry the mind and heart to new dimensions... ways that call learners to enjoy learning as they learn of the world in ways that seem meaningful and enlightening.
These are some of the qualities of a successful education that I treasure:
Commitment
Compassion
Competence in life skills
Confidence
Cooperative interaction
Eloquence
Generosity
Giving more than is required
Demonstrating a desire to contribute to the betterment of mankind
Honesty
Initiative to solve problems
Integrity
Intellectual curiosity
Openness to guidance
Real understanding of subject matter so that knowledge is usable
Respect for others, self, and the earth
Thoroughness and accuracy
Thoughts that lead to productive expression
Understanding the value of doing a job to the best of one's ability
Valuing the ideas of others
Virtue
Wisdom