As a practicing neurosurgeon and journalist, a big interest of mine has been the concussion crisis in sports. I've been investigating it for two years. Former NFL players have begun to speak out about their experiences with the lasting effects of concussions sustained while playing the game, and some have even made arrangements to donate their brains for future research to the Center for the Study of Traumatic Encephalopathy at Boston University.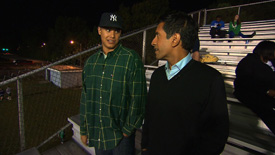 The more I have examined this subject, the more I have wanted to know about how concussion may be affecting young people who play the game. The statistics for concussion in younger players are startling. According to the Sports Concussion Institute in Los Angeles, each season one in ten high school football players gets a concussion, and about 35 percent of those sustains more than one concussion. Most players heal from these injuries, but a growing body of evidence suggests that repeated trauma can mean long-term memory problems, depression, and even early death - particularly when repeated trauma is sustained in quick succession, known as "second impact syndrome." I've met a few families that have borne these terrible consequences. And as a father, I really want to help parents, coaches, and young people know the risks - and perhaps the information can make a difference to someone.
As a neuroscientist, I know that the adolescent brain is still developing. It's less resilient to concussion than the adult brain. I agree with Kevin Guskiewicz, PhD, one of the country's leading researchers in this field that "concussion" is a word that we've come not to associate with the seriousness of what is better described as a brain injury. And I've met kids who just love the game so much; they underestimate their level of risk.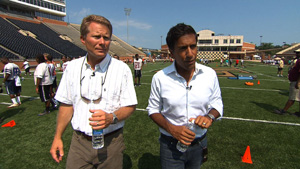 I love the game of football. I went to a Big Ten school, the University of Michigan, and my wife and I still return to our alma mater for games. But I think that the game can be safer. The NFL kickoff rule changes to reduce the helmet-to-helmet hits on punt returns were good ideas. Hiring certified athletic trainers skilled at recognizing symptoms of brain injury at games and practices at the youth level can also reduce the risk of head trauma and save lives. And, the new pre-season cognitive testing for all players can be successful in helping assess a player's condition after a hit. If a player's brain is not functioning like it did before the season, schools can make sure that player does not return to the field until he is healthy - that's key, making sure the decision is made by a medical professional to clear a player with a brain injury that he can return to play.
My CNN colleagues and I have produced a documentary that we feel will highlight some important information for kids, parents, and coaches. If you love the game, or love a kid who plays the game, I hope you'll watch...
Dr. Sanjay Gupta Reports: Big Hits, Broken Dreams airs Sunday, Jan. 29 at 8:00pm and 11:00pm ET & PT. It replays on Saturday, Feb. 4 at the same airtimes.