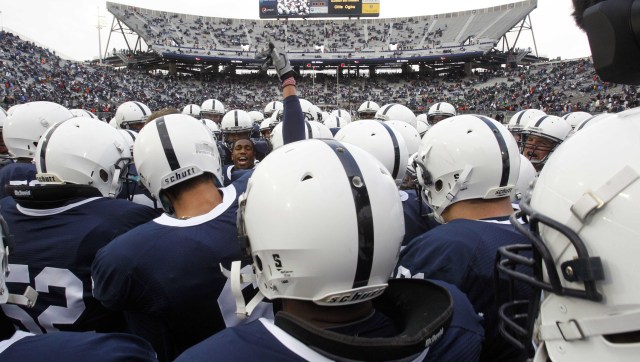 For months I've been asked my opinion on the tragedy that occurred at Penn State. Growing up in Pennsylvania, first in suburban Philadelphia and then, as a teenager, in the western part of the state, I was steeped in the Penn State culture. Although cross-country and baseball were my sports, all of us who came of age in that time and place admired Penn State as a world-class university and athletic dynamo. Growing up, I came to respect the institution for the positive impact it made on people's lives, and for the national reputation its renowned football program, widely known as "the Penn State machine," gained season after season.
The Nittany Lions were led by an iconic football coach who produced countless college sports heroes who, in turn, advanced to amazing NFL careers. Jack Ham and Franco Harris are among the stars who excelled in "Happy Valley" and returned for stellar careers with the Pittsburgh Steelers. Late-season games against Pitt and West Virginia were always "can't miss" contests. What Pennsylvania sports fan can forget the 1982 and 1986 national championships?
My many friends from grade school through high school, as well as professional colleagues, who attended Penn State are exemplary people. Two years ago, had I been asked to name the five most effective college presidents in America, Penn State President Graham Spanier would have been at the top of the list, as would Joe Paterno on any list of football coaching greats. So it is personally shocking to me to witness the collapse of the institution's reputation, as I try to come to grips with the enormity of the tragedy.
Penn State's name joins the list of other sports-related scandals that raise larger questions about some of our society's values and priorities -- and about our will to rein in forces that led to these failings in the first place. Barry Bonds and Pete Rose, the respective career home run and hits leaders of Major League Baseball, may never enter baseball's Hall of Fame because of tainted records. Former NBA referee Tim Donaghy recently spent time in prison for gambling on games. Reggie Bush forfeited his Heisman Trophy as college football's best player, forcing sanctions on the University of Southern California for excessive benefits. Ohio State received extensive sanctions for a series of violations covered up by its highly respected head football coach.
Yet the incalculable human tragedy at Penn State places the scandal well beyond familiar failings inspired by a winning-at-all-cost attitude or simple greed. Can any sanction imposed by anyone truly address the human cost of Penn State's failures? Clearly the answer is no. What, then, of the sanctions themselves within the corporate culture of big-time collegiate athletics?
Without debating the sanctions themselves or the grievous mistakes leading to them, from a strictly athletic viewpoint, I believe the penalties assessed against Penn State missed the mark; at best they are disingenuous. As far as I know, none of the current coaches or players had any role in the Sandusky scandal. Yet they will pay the price for disastrous decisions by their University's leadership. Even more disturbing, however, NCAA Division I seems to have learned little from the entire Penn State debacle. Writing on the August 3, 2012, NewJerseyNewsroom site, Evan Weiner noted the "laughable quote" by NCAA President Mark Emmert while announcing the sanctions against Penn State: "Football will never again be placed ahead of educating."

Yet, as Weiner continues, "While Emmert was uttering his remarks, other big-time college football programs were laying low until they got clearance to raid the Penn State football team... (Emmert) then gave them the green light to pick the Penn State football carcass" with a ruling that Penn State's players could leave the school immediately without having to sit out a season and lose a year of football playing eligibility. USC Head Football Coach Lane Kiffin, fresh off a controversial departure at the University of Tennessee, was among those hovering, waiting for the go-signal to begin recruiting players.
"Eight players have bolted for other programs, including star running back Silas Redd," Weiner notes.
"The vultures flew over the campus and took away players. You see, for big-time college football schools, it is not about education. It is all about putting yourself in the position to win games and get to tax-exempt bowl games and collect big dollars to support what are money-losing sports programs," he concludes.
I am not questioning that Penn State had to be penalized for its institutional failings. What I question is whether these or any sanctions will effectively and sincerely correct the athletic culture that the NCAA claims is unacceptable -- especially in view of the Association's permission to hand off Penn State players to other big-time collegiate sports corporations.
For another tragic and demoralizing example of this all-encompassing emphasis on winning at the Division I level, look no further than the late Bill Stewart, a West Virginia native, who was pushed out as head football coach at West Virginia University after a 29-12 record. He was chastised by boosters and major donors for not winning "big enough" and agonized for months after the employment of a "coach in waiting." Stewart eventually resigned. Just two weeks before his death in May 2012, Stewart delivered a moving address on life, values, ethics and family to our annual student-athlete banquet at Bethany College. Many walked away convinced that Bill Stewart represented the best in college sports.
For nearly 22 years I've served as a college president at the NCAA Division II and III levels, observing the inner workings of the NCAA at all levels during that time. In those two decades plus, I've come to appreciate the value of the great student-athlete tradition embodied in Division III. Division III is ideal for what it represents. Athletes are recruited as students first, then for their ability to excel on and off the fields and courts, and to be campus leaders in other ways; no athletic scholarships are given. In the words of the Division III website, "The Division III experience provides for passionate participation in a competitive athletics environment, where student-athletes push themselves to excellence, build upon their academic success with new challenges and life skills, and are encouraged to pursue the full spectrum of opportunities available during their time in college." Division III schools are not better because they are not Penn State and the rest; my point is that Division III promotes an athletic tradition that all institutions of higher education can and should be proud of.
I recently promised some of our women's volleyball players at Bethany that I'd stop by to watch their pre-season practice. They were 31-6 last year, ECAC Champions, and had three Academic All-Americans in their starting lineup. Six players on the team earned perfect 4.0 grade point averages. At Bethany, that's what a college sport is about.
I am sorry that at Penn State, it was about much more -- and, tragically, a whole lot less.
Dr. Scott D. Miller is president of Bethany College and M.M. Cochran Professor of Leadership Studies. Now in his 22nd year as a college president, he serves as a consultant to college presidents and boards.