Some years ago, while listening to NPR on my short drive home from my office at the NASA Goddard Spaceflight Center, I caught a brief news announcement that some surprising things had been found when Marilyn Monroe's personal library went on the Christie's auction in 1999. I turned up the volume against the din of the traffic as the concept began to sink in: This blond bombshell from Hollywood actually had a library of books! How miraculous was that? I had heard all the lurid stories about her, which still had not completely left media attention by the mid-1960s. As the news story unfolded, I still had trouble thinking about her as someone who had either the time or inclination to pick up a book and read it. But apparently she was quite the reader and 'book worm' when she was not being packaged as a mindless sex symbol by Hollywood.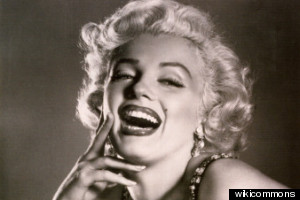 Although she never finished high school, she was a voracious reader. "Nobody could imagine what I was doing when I wasn't shooting... I was going to school! I started going to classes at UCLA at night," she said in 1960 interview with French journalist George Belmont. Her personal library contained over 430 books. Among these were a neat dozen on science topics including Our Knowledge of the External World, by Bertrand Russell, Out of My Later Years by Albert Einstein, Men and Atoms by William Laurence and Of Stars and Men by Harlow Shapley.
My own library contains only about 300 books and their topics span a much narrower range that Marilyn's! Had she and I sat down for a chat, she would have run circles around me in discussing literature, psychology, history and poetry.
Over the years, I had heard of other celebrities who enjoyed science, and so I went on a recent hunt to track more of these people down. Some, like Hugh Downs, Brian May and Tim Allen I had known about for many years, but Natalie Portman? Mayim Bailik? Now that I know who these individuals are, it has made my experience of their many acting roles a much more interesting experience!
Do you recognize any of these celebrity 'scientists'?
Alan Alda (M*A*S*H) -- He has an avid interest in cosmology, and participated in the BBC coverage of the opening of the Large Hadron Collider, at CERN, Geneva, in September 2008. He was the Moderator for the PBS series Scientific American Frontiers. " When I was in my early 20s, I started reading every article of every issue of Scientific American... After that, I began to read books about science avidly. Even today, it's what I mostly read." (NY Times interview 2/24/14)
Tim Allen (Home Improvement) -- A professed science geek since childhood, his book 'I'm Not Really Here' credibly discusses quantum mechanics and string theory along other topics in physics.
Mayim Bailik (Big Bang Theory) -- Obtained her Ph.D at UCLA in 2007. Her dissertation was 'An Investigation of Hypothalamic Activity in Patients with Prader-Willi Syndrome'.
Hugh Downs (Today Show and 20/20) -- Is an active amateur astronomer and author who builds telescopes when he is not busy with his many TV projects.
Tom Hanks (Captain Phillips) -- The actor has been a strong supporter of NASA and its manned missions, serving on the board of the National Space Society and producing documentaries about NASA's moon landings.
Lisa Kudrow (Friends) -- She may have played the stereotypical dumb blonde on "Friends," but Kudrow is no space cadet. She has a degree in biology from Vassar College and spent eight years studying and doing research on headaches.
Ashton Kutcher (Two and a Half Men) -- The actor gave up a biochemical engineering program at the University of Iowa to become an actor.
Hedy Lamarr (Samson and Delilah) -- Co-invented with composer George Antheil an early technique for spread spectrum communications and frequency hopping. This paved the way for today's wireless communications, which in 1941 was deemed so vital to national defense that government officials would not allow publication of its details.
Eva Longoria (Desperate Housewives) -- Studied human movement, or kinesiology, at Texas A&M University-Kingsville.
Dolph Lundgren (The Expendables) -- Also known for his role as Russian boxer Ivan Drago in Rocky IV, the Swedish actor has a master's degree in chemical engineering from the university of Sydney.
Brian May (Queen) -- He has a PhD in astrophysics from Imperial College London and is currently a visiting professor there when he is not touring with his band. His PhD thesis research 'A Survey of Radial Velocities in the Zodiacal Dust Cloud" was published in 2007.
Danica McKellar (The Wonder Years) -- As an undergraduate majoring in mathematics, she coauthored a scientific paper with Professor Lincoln Chayes and fellow student Brandy Winn entitled "Percolation and Gibbs states multiplicity for ferromagnetic Ashkin-Teller models on Z2." Their results are termed the 'Chayes-McKellar-Winn theorem'
Christina Ochoa (Stay with Me) -- She studied Marine Biology in the Canary Islands and at James Cook University in Australia. "A few years ago I was devouring astronomy books and would have laughed at the suggestion that I'd move to Hollywood to act." She is currently studying physics at the Universidad Nacional de Educacion a Distancia.
Natalie Portman (The Black Swan) -- This Harvard alum was a semifinalist in the Intel Science Talent Search in 1998 and a co-author on a study published in the journal NeuroImage in 2002. "I don't care if [college] ruins my career," Portman has said. "I'd rather be smart than a movie star."
If you know of other examples I would like to hear about them!