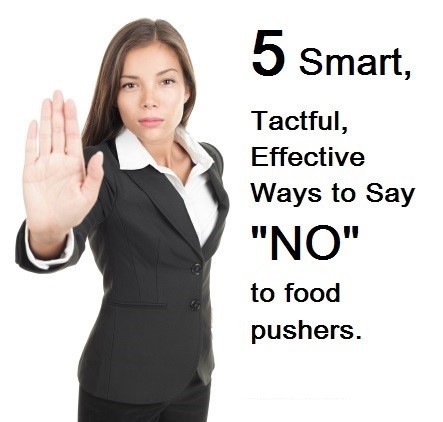 Picture this. You are at a holiday party. A relative pushes a humungous piece of pie topped with whipped cream into your hands and says, "Have another piece, it's a holiday after all. You can afford to eat more."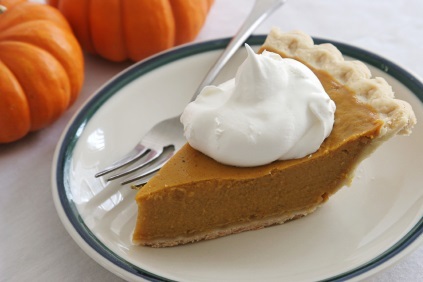 How do you respond when you are really not hungry? Try these tips:
1) The Comedian: Say, "No, thank you! I couldn't eat another piece! I'm starting to feel like the turkey -- just a little too stuffed! Keep it light-hearted.
2) The Professor: Use this as a teaching moment. Hold up your hand and make a fist. Say, "Did you know this is the actual size of your stomach? It's amazing to think about how much we try to put in there!"

3) The Parent: It's okay to say no. It's as simple as that. Too often, we are afraid to put down limits. Say "no" politely, but with conviction. Practice when you are by yourself to make the words come out effortlessly. Other people easily push past a wishy-washy no.

4) The Therapist: Remember that the comments people make are often a reflection of their own fears and insecurities. Offering reassurance may help to take the pressure and focus off of you. Say, "It sounds like you would like another piece. Go for it!"

5) The Magician: Try to divert and deflect. Be sure to hand out a compliment, "The pie is fantastic! Do you have the recipe?" This can redirect the focus from eating to learning how to make it.
Dr. Susan Albers is a psychologist at the Cleveland Clinic and author of 5 books on mindful eating, weight loss and comfort eating including Eating Mindfully and 50 Ways to Soothe Yourself Without Food. Her newest book is EatQ: Unlock the Weight Loss Power of Emotional Intelligence. She frequently appears in Shape Magazine, Fitness, Cooking Light, US News and World Report, the New York Times and she has appeared on the Dr. Oz Show. www.eatq.com