In honor of National Eating Disorder Awareness Week, I challenge you to join Operation Beautiful. The mission, according to www.operationbeautiful.org, is to "post anonymous notes in public places for other women to find." This includes notes like, "you are beautiful," "make up and hair might make you pretty, but your smile makes you beautiful" and, "your size doesn't determine who you are."
Unfortunately, it is so common for us to criticize, gossip, and scrutinize the way we look as well as critique other people's appearance. Given our body obsessed culture, it is often the "norm" to feel bad about how we look and worry constantly about how we compare to other people. This is a radical new approach. It is about trying to help women to feel good about their bodies instead of fostering an atmosphere of self-hate and body loathing.
If you visit the website, you will see many examples of the positive messages left in restrooms on dollar bills, mirrors and many places women wouldn't expect to find a note. Women who find the notes post them on the website and talk about how they felt when they found them. You can't help but notice the sense of appreciation, surprise and gratitude in receiving such positive words of encouragement. Clearly, we are all hungry for affirmation and acceptance, particularly about our bodies.
I ran across my first Operation Beautiful in the bathroom at the University of Delaware on Monday when I gave a lecture on mindful eating to a wonderful group of students. I have to admit it made me smile.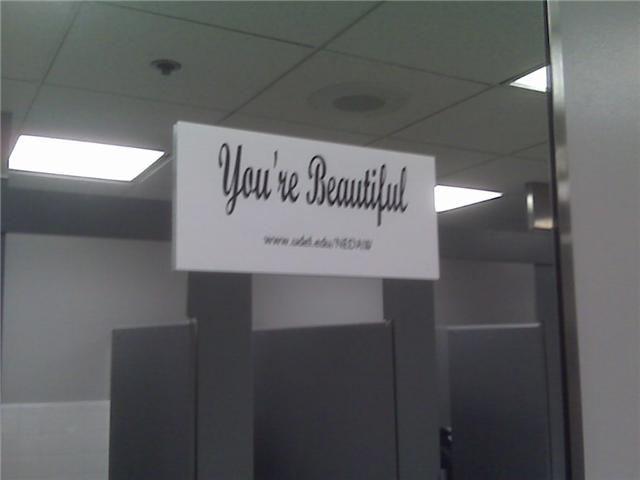 So today, either give someone a compliment directly or post one of these notes. Join Operation Beautiful today!
By the author of Dr. Susan Albers www.eatingmindfully.com and the author of the new book, 50 Ways to Soothe Yourself Without Food and Eating Mindfully.