Helen Gurley Brown, also know as HGB to many of us, passed away last Monday at 90. She was known to the world as the Cosmo girl -- one that not only empowered the single girl, but also in my case, empowered this not so single, boy. I had the pleasure of knowing HGB for nearly two decades. She was a delightful and valued friend, a mentor and my honorary Godmother.
"David and I never had children," she said to me in her signature breathy voice, I believe we were at Swifty's on Lexington -- an old time ladies-who-lunch circuit stop -- "but if we did, pussycat, he'd be exactly like you." It was two weeks later that I received my first letter from HGB. It was signed, "Your Honorary Godmother, Helen." Helen was the master of letter writing, a true inspiration to me in my personal crusade to encourage others to pick up a pen and write a note, rather than simply tap the keyboard. To this day, my preferred mode of communication is a handwritten note, often with a newspaper or magazine article paper clipped to a card. Helen always typed out her notes on letter-sized Cosmopolitan stationary on her manual Royal typewriter. I always thought that the reasons she insisted on a manual typewriter had to do with both the aesthetic of the black machine against her rose-colored walls, coupled with the feel of the hammers sculpting their shapes onto the paper.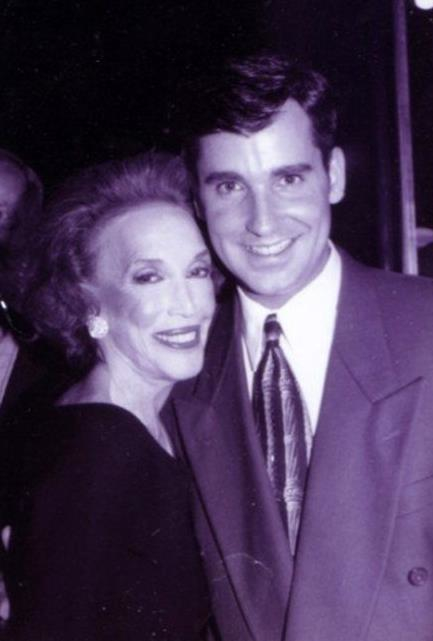 I always loved visiting Helen at Hearst. Her leopard-carpeted office, with needlepoint accents and Elsie de Wolfe-esque chintz pillows always made me feel like I was in my sister's girly bedroom. If we weren't sitting on the couch, we'd sit in the two chairs directly in front of her desk -- knee to knee. We would often take pictures to document my visits to her office. We had a ritual around getting ready for the snapshot; she'd suggest that I go ask her amazingly kind assistant Susan to take our picture, which meant I had to go into the next room. Helen never knew that I could see her reflection in the mirror on the wall -- that I could see her shaking her head front to back -- rhythmically, violently, as if rocking to the beat of the music at a rock concert -- all in the name of getting her hair extra poufy for the photo. She would grab a stack of bracelets off her desk as I reentered the room, slip them on -- and she was ready to go.
I remember being in Helen's office at 224 West 57th Street soon after hearing that she would be stepping down as Editor-in-Chief of Cosmopolitan. With circulation declining, and the perception that she had lost touch with her readers, Hearst made a decision to have Helen step down -- generously giving her a year to transition out of her Editor-in-Chief position. Helen told me that she believed she could still look through the eyes of a 16-year-old girl, sharing that she carved out time each week to speak with her young staff members and interns about current events and pop-culture.
Although I believe she was disappointed about having to vacate her position at Cosmopolitan in 1997, I know that she was enthused about her new post as Editor-in-Chief of Cosmo International. She told me that she was looking forward to traveling with David around the world to open up new international editions.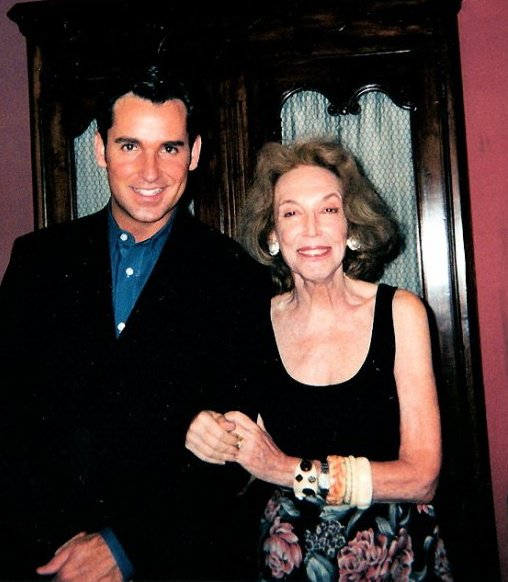 At Helen's husband David's memorial service at Frank E. Campbell Funeral Chapel on Madison in February 2010, it was evident that Helen had become a woman of a certain age. I remember seeing her slowly walk into the service, dressed to the nines, as always, but walking with an older woman's gait. She seemed in a daze as David's business partner Richard Zanuck, offered a powerful, emotional eulogy to a packed house of friends, colleagues and loved ones. I remember turning to Tony Hoyt who sat to my right (Tony was a former Publisher of Cosmopolitan Magazine) and shared a frown of sorrow as we looked in Helen's direction.
The last time I saw Helen, and it was purely by chance, was just a month ago. I was jumping off the westbound 79 Street crosstown bus at Central Park West -- sprinting to the subway entrance at the NW corner to run down and grab a C train to an event, when I noticed a gal -- she looked like a nurse -- having difficulty maneuvering a wheelchair up and over the curb. The gal was pushing the chair against the curb repeatedly in hopes of jumping the raised curb cut. In a split second as I was rushing by the woman in distress, I did think to myself, "I should help, but I need to race down and catch a train." That lapse of manners only lasted a second, as my conscience got the best of me and I immediately ran over to assist the woman.
I kneeled down, grabbed the front of the wheel chair and pulled it up and over the curb. The nurse was beaming ear-to-ear and said thank you, as the slumped-over, grey-haired, elderly wheel chair occupant started to raise her head. I was still at ground level, as I had not stood up since lifting the chair up and over the curb to look up at me. It was HGB. When her sleepy eyes caught mine, she lit up, as if an "on" button had been pressed from behind the wheel chair. She looked deep into my eyes for at least 15 seconds -- all I could say was "Hi Helen." She continued to stare as if she was trying to say something, "I can only imagine it was, "Hi, pussy cat," but no such luck. The look of "I know you," "I have so much to say," "I love you," and a faint smile -- then it was gone. I knew it would be the last time I would ever see Helen.
I remember calling our mutual friend Rex Reed that night to share the story of my running into Helen. He and I reminisced about the many people in his life that he'd lost over the past few years -- including "his" honorary Godmother, Greer Garson -- and how lucky we all were to have had HGB be a part of our lives.