A few years ago I went on a journey in Nepal. From the moment you land in Kathmandu, taxi drivers ask absurd sums of money for very short rides, merchants charge you a lot more because you're a foreigner. You have to learn to negotiate hard for everything. They are beautiful people but due to extreme poverty and a lot of social problems, they try all sorts of innovative approaches and ideas to make a dollar more.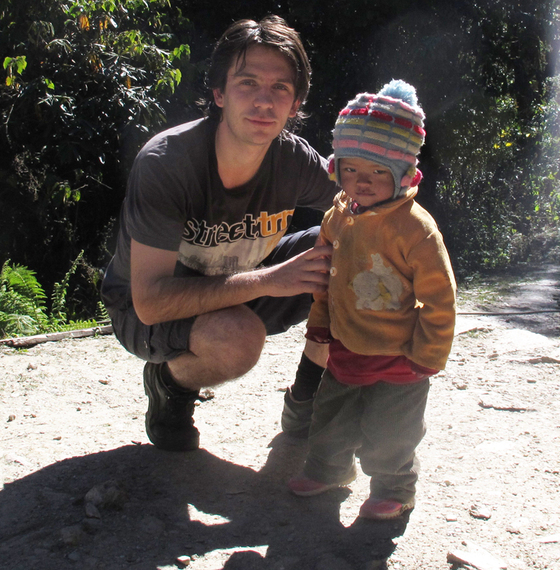 However, when you leave Kathmandu and walk into the Himalayas, everything changes. As you step foot on the mountain paths, tens of children come and ask you for candies. You can't say no because they are incredibly charming and even if you try to hide the chocolates from them, they know too well you have them somewhere. And children know if you're lying :)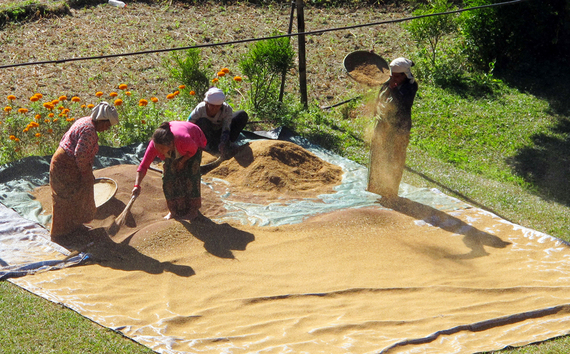 I've been trekking far into the mountains and I was now heading back down to the village when a young Nepalese girl came out of what seemed to be her home and stopped me. She was living in a small and very basic hay covered hut. I am not sure if they had electricity. She and her family were working incredibly hard to produce in front of their house the rice - probably their only source of food. They had to hike for hours and carry water on their backs in big plastic containers that should last for a few days. Out of respect for her I chose not to put her photo here.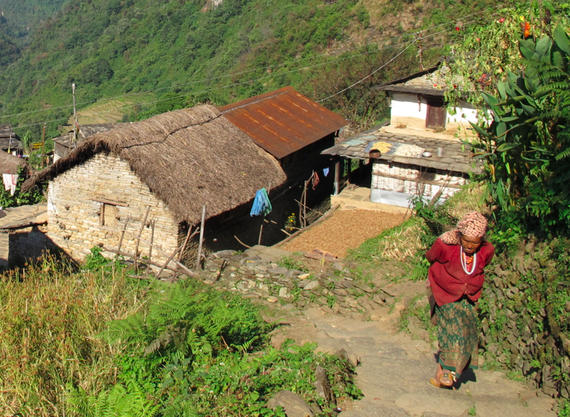 She didn't have any shoes and her clothes were dirty from so much work. Her beautiful brown eyes and a big smile greeted hello to me when I passed by. She was very shy and spoke little English. You could feel her sadness in her voice when she asked me timidly: "Do you have money?". "Some money?"
"Marry me, please?".
My heart broke when I heard her words. I am sure she didn't ask because I was so irresistible. She would probably marry the first stranger who walked her way only to have a chance for a better a life. You would probably do the same were you in the same situation. Context drives behavior.
"You can buy happiness for less than $3.
It only depends where you go shopping"
- Dr. Dragos
I had only 300 Nepalese rupees left (that's less than $3) and a 30-mile walk before the first village. I said "I am sorry, but I don't have any money left" and walked away.
After two steps I thought "what the hell are you doing?!" and walked back and gave her the money.
$3 put her on cloud nine. She started dancing, jumping, laughing and gave me a strong hug. I've never seen somebody so happy before. But then, she stopped. Suddenly. With the very few words she knew in English, she said: "This, your last money? No - Please keep. You long hike. You need water. Food. Please keep."
She insisted really hard for me to take my money back.
"Please, please, please - you need money. You long walk ahead, need food"
I told her several times to keep the money but she wouldn't take no for an answer and kept insisting, even trying to put the money in my backpack. I held her hand one more time, took a deep look into her eyes and walked away.
Your friend,
Dr. Dragos
PS: You're probably wondering if I took the money from her.
No, I didn't. I can also insist and take No for an answer. I walked away, knowing the $3 dollars meant a lot to her and brought her happiness. Even if just for that day. If you pass her on your way, you can also buy happiness. It's only $3.
Remember, it's never the extraordinary people who do the extraordinary. It's the ordinary people like you and me, who decide to give and be there others. Because they do so, ordinary people like you and me become extraordinary.