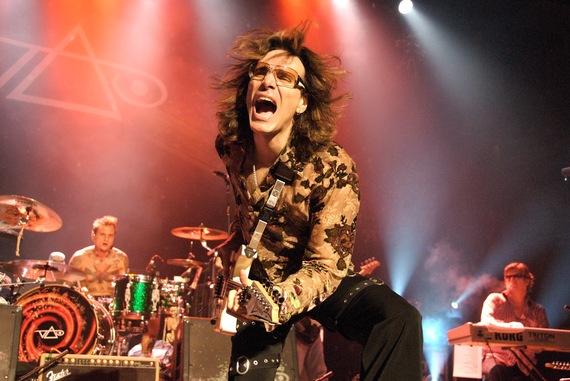 Steve Vai is a Grammy Award winning musician and probably the most inspiring guitarist in the world. In his interview for my new movie The Amazing You - How Brilliant People Live Their Purpose & How You Can Too, Steve shared some profound insights on how you can create authentic, meaningful and fulfilling success in your life. I wish I knew this when I was much younger and I played guitar for many hours a day, dreaming one day to become a rock star. I didn't and I gave up too early on my dream. Now I am living Steve's ideas and my life is peaceful in the midst of work at warp speed and world travel. Here are three insights from a rock god on a spiritual journey:
1. Achievements Can Be Deceiving
The world views achievements in a particular way. If you've done great things - for example if you're a musician and you've sold a lot of records, or if you're a basketball player and you've scored the most baskets, if you're the best golfer, etc - these things in the world are considered great achievements. But achievements can be deceiving. They are achievements in the eyes of the world, but real achievements are a personal transformation. A real achievement is a transformation in the way you view the world, a shift in the way you think. People are looking to fulfill themselves in the world, they are looking to find their purpose, and they are actually looking for happiness.
Happiness is our greatest achievement, not what the world evaluates to be an achievement.
2. Your Purpose Lies Only in the Present Moment
On a worldly level, your purpose is something that you want to engage in, something you want to create that gives you a sense of wellbeing, a sense that you've contributed to the world. Some people naturally see what their purpose and what their gifts are. I believe that everybody has a natural gift, something that's very simple to them, something they see clearly and are very comfortable doing. These can be the simplest little things. Some people find great satisfaction when they are organizing, some people love numbers, they love when the bottom line works out. Some people have an instinctual awareness for food, for cooking, it's a great source of fulfillment for them. Some people like to design. All these are natural gifts, and sometimes these gifts are so obvious and easy that people don't even see them. They don't even see the forest for the trees and they go through life searching for their great purpose and the thing they love most is put aside. If you can identify with what's very natural to you, engage in it and through yourself into it with great joy, you're achieving your purpose in every moment. You are in your purpose. If you're looking for purpose in the future, then you're in big trouble because you will never find it. Your purpose lies only in the present moment.
3. You Have to Move to the Beat of Your Own Inspiration
You're never going to satisfy everybody, so you have to move to the beat of your own inspiration. And when you find your gift and your own inspiration, you are being the most successful you can be at something. When you are pantomiming the genius of somebody else, you are cheating yourself of your own potential to create something unique. Many people know me as a great guitar player, but all that came as a result of my excitement for the instrument. For me it wasn't a great achievement, it was just natural.
Steve's natural gift was to play guitar and write music. When he was 5 years old, he picked up the guitar and since then he inspired generations of people around the world with his songs. What is your natural gift and how committed are you to living it? Are you hiding your dream behind a symphony of excuses? The world needs you, so please leave a comment below and tell us about your gift and your dream :)
Your friend,
Dr. Dragos
Steve is featured together with NASA legends, astronauts New York Times bestselling authors and the brand ambassador for Angry Birds in The Amazing You - How Brilliant People Live Their Purpose & How You Can Too movie
Just recently, Steve released the 2DVD configuration entitled Stillness in Motion, a live show in Los Angeles and a bonus disc featuring "The Space Between the Notes," a video diary comprised of more than three and a half hours of footage, filmed around the world on-stage, off-stage and behind-the-scenes during his Story of Light World Tour.
Photo credits: Michael Mesker