In Phuket last week WPP hosted more of a Torrent than a "Stream," as the annual digital/advertising event is known. A few hundred gadget-toting entrepreneurs, media and advertising execs converged on the normally sleepy, southern tip of the island to brainstorm, pitch and generally disrupt Internet traffic patterns across South East Asia.
Stream is a great place to witness and debate what's new, newer and newest.
Gadgets were there a plenty. An HD-video broadcasting, lithium-ion powered drone buzzed low over Kata beach, wowing the assembled tourists and locals. The device is impressive not least for its sub-$1,000 price tag.
Off the beach, the deafening roar of a jerry-built "jet-bike" alternately excited and terrified the assembled Streamers. The bike was built on a shoestring by a 19 year old Romanian wunderkind Raul Oaida... mostly out of Lego.
Most memorable for me though from three days of "drinking from the firehose" in Phuket was not a toy, start-up company or business concept but the trickling into this year's Stream from a new tributary: the Irrawaddy.
Myanmar is not a start-up -- it has a long history, is rich in mineral and human resources and was once the second richest country in South East Asia. Yet after decades of isolation, civil war and sanctions, from a digital business perspective it is probably best viewed as a start-up opportunity.
When I heard that this year's Stream delegates included three seasoned, Yangon-based advertising entrepreneurs from advertising and marketing agency Mango Media and media-buying agency Coca Media. They kindly shared with me their perspectives on the outlook for entrepreneurs in the country.
Judging by our conversation, the pleasingly named Myanmar Internet domain -- ".mm" -- is going to see a lot of attention in the years ahead. The Internet loves inefficiency, and Myanmar has that in spades. While optimistic, they are frank about the hurdles that lie ahead.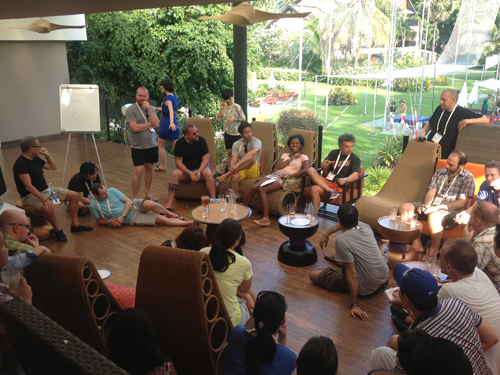 Infrastructure
First and foremost: infrastructure. Telecom infrastructure is in a parlous state with only 9% of the country covered by mobile services. New auctions of mobile spectrum are in the works to allow expansion and an upgrade to 3G services, but a corruption probe and firing of the telecom minister doesn't augur well.
There are some 200,000 mobile internet users in Myanmar, already more than the 150,000 fixed line broadband subscribers. While SIM cards remain expensive, the ending of sanctions has slashed the prices of handsets from the likes of Samsung, LG, HTC and Huawei.
Beyond digital infrastructure, the creaky state of roads, rail and air links in Myanmar confines opportunities essentially to Yangon (population: 4.5 million) and Mandalay (1.2 million). Logistics for commerce, let alone any prospect of e-commerce, are complicated. Power supply outside of the two major cities (which themselves do suffer from brown outs) is sparse - only 25% or so of the country's 60 million population has access to electricity.
Real estate is a big headache. Offices are hard to come by (and typically housed in residential homes or hotels), and rents are shooting up. Hotel rooms in Yangon number not much more than 5,000. Be warned: if you plan to visit Yangon anytime soon, hotels are reportedly enforcing 45-day advance cancellation penalties.
Yet delegations of investors from Japan -- with a Special Economic Zone in the works in Yangon -- to South Korea to Vietnam are flooding in. President Obama's visit to the country in November sent a green light to US and other western investors.
Talent
Second hurdle: talent. Most of the economy remains in the hands of the military government. Given the constraints placed on the private sector for years, there is a critical shortage of experienced managers. Rangoon University (from where President Obama made a televised address on his recent visit) has offered MBAs and EMBAs since the late 1990s. Yet according to the Burmese at Stream there were only a total of 1,000 such graduates in the country. Salaries are shooting up for the limited pool of managerial talent available, especially those with experience in dealing with multinational companies (as in South Africa during Apartheid, while sanctions were in place many MNCs maintained strong links to local affiliates that they are now ramping up or formalizing as joint ventures).
While some expatriate returnees are being drawn back to the country, particularly from Singapore, many others are unlikely to move back soon, as compensation lags far behind.
Salaries of new graduates are increasing rapidly, and private firms have to scale up cautiously as their office and HR costs shoot up.
Capital
Third: capital. For the coming years, Myanmar is likely to experience more "adventure capital" than venture capital. While some funds are exploring the market, the basic legal and administrative architecture for investment is still a work in progress. Nonetheless audit firms are staffing up and Singapore is touted as a likely market for future Myanmar IPOs.
Despite these and many other challenges -- not least the myriad uncertainties facing Aung San Suu Kyi and her NLD party ahead of planned elections in 2015 -- the enthusiasm of the Burmese entrepreneurs I spoke too is palpable.
The scaling back of press censorship offline augurs well for online media and unlike China Facebook and Twitter are not blocked
The groundswell of international interest in the country will help a new generation of entrepreneurs access badly-needed capital and partnerships. Case in point: the upcoming gathering of 'Young Global Leaders' from the World Economic Forum who are set to descend on Yangon in June.
The Internet provides a constant reminder that 'the pioneers get the arrows, and the settlers get the land'. Myanmar's digital land will remain an elusive prize for a long time to come, but I look forward to keeping an eye out for emerging .mm winners at Stream in the years ahead.