My amazing journey with Camp Sunshine began in 1983. My daughter Katherine had been diagnosed with acute lymphocytic leukemia eight years earlier during the Christmas holidays in 1975 at age six. Previously she had been the picture of health. Still deeply tanned and vibrant from the summer sun, she suddenly grew pale and listless around Thanksgiving. Bruises started appearing all over her body and she ran a low-grade fever. After several weeks of being treated for what everyone thought was a lingering virus, her pediatrician in Atlanta decided to do some blood tests.
Two days before Christmas we learned that Katherine had leukemia. It was a parents' worst nightmare. Our doctor told us, "Go home and try to let Katherine enjoy the Christmas holidays for a couple of days. After Christmas we'll decide what to do."
We jumped on a plane for St. Jude Children's Research Hospital in Memphis on New Year's Eve. In those days, the chances of surviving leukemia were not good. Between the radiation and chemotherapy, Katherine lost her hair and was sick much of the time. But St. Jude Hospital proved to be her saving grace, and we understood immediately that no stone would be left unturned to try to save her life. Over the next nine years, Katherine would end up going through two more rounds of gruelling chemotherapy and radiation treatment.
By the time Katherine turned 15, she was nearing the end of her third round of treatment at St. Jude. When we heard about a new summer camp that was being held in the North Georgia Mountains for children with cancer, we encouraged her to go.
Prior to the establishment of Camp Sunshine, Katherine had known little else for the previous nine years besides hospitals, needles, painful spinal taps and gut-wrenching chemotherapy that made her violently sick for days at a time. Suddenly here was a bright spot on the horizon. For one glorious week in the summer she swam, rode horses, sang around the campfire and did a myriad of other things she had not done in a very long time.
Camp Sunshine opened new vistas for Katherine. Having been very introverted from years of being bald and laughed at by other children, she now found herself in an environment where everyone was in the same boat. She and 36 other special children blossomed like they had never had before. It was a life-changing week for everyone involved.
On the day my wife and I dropped Katherine off at camp for the week, I met the camp's founder, Dorothy Jordan. I told her I took photos for a living and that I'd love to come back to camp several days during the week and take some photos of the kids. She smiled broadly and said, "Come as often as you'd like."
I went back the next day with a camera bag loaded with trusty Kodachrome film. I took pictures all day long. I was in my element. A beautiful 8-year-old girl with green eyes named Jena gave me my first "friendship bracelet," a bracelet made out of fishing swivels decorated with beads that everyone in camp proudly wore. I helped an energetic young boy named Sean wash sticky peanut butter out of his hair in the lake after he'd had a food fight with other campers. I watched my smiling daughter come out of her shell and interact with other kids in ways she had never done before.
Camp Sunshine soon became a way of life for my family. My wife, Kappi and I have been volunteers for the past 30 years. After Katherine was too old to be a camper, she became a counsellor, as did our youngest daughter Ashley.
During those 30 years, I've literally worn out seven Nikon cameras capturing countless moments of joy.
Two summers ago, an eight-year-old camper named Beth who had lost her left arm to cancer energetically signed up to climb the 40-foot climbing wall. As the time grew near, she pulled her counsellor aside and said, "You know, Jane, when I signed up for this I forgot I only had one arm. Do you think I can do it?"
Sure you can," her counsellor said encouragingly. "Go for it!"
And she did. Beth went up that wall like Spider Woman and I was able to capture it on film from the top of the wall looking down! The look of pride and accomplishment in her eyes was unforgettable.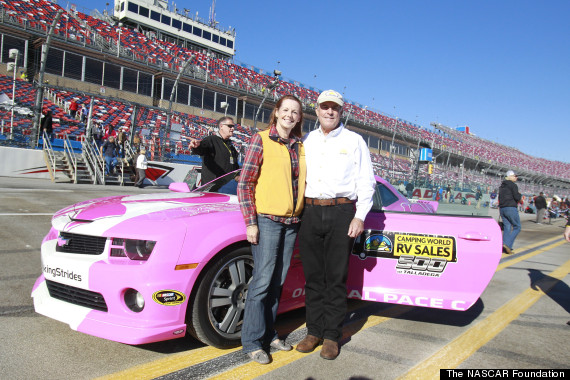 Duncan and his wife, Kappi, visit Taladega.
Many of our NASCAR friends have also played key roles in the lives of our Camp Sunshine children. Several years ago, a 4 ½ year old cancer patient named Ricky James became an avid Kevin Harvick fan along with his dad. Ricky was not doing well, and somehow Kevin received word about his condition. Just prior to a Nationwide race in Atlanta, Kevin sneaked out to the parking lot where the family was gathered and spent 30 minutes "hanging out" with Ricky and his parents. He gave Ricky all sorts of Kevin Harvick memorabilia. Ricky lost his battle with cancer a short time later.
To be named one of four national finalists in NASCAR's Betty Jane France Humanitarian Award has been quite overwhelming to say the least. I am humbled, honoured and a little embarrassed because so many special people deserve an award like this. It has opened my eyes to the fact that despite being bombarded with negative news practically every day of our lives, there is so much good going on in this world that is seldom recognized. Being able to donate the $100,000 award to Camp Sunshine and the children it impacts would be an amazing gift!
This blog post is part of a series produced by The Huffington Post and the NASCAR Foundation, in conjunction with the latter's Betty Jane France Humanitarian Award. HuffPost will feature a blog by each one of the four finalists on consecutive days, and each will appear on HuffPost Live that day. To see all the posts in the series, visit here. For more information about the Betty Jane France Humanitarian Award -- and to vote for the winner -- visit here.