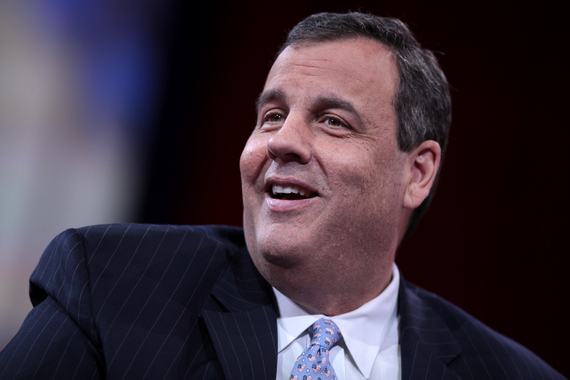 With mass shootings ravaging America, will Chris Christie finally show some common sense on guns?
This spring, New Jersey Democrats, civil rights groups, religious organizations, and child advocates are preparing an aggressive push for gun control. Motivated by America's gun violence epidemic, they are demanding policy changes-- as they have for years.
This coalition hopes the Governor, unshackled from the need to pander to the NRA after suspending his Presidential campaign, will reconsider his veto of a bill to limit high-capacity magazines. The bill was one of many gun violence prevention measures that Christie vetoed in the run-up to his failed White House bid.
Yet they are facing the same roadblock. The Governor won't budge.
His opposition is not new. In July 2014, a group of mothers and fathers who lost their children in the Sandy Hook Elementary School shooting traveled to New Jersey. These parents' 6, 7, and 8-year old kids were among the 20 first graders murdered while at school in Newtown, Connecticut.
Nicole Hockley was one of these parents. Her son Dylan was killed in his first grade classroom at Sandy Hook. "Nothing can prepare you for the horror of seeing your child's body in a casket or picking out their urn, receiving back their destroyed clothing," she said in 2014. She prayed that "no other parent has to experience this heartache."
Hockley and the other Newtown parents did not want sympathy from Christie. They wanted action. They asked the Governor to review their proposal: a reduction in the maximum allowable capacity of gun magazines from 15 to 10 rounds.
Their argument was simple. High-capacity magazines are not used to hunt or protect. They are used to massacre. "We know that smaller magazines would have saved more lives at Sandy Hook Elementary, possibly even the lives of our own children," they said.
Evidence backs them up. According to the Violence Policy Center, a nonprofit that studies gun violence, smaller magazine capacities save lives by increasing the time it takes a mass killers to reload their gun. When shooters pause to reload their guns, people can escape.
"11 children from my son's classroom escaped when [the shooter] changed his magazine. Not my child, but 11 children who are still alive today. By now, they're in 4th grade and 10 years old," Nicole Hockley told me.
By giving killers more bullets and more time before they need to reload, large capacity magazines create mass carnage. Between 1982 and 2012, half of the assailants in mass shootings used guns with large capacity magazines. As noted by the New York Times, mass murderers used guns with high-capacity magazines "in at least 45 mass shootings since 1984, killing 403 people and wounding 406."
To put that figure in perspective, shooters in the Aurora, Columbine, Fort Hood, Newtown, Tucson, and Virginia Tech attacks all used high-capacity magazines.
The shooter in Newtown, Nicole Hockley noted, "left his smaller magazines at home and brought his 30 rounds because the higher capacity magazines are more lethal."
Christie did not hear these facts and arguments, as he refused to meet with Hockley and the other parents whose children were murdered in Newtown. He then vetoed their proposal behind closed doors and accused them of "grandstanding" over a "trivial" bill.
The NRA, in turn, heaped praise on Christie for the veto.
In the legislature, New Jersey Majority Leader Louis Greenwald led the fight for the "trivial bill." A Democrat and father of three, Greenwald represents Camden in the New Jersey Legislature--an area hit hard by America's gun violence crisis. He recently reintroduced his bill (A3327) to lower the maximum magazine capacity from 15 to 10 rounds.
"This legislation developed from the unfortunate occurrences in Sandy Hook, Tucson, and too many other places in recent years," says Greenwald. "After meeting with the parents from Sandy Hook Elementary I began to pursue this legislation -- so that no parent ever has to go through the pain I saw in those parents' eyes."
70% of Garden State residents-- including 56% of New Jersey Republicans-- support Greenwald's proposal. Nationally, 62% of Americans support similar limits on large capacity magazines.
Even in a relatively blue state like New Jersey, however, the gun lobby's power overwhelms the voices of voters. According to the Star Ledger, "Over the last 15 years, pro-gun rights groups -- mainly the NRA -- have contributed more than half a million dollars to state and federal candidates in New Jersey, compared to just over $75,000 from gun control groups." And in national Republican primaries, the NRA spends even more money to buy politicians.
Christie himself has received thousands from the NRA.
Tragically, Greenwald's bill is only one of many popular gun violence prevention bills that Christie has vetoed-- some of which were unanimously approved by the New Jersey legislature. The Governor vetoed bipartisan bills that would have prevented domestic violence offenders and violent criminals from obtaining guns. He vetoed a ban of a dangerous type of semi-automatic sniper rifle.
He even vetoed a bill that would have expanded gun safety technology and background checks.
Families in New Jersey, in Newtown, and in the entire country deserve more than vetoes. They deserve politicians who care, who listen, and who act. Who put evidence above political opportunism. Who put the safety of innocent kids ahead of the agenda of powerful interest groups.
Assemblyman Greenwald has noted, "The families of Sandy Hook... look very similar to the schools and families we represent here in New Jersey." Will Chris Christie realize that before it is too late?