The business of rock -- the creative juices, the vibe, the sound and fury, the rage, the excitement, the whole kit and caboodle -- is very lacking these days. Songs come and go, like cotton candy -- looks good, tastes good, but leaves no lasting impression other than a disgusting sugary aftertaste. Few can scale the heights and maintain the majesty of

RAWK

! One would be hard-pressed to find young rock bands today with the chops and creativity to sustain four to five decades of arena-sized music making like the Stones, Tom Petty, KISS, The Boss, AC/DC, The Who,

U2

. I would argue there is perhaps just one band excellent enough to carry that very heavy torch and to wave it high and wide --

GREEN DAY

. Formed in Berkley in 1987, they are well on their way. Moreover, this year marks their

25th

anniversary in the music biz. 
Green Day has swag. Bucket loads; over flowing with sweat, blood, and beer. Saturday night at packed-to-the-rafters house at the very intimate Irving Plaza in NYC, Green Day help launch the new
Nokia Music
streaming on AT&T, streaming their first 3 songs, and in doing so cemented their legacy, in my mind and certainly the ravenous fans lucky enough to be in attendance on Saturday evening.This little ol' trio of guitarist/vocalist Billie Joe Armstrong, bassist Mike Dirnt, and drummer Tre Cool (along with long time touring guitarist Jason White, keyboardist/vocalist Jason Freese, and rhythm guitarist/vocalist Jeff Matika) from Berkley, Cali brought their rich catalog to life. I loved it, the crowd loved it, their corporate sponsors loved it, and we would assume all the folks that listened to it on mobile devices and computers loved it!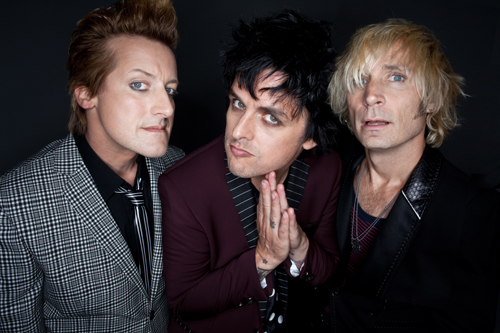 Songs? You bet. Plenty of melody with simple lyrics evoking provocative positions both socially and emotionally.
The hits were plenty and plenty of new hits were showcased, it was a career-spanning set. In fact, their latest chart-topping single, "Oh Love" (video below), continues their chart dominance.
Billie Joe Armstrong knows his way around three chords and he makes it sound effortless. His band deliver on his promise to ignite and rally youth culture even though the band is no longer young, broke, or struggling. They have ascended into the pantheon of rock legend, firing on all cylinders, at the top of their game. A rock 'n' roll band for this millennium. Proof in the recent success of

American Idiot

on Broadway (though I still maintain it could have been an ongoing hit Off Broadway a la

Blue Man Group

. But I digress...) As we have seen, the multi-platinum smash

Dookie

was no fluke. Chart topping, award-winning punk rock operas like

American Idiot

(2004) and

21st Century Breakdown

(2009) have further cemented the band's legacy as a band with staying power. Moreover, 65 million records sold worldwide, 5 Grammys, and enough hit records and great music to satiate even the most casual music fan.
And not one to rest on their laurels, Green Day will release a staggered trilogy - Green Day
¡Uno!
, Green Day
¡Dos!
, and Green Day
¡Tré!
-- on Tuesday, September 25th, 2012; November 13th, 2012, and January 15th, 2013, respectively and tour arenas in support of those releases.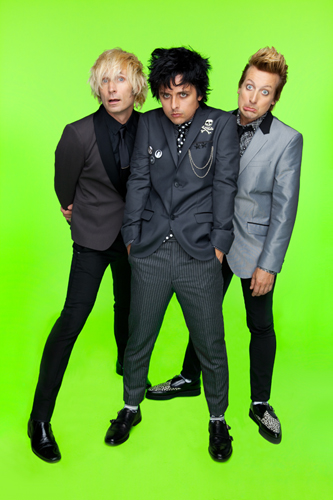 "Welcome To Paradise" from
Dookie
kicked things off like a first-strike nuke. The crowd was rapturous as was Billie Joe Armstrong, certainly one of the most charismatic and engaging frontmen in the biz.  "Murder City" from
21st Century Breakdown
was next followed immediately by their first single "Know Your Enemy" from the aforementioned release. It nearly imploded the entire venue. As good as any Clash song. The crowd was one giant moshing beast. During this song, Billie Joe dropped his guitar and danced for his adoring crowd. He then pulled a young boy from pogoing crowd to the stage to sing along with him and then persuaded him to dive back into the crowd before he finished the tune.
"Nuclear Family" from their next CD
¡Uno!
felt and sounded as familiar as any of their classic pop-punk anthems. Billie Joe's silver sparkle Gibson Les Paul, Jr. reflecting and refracting the lights from the stage. He shares with the crowd how he and the band's first New York City gig was on St. Paddy's night at this very same venue. Then launches into another new nugget "Stay The Night." Another new song -- "Let Yourself Go" -- from their forthcoming LP was the perfect "fuck you" anthem, sharing all primal punk rock fury of their early singles. You can't help but feel The Ramones ethos being referenced. In fact their new album
¡Uno!
returns the band to that early club punk and garage rock energy perfected and translated effortlessly on the intimate stage of Irving Plaza.
"Kill The DJ" has that reggae disco punk fury that The Clash did so well back in the late '70s. Billie Joe Armstrong and the boys serve it up with equal aplomb. "St. Jimmy" was like peak-performance Buzzcocks. Drummer Tre Cool
channeled the rock drum chops of every punk and rock band before and probably after him. Just stunning drum work.
The disenfranchised prose of the mid-tempo "Boulevard of Broken Dreams" offered a slight respite from the sound and fury. It was an epic singalong. In a different era it would have been bic lighters held aloft swaying in unison. Most music fans would agree that is one of the most majestic rock songs ever written.  The songs came one after another, no breaks. The band was relentless. Billie Joe worked the crowd, worked them hard. Damn, he works even harder than The Boss, and that's no easy accomplishment. Thirty-eight songs later it was over, clock hands well on the other side of midnight. (You can check out the full
set list here
.) (But it ain't over 'til Green Day says it's over!)  My 14-year-old, high school freshman son Luca proclaimed after the show on Facebook: "Just saw Green Day live at Irving Plaza. It was freakin' amazing. I am now and will always be an AMERICAN IDIOT!"
All Hail Green Day! They do their rockin' forebears proud. Do not miss their

upcoming tour

starting this week.
Photo credits: Felisha Tolentino
This review first appeared at CultureCatch.com.
Read more on editorial.huffingtonpost.com