They mostly come out at night, under the cloak of darkness. They swarm around dead bodies and carnage. Around the wounded, the maimed, the vulnerable. They're hated by some, loathed by others. No, not vultures. Not vampires. Crime journalists. Stringers, aka "nightcrawlers," with no conscience, who would do anything for the right photo op. They can be more despicable than you think.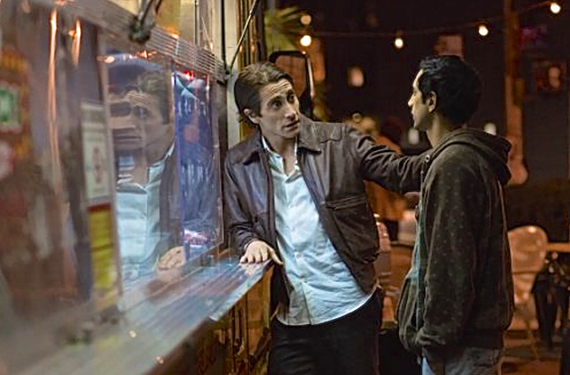 (Photo by Chuck Zlotnick)
Jake Gyllenhaal and Riz Ahmed star in the crime/thriller Nightcrawler

In the back alleys of Los Angeles, Louis Bloom (Jake Gyllenhaal), a sociopath who looks like he hasn't bathed in weeks, sells stolen manhole covers and wire fencing to junkyards to make a meager living. He has an "ah hah" moment the night he encounters photographers swarming over a crime scene. When he learns from one (Bill Paxton) that there is money to be made selling photos or footage of other people's misery to news outlets, he discovers a profession that calls his name.
Screenwriter Dan Gilroy (The Bourne Legacy) turned writer/director outs a part of a legitimate profession that can be loathsome. Nightcrawlers are to crime journalism what the paparazzi are to celebrity photography. They're the underbelly. Gilroy's script sets up the perfect person, a man without morals, to join the ranks of the vermin who would cross the line of basic decency just to make a dollar. Lou is everyone's nightmare. He stops at nothing to get what he wants. He has no humane trigger. No boundaries. He lives in a world all is own, where the end product justifies the means. Normally it's hard for an audience to relate to a central character who is this seedy, but Lou is so casually diabolical, he's fascinating.
Lou buys a camera, a police scanner and digs in. For good measure, he hires (dupes) a young naive intern, Rick (Riz Ahmed, The Reluctant Fundamentalist), who becomes his wingman. They hunt down crime scenes and accidents, muscle their way past police barricades, and shoot video that can be gruesome. Lou starts a viable business the night he sells skuzzy footage to Nina (Rene Russo), a TV news director who never met a severed body she didn't like. She'll program anything for ratings. Anything. If it bleeds, it leads. Says Nina, "Think of our newscast as a screaming woman running down the street with her throat cut." Lou is more than willing to step over the line to oblige her. The money and power he gets when she runs his footage on the 6 o'clock news becomes an addiction. His ambition takes him way down the road from observant crime journalist to orchestrator of filmable crimes scenes. His actions come under the investigation of a Detective Fronteiri (Michael Hyatt), who chases him like a hungry pit bull.
The role of Lou cried out for a sleazebag actor, someone like a James Woods, no offense. Someone you believe could live at the depths of society. Pretty-boy actor Jake Gyllenhaal greases his hair back, dons a wispy nasal voice and wears his clothes like a criminal who just got out of prison and has no fashion sense. He takes on the role with his entire being, but he just doesn't have the physical looks for the part. He looks like a super-model. Riz Ahmed, as the wide-eyed rookie and increasing horrified sidekick, is far more believable in his role. Rene Russo's interpretation of Nina fits the profile of an overambitious producer who has lost her moral compass. Michael Hyatt (TV's Oz), as the aggressive Detective Fronteiri, is perfectly cast; she's a fireball.
As a director and astute writer Dan Gilroy gets inside the evil mind of the crime paparazzi and it's not a pretty picture. His script and direction become more astonishing as the film goes on. He sets a very encompassing feel for Los Angeles at night, when things go bump in the dark. Credit his cinematographer (Robert Elswit, Oscar winner for There Will Be Blood), art director (Naaman Marshall, The Dark Knight), production designer (Kevin Kavanaugh, The Dark Knight Rises), set decorator (Meg Everist, 21 Grams) and costume designer (Amy Westcott, Black Swan) for the impressive visuals that make nocturnal scenes of the City of Angels hypnotic. The tech credits are excellent all the way around, including the tight-as-a-noose editing (John Gilroy).
This journey into a bleak world not fathomed before is intriguing, unnerving and haunting. You'll walk out of the theater feeling like you need to go home to shower and scrub this film off your skin.
Visit NNPA Syndication Film Critic Dwight Brown at DwightBrownInk.com.