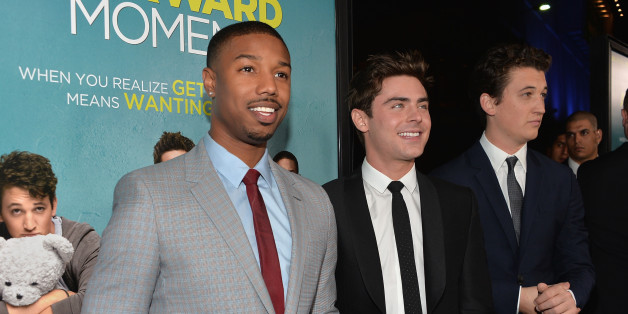 They made a pact. As young men are prone to do, they made a decision without foreseeing any consequences. They vowed to stay single. Now how long was that going to last?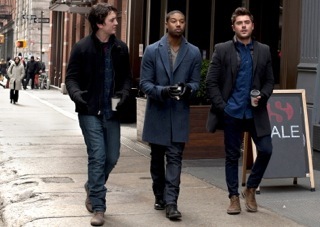 (Photo courtesy of Focus Features)
Miles Teller, Michael B. Jordan and Zac Efron
First-time director/writer Tom Gormican has one finger on the pulse of twentysomethings. Their swagger. Naïveté. Innocence. Ignorance. Arrogance. Testosterone overload. He cobbles together three young-turk characters who are feeling their oats on New York City streets. Working by day. Hanging out at the clubs at night. Hooking up with nameless one-nighters. He's got a feel for the demographics, not much else. His three lead characters are shallowly drawn, though the young women in their lives are more three-dimensional. All are about to learn life lessons, but not significant enough to warrant a film. If it wasn't for the three leads' chemistry and camaraderie, this whole endeavor would be, well, awkward.
The opportunity to appear in this movie comes at a pivotal time in the careers of the three headliners. Miles Teller played the party boy who throws the ultimate parents-are-away-and-the-kids-will-wreak-havoc debauchery in the film Project X, followed by a role as callous teen who finds his heart in The Spectacular Now. Zac Efron garnered millions of fans as the lead in the popular TV series High School Musical, but has yet to capture that same glory as a movie actor: The Paperboy was an embarrassment; The Lucky One wasn't all that lucky for him; and Parkland was a very, minor esoteric success. Michael B. Jordan's captured critical acclaim with TV's The Wire and Friday Night Lights; he reached greater heights with the melancholy Fruitvale Station, which threatened to pigeonhole him as an actor who could only play angst-riddled inner city youth. All three have something to prove.
Jason (Efron) and Daniel (Teller) are cocky book-cover designers, who think they know what's better for their clients than the clients themselves. They're usually right. Mikey (Jordan) is a young doctor. The guys have been friends since college. The designers are single and the doc is "happily" coupled with Vera (Jessica Lucas). When Jason and Daniel hang out at local New York City bars, their wing man is a young woman named Chelsea (MacKenzie Davis), who will stop a girl who is headed to the bathroom with a line like, "Oh I love your shoes," then promptly introduce the prey to Daniel who goes in for the kill. And so it goes, trolling the clubs for women, or working long shifts at the hospital. Until...
Jason meets a blonde named Ellie (Imogene Poots) who makes his heart arch. Daniel's directionless love life starts too focus on a friend. And Mikey's home life turns out not to be so rock solid. Amidst all the confusion, a half-ass pact to remain single gets tested, over and over again, as a string of clumsy moments throw the trio for a loop.
The plotline does not distinguish these young men's dilemma from those in many other movies. The dialogue (and there is way too much of it) feels like it's from a not-quite-ready-for-opening-night play. Tom Gormican's script is better at assembling character arcs that take the three dudes through life-altering changes that give the film an intermittently interesting core. Jason beds a lady who he thinks is a streetwalker. Is he right? Daniel gets caught having sex at a very embarrassing moment. Will it ruin a dinner party? Mikey tries to go from mild-mannered physician to a Romeo? Can he do it? It's just enough to keep you engaged. Just enough, not more.
Efron, Teller and Jordan breathe a little life into their generic characters. Even more so, they present themselves as real friends, and the vibe the young actors create is the film's strongest element. Their friendship seems genuine, authentic. Not an easy feat, considering the material. Efron shows a promise and stability that will make him a respected big screen actor some day. Teller further perfects his perpetual smirk; he is destined to do bigger and better comedies, a la Seth Rogen. Michael B. Jordan is heading down the Morris Chestnut path. He sports his six-pack abs, brags about his manhood and sheds the tragic cloak of Oscar Grant from Fruitvale Station. He is his own man, now, versatile enough to play a romantic comedy, a thriller, a drama. Jessica Lucas, as his emotionally ambivalent lady friend is fine. Poots as Efron's kryptonite is sweet and layered. Davis as the gal who every guy wants to take to a bar exudes hip friendliness.
The soundtrack features twentsomething cool vibe music like "Still Life" by The Horrors and "Still Not a Player" by Big Pun. Brandon Trost's cinematography captures New York City life on a cold day perfectly; you can feel the chill in the air. Deirdre Brennan's set decoration replicates New York City apartments in way that makes you want to call a realtor. Anna Bingeman's costumes are the right blend of young man swag, and they don't get in the way, you don't feel like the guys pulled their jeans off a wardrobe rack.
The three amigos save this picture. Efron, Teller and Jordan will use this as a calling card to let Hollywood know that they are ready for their close-ups. Making a ho-hum movie memorable, just for the performances, will do that.
Visit NNPA Syndication Film Critic Dwight Brown at DwighBrownInk.com